Behind the scenes: Trump at the UN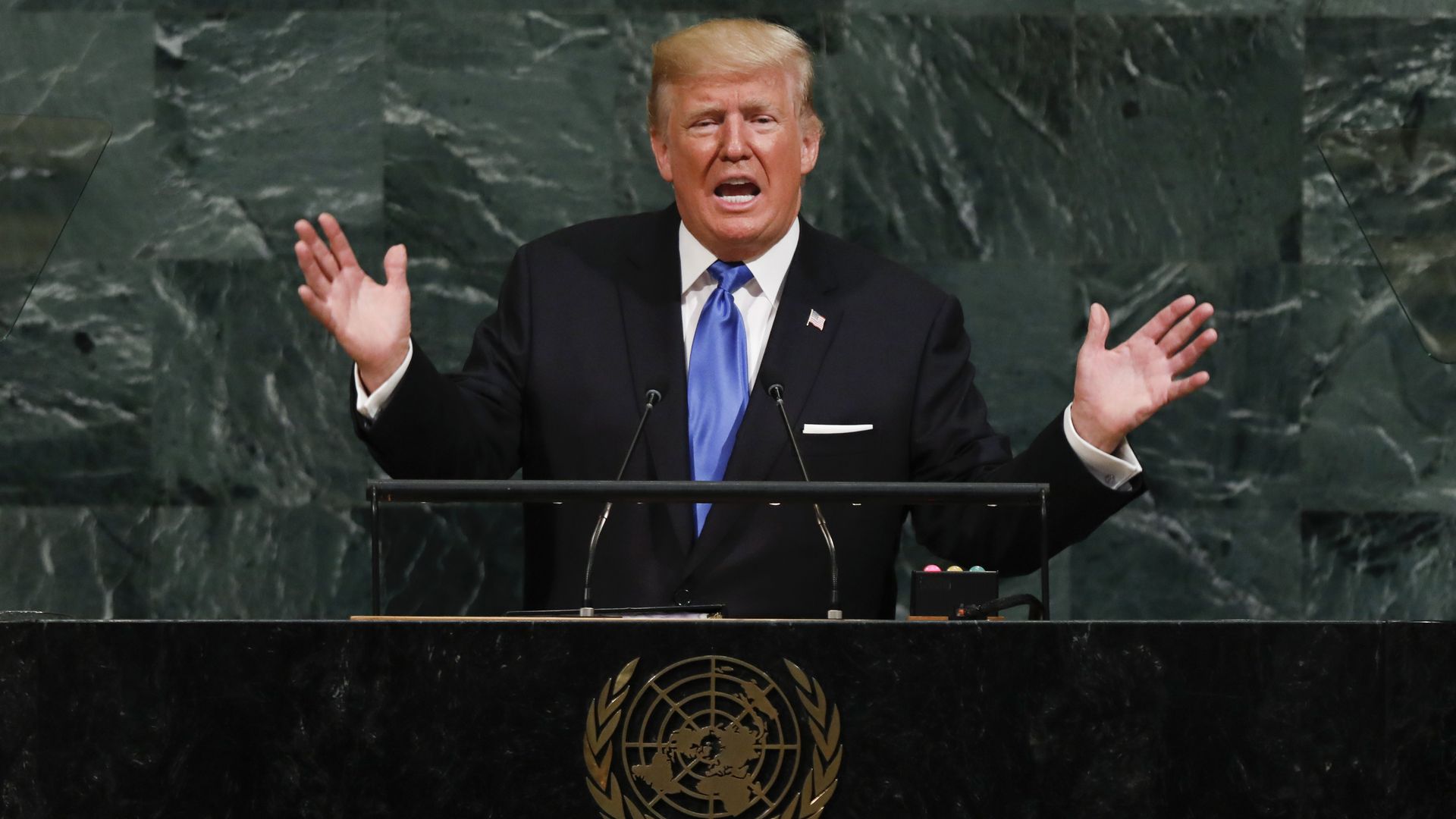 President Trump plans to use his chairing of the UN Security Council to spotlight two issues: the global opioids epidemic and the "malign activity" of Iran, according to sources with knowledge of his thinking.
What's happening: Trump plans to address a counter-narcotics summit focused on opioids on Monday, sources familiar with the event told me. Much of the illegal opioids ravaging American streets are coming from factories in China.
"This is something he really wants to bring up, how there can be a global effort to fight the opioid crisis," a senior administration official told me.
But the event is "primarily for show" and unlikely to produce anything meaningful, a source briefed on the event said.
Press Secretary Sarah Sanders pushed back against that characterization. She said that "by the president bringing this up and making it one of the two focal points of his time chairing the UN Security Council, it's impossible for any leader or anyone else to ignore the issue."
On Iran: On Wednesday, Trump will chair a UN Security Council briefing on "counter-proliferation." Sources familiar with the preparations say he will likely spend much of the session beating up on Iran.
Trump wants to single out Iran, especially when it comes to ballistic missile proliferation during the era of the Iran deal, according to a source familiar with the administration's plans.
Go deeper: For a preview of coming attractions, read Brian Hook's speech at the Hudson Institute on Thursday. The passage of Hook's speech that caught the attention of insiders:
"In fact, and let me be clear about this, Iran's pace of missiles did not diminish after the Iran deal was implemented in January 2016, Iran has conducted multiple ballistic missile launches since that time.
"We assess that in January 2017, Iran launched a medium-range missile believed to be the Khorramshahr. This missile is designed to carry a payload greater than 500 kilograms and could be used to carry nuclear warheads. Its suspected range also approaches 2,000 kilometers, which is far enough to target some European capitals."
A Republican foreign policy official told me: "The administration is pissed the Europeans are refusing to do anything about it, so they're going to continue laying out evidence in front of the public to shame them into acting. ... Hook's Hudson speech contained some of that and you should expect to see more at UNGA about Iran's missile threat."
Go deeper