Go deeper: How Hurricane Florence is causing agricultural turmoil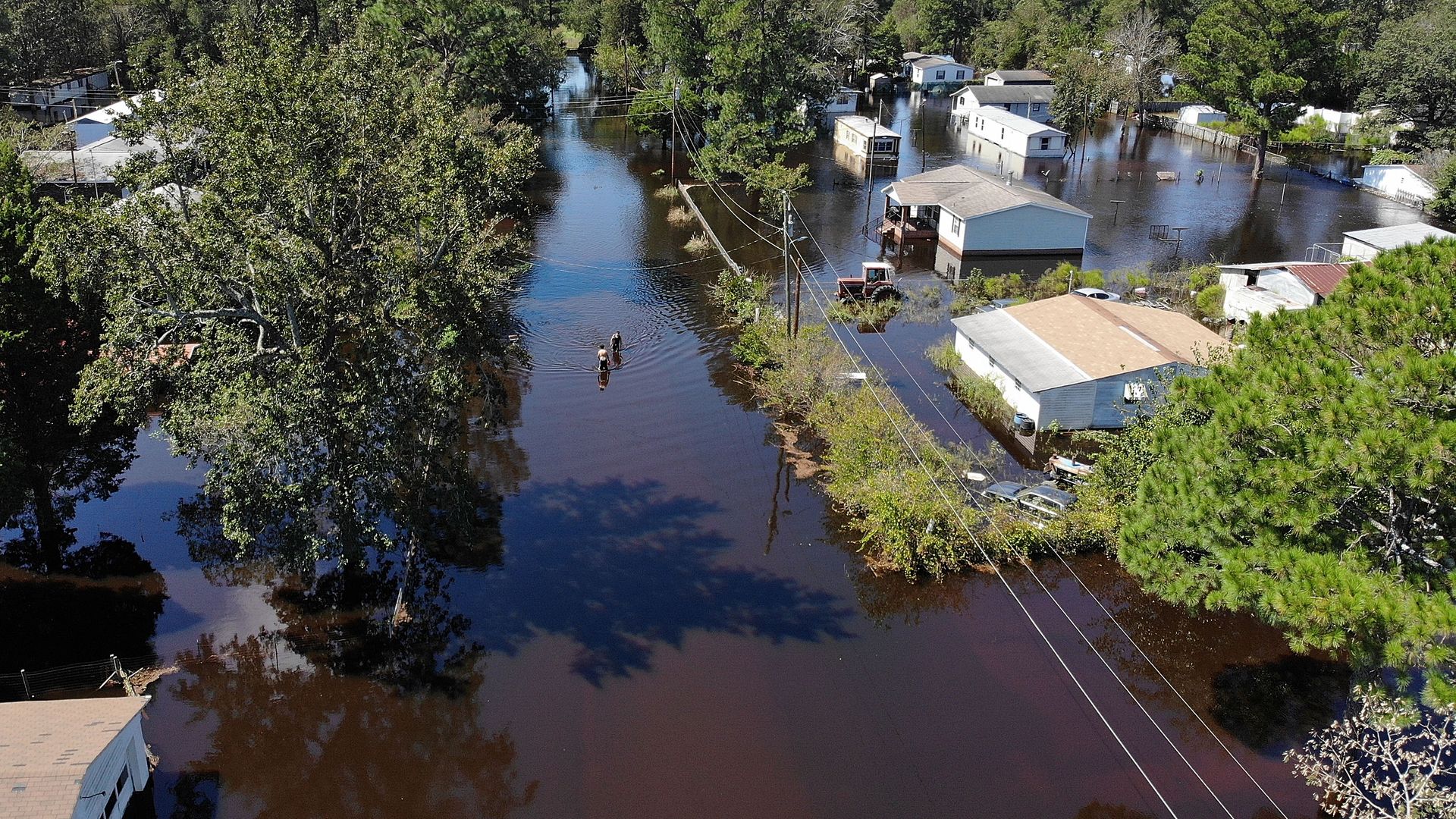 Five days of flooding in North Carolina, the state with the second-most pigs in the United States, continues to submerge hog lagoons that set up residents nearby for a slew of health, air and environmental problems.
The big picture: North Carolina is home to nearly 10 million pigs, and as water rises more feces and urine from the pig-manure lagoons is exposed at a increasing rate. The North Carolina Department of Environmental Quality said its inspectors have been unable to visit the hardest hit areas or collect samples of the flood water for lab testing, per the Associated Press.
By the numbers: As of noon on Thursday, the North Carolina Department of Environmental Quality said 30 swine lagoons have overtopped, a number that more than doubled since Tuesday.
At least 132 hog lagoons are at risk and the number has continued to rise, according to data issued Thursday.
Six hog lagoons had suffered structural damage, another 40 have are at the brim, meaning overtopping is likely.
About 3.4 million chickens and turkeys and 5,500 hogs have been killed in flooding from Florence as rising North Carolina rivers swamped dozens of farm buildings where the animals were being raised for market, according to state officials.
Threat level: The lagoons, dug into the earth next to pig housing, are where the state's more than 2,000 industrial-sized hog farms pump animal waste, which is then treated with waste-eating bacteria. The bacteria give lagoons a distinctive pink color.
Studies have shown hog lagoons, sometimes called concentrated feeding operations, can cause health problems for those who neighbor them naturally due to how they carry pathogens and unsafe chemicals.
The lagoons also have a large amount of nitrates, which can cause algae blooms that deprive fish of oxygen.
Also, excess nitrates that seep into water supplies can cause "blue baby syndrome," when nitrogen obstructs red blood cells' abilities to carry enough oxygen, causing a baby's skin to turn blue, according to the New York Times.
Reality check: The North Carolina Department of Environmental Quality said it has limited resources in testing the harm the flooding is doing in real time, as flooding from all waterways "could last weeks," per a previous Axios report.
Go deeper: The ties between Hurricane Florence and climate change
Go deeper