Latest Trump tariffs avoid steep escalation, but future threats loom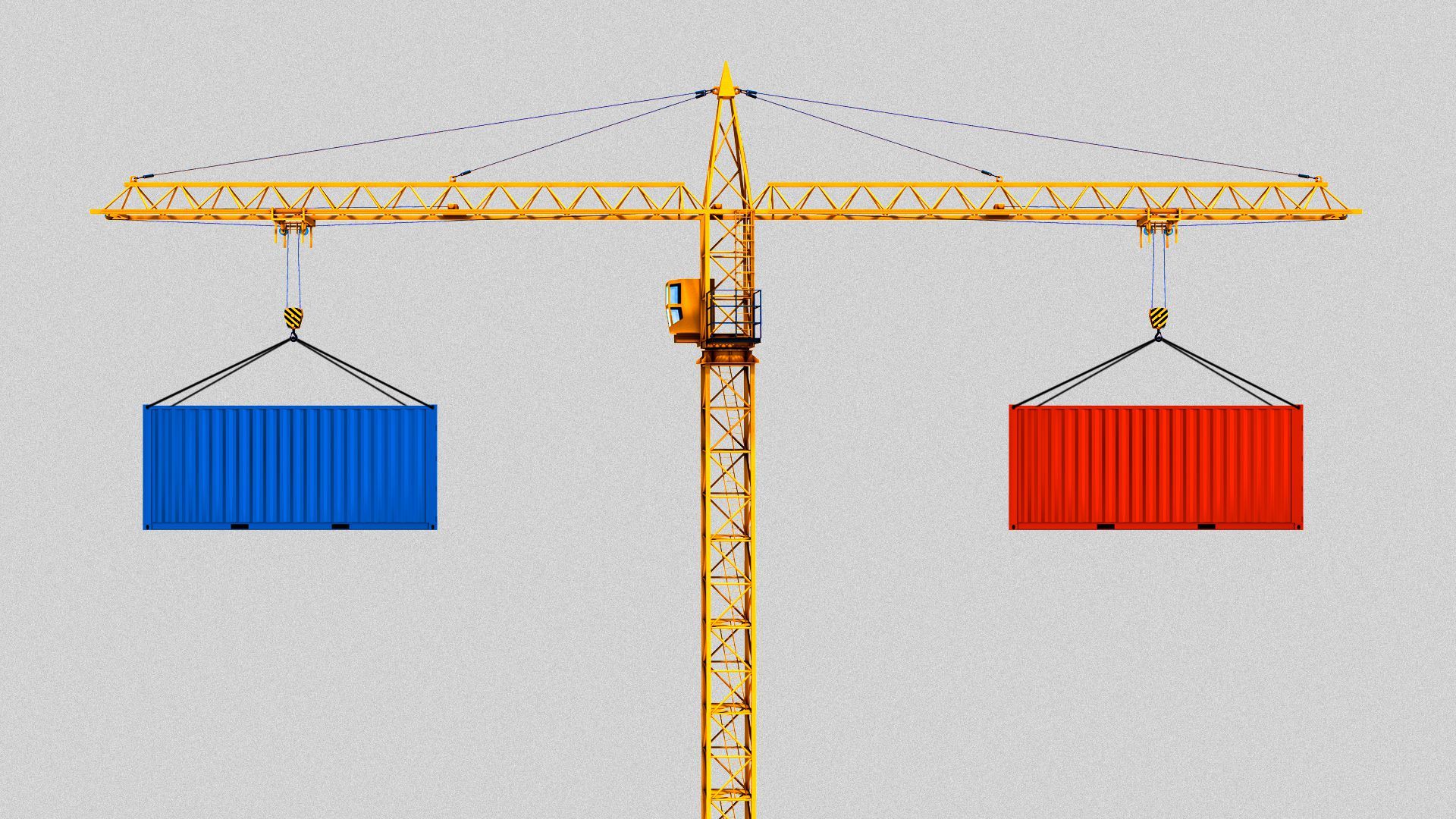 President Trump announced this week a 10% tariff on an additional $200 billion of Chinese imports on September 24, and threatened to impose 25% tariffs on essentially all imports from China early next year. China retaliated with new tariffs of its own, as expected.
Why it matters: By keeping the rate at 10%, the Trump administration has limited the tariffs' short-run economic impact. China's currency has weakened by more than 5% since its peak earlier this year, mitigating some of the pain befalling Chinese manufacturers and U.S. consumers, and 10% is low enough that both Chinese exporters and U.S. importers can absorb a portion of the cost.
The background: At the start of the Obama administration, tariffs on $2 billion of imported tires generated a flurry of attention. With the latest round, the Trump administration will have imposed tariffs on $250 billion of Chinese imports, about half of all U.S. imports from China. And China will have put some kind of tariff on $110 billion of the $150 billion it imports from the U.S.
If the U.S. goes ahead with the threatened 25% tariff, the U.S. will have placed most of China's trade with the U.S. outside the terms agreed to when China joined the Word Trade Organization (WTO) in 2001. Trump and Xi will meet in November, so it's possible they might agree to a standstill to allow more time for negotiations. But neither has left much space for the other to back down gracefully, and the process that might lead to a detente, let alone a rollback of this year's tariffs, isn't yet clear. Should the threatened tariffs be imposed, the U.S. would have to decide on what conditions it would be willing to return to trading with China on WTO terms. That could take some time to answer, as there are legitimate arguments that China never fully kept its end of the WTO deal.
What to watch: The threat of a 25% tariff on Chinese imports is in many ways more worrisome than the imminent 10% one, as it would do more damage to the overall U.S. economy. If firms worldwide cannot reorganize their supply chains to circumvent the tariff, the border tax alone could pull close to $125 billion (0.6% of U.S. GDP) out of the pockets of American consumers.
Brad Setser is the Steven A. Tananbaum Senior Fellow for International Economics at the Council on Foreign Relations.
Go deeper