As housing costs rise, AVs could raise commute times, CO2 emissions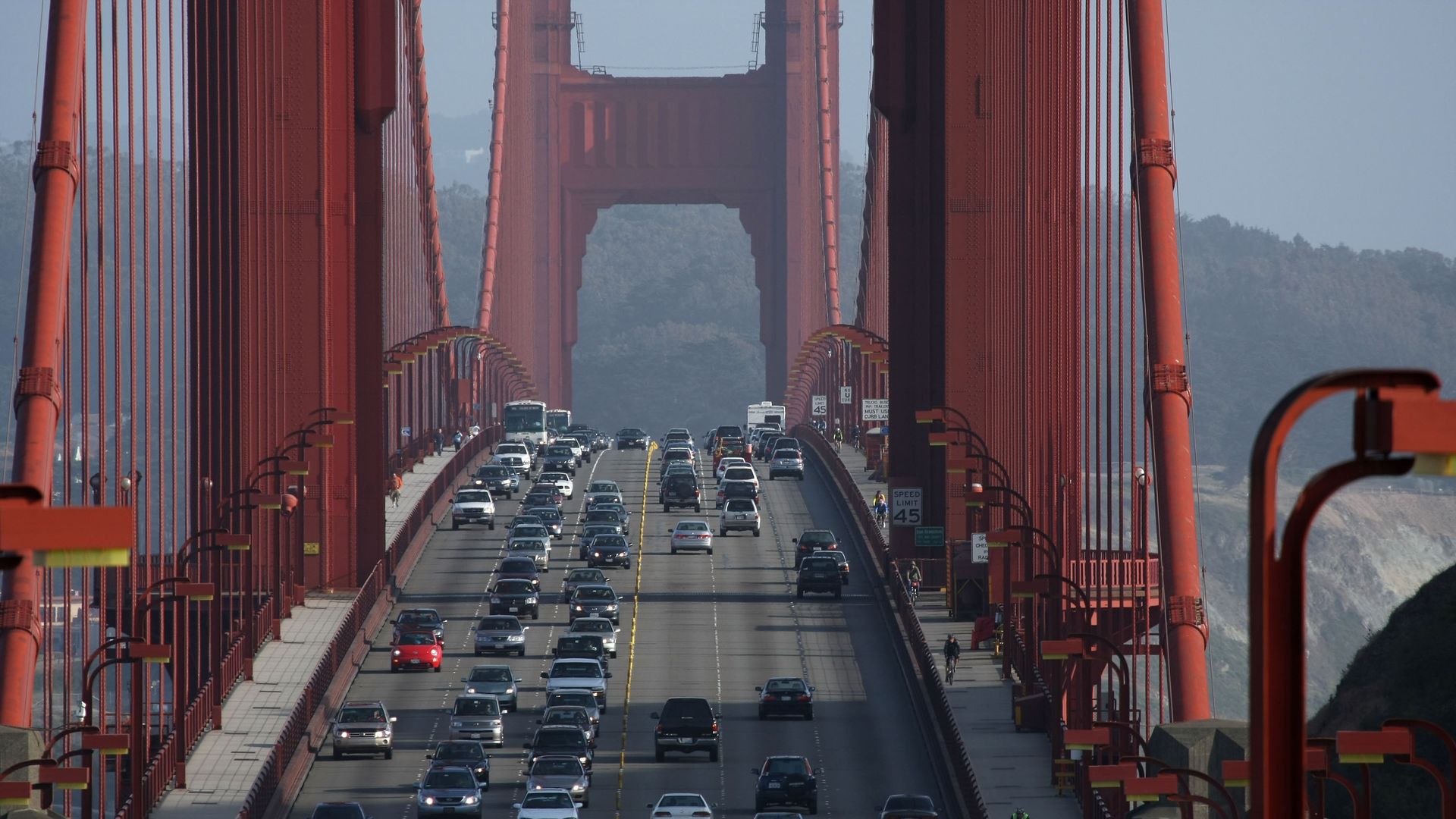 As housing prices in the Bay Area have skyrocketed, more people have moved to peripheral cities and seen their commutes lengthen as a result. Between 2005 and 2016, the number of people in the region who commute more than 90 minutes per day increased 113%.
The big picture: Once autonomous vehicles come to market, this issue will only get worse. As spending time in a car becomes less onerous, the tradeoff of moving a few hours away to save money on rent will look increasingly favorable. Aside from its environmental impact, this shift could also lead to increased income inequality: Recent studies have uncovered an inverse relationship between time spent commuting and economic mobility.
Despite the environmental effects of "super commutes," climate-minded policymakers have paid it little attention. At the Global Climate Action Summit (GCAS) in San Francisco last week, Governor Jerry Brown signed an array of clean transportation bills, but speakers were almost silent on the issue of housing. Even as electric and hydrogen fuel-cell vehicles proliferate, California will still have to contend with this central issue: More sprawl equals more miles traveled, and more miles traveled equals more emissions.
There is a simple solution: More affordable housing close to employment centers. The Bay Area has performed particularly poorly on this count. Whereas most cities have added roughly one unit of housing for every two jobs added since 2010, the San Francisco–Oakland metropolitan area has added only one unit for every five jobs. Geography plays a role, but Seattle, a city with similar geographic constraints that is also experiencing a tech boom, added almost twice as many housing units over the same period. Even Portland added more units than the Bay Area, despite strict urban boundary laws and less than half the job growth.
Much more important than geography is policy. The Bay Area was one of the first areas in the country to establish zoning regulations, often with an intent to exclude minorities and low-income families. To this day, local politicians continue to fight affordable housing projects and policies that could make a significant difference.
The bottom line: Any climate policy without housing policy remains incomplete. If no action is taken, the combination of AVs and continued housing pressure could erase many of the benefits gained from other clean transportation policies.
Gordon Bauer is a National Science Foundation Research Fellow in the Energy and Resources Group at UC Berkeley.
Go deeper