At UN General Assembly, "America First" likely to cause more clashes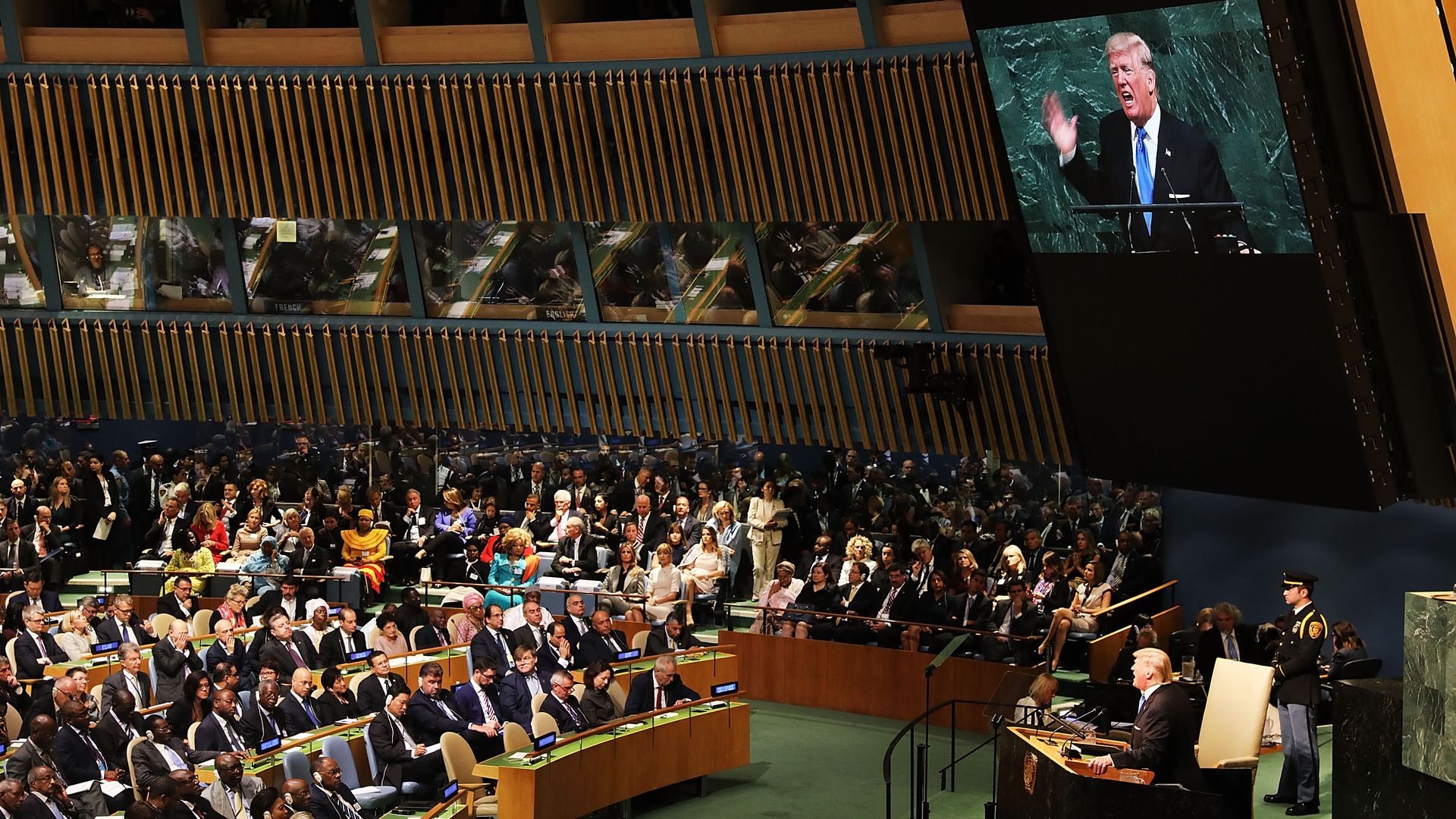 When President Trump addresses the UN General Assembly (UNGA) — the ultimate multilateral pageant — on September 25, he will be engaging a global community that has experienced his foreign policy for what it is: American unilateralism. Since the last UNGA, when he declared his doctrine of "America First," Trump's unorthodox diplomacy has disrupted several multilateral meetings, from NATO to the G7.
The big picture: Trump is attempting to extricate the U.S. from the multilateral vision and institutions that have defined the post–World War II system. U.S. allies appreciate the fruits of that system — which include economic growth, a significant reduction in armed conflict and poverty alleviation — and fear losing the U.S. as a constructive partner.
In the past year, President Trump has gone unilateral on several key issues:
NATO: In June, he almost didn't sign the final communiqué and has repeatedly decried NATO's value, weakening the bonds between the U.S. and European allies.
G7: Also in June, he called for Russia to be readmitted to a restored G8 and attacked longtime U.S. economic partners.
Iran deal: In May, he withdrew the U.S. from the multilateral deal and declared a policy whose success relies on sanctions that hurt European allies.
Tariffs: He has unilaterally imposed tariffs on allies (Germany, Canada) and foes (China) alike, upending global trade with no end in sight.
Climate change: In June 2017, before the previous UNGA, the U.S. withdrew from the Paris climate accord.
Reality check: Despite the Trump administration's "America First" doctrine, the U.S. still needs allies. If it didn't, Trump wouldn't be chairing a UNGA special session on Iran and nuclear nonproliferation, both issues that will require multilateralism. And other persistent challenges, such as terrorism, refugees, economic development and global health, likewise require the U.S. to partner with other countries.
Joel Rubin is the president of the Washington Strategy Group and a former deputy assistant secretary of state.
Go deeper