Scoop: GOP plans to play hardball on Kavanaugh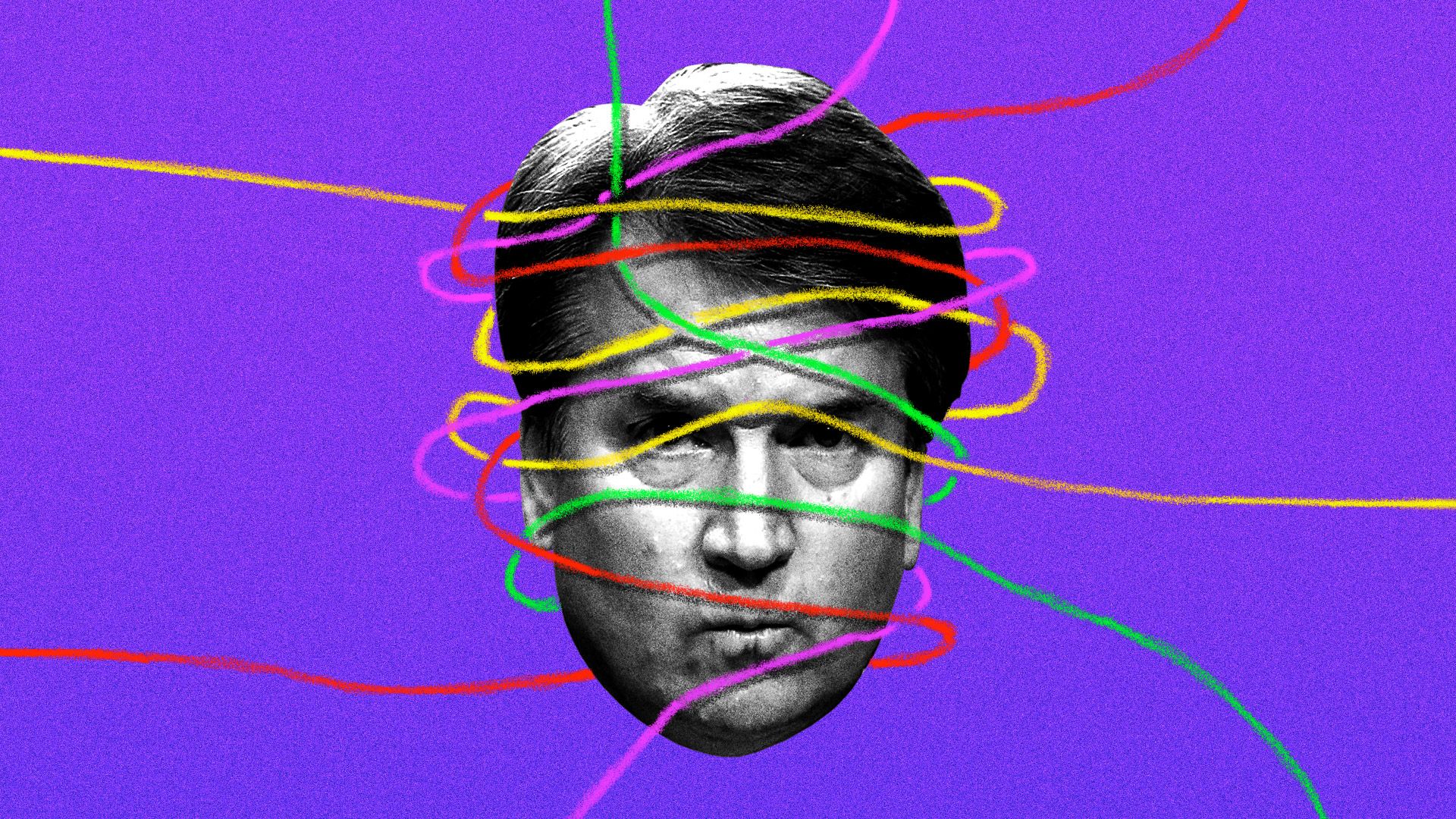 Strategists advising Supreme Court nominee Brett Kavanaugh plan to use aggressive tactics this week in response to the public accusation of a "stumbling drunk" sexual assault in high school that instantly imperiled his confirmation, top sources tell Jonathan Swan.
Some involved in the process were prepared to urge Senate leaders to call on the accuser — Christine Blasey Ford, who went on the record with The Washington Post's Emma Brown — to testify publicly this week, ahead of Thursday's scheduled Judiciary Committee vote.
The thinking was that she would decline, and Republicans could then say that they tried to investigate further. But that gambit fell apart quickly Monday morning after Ford's attorney said she'd be willing to testify.
The timing will be an issue. Republicans close to the process will push for the testimony to happen as soon as possible, but Democratic Sen. Dick Durbin said this morning that this week would be too soon, per the Washington Examiner's Byron York.
A source close to the process said that if Democrats sink Kavanaugh "we'll just bring in someone more conservative."
There was extreme queasiness in Kavanaugh's camp last night:
Ford, a professor at Palo Alto University, is represented by Debra Katz, a Washington lawyer specializing in sexual harassment cases.
Republicans won't be surprised if Ford holds a press conference or gives a TV interview, which would raise the stakes considerably.
The initial news coverage was brutal ... N.Y. Times: "thrown into uncertainty" ... WashPost: "nomination suddenly in doubt" ... Wall Street Journal: "injecting immediate uncertainty" ... AP: "thrust into turmoil."
The senators to watch:
Sen. Susan Collins (R-Maine), the most crucial swing vote, told CNN that she was "surprised" by the accusation, but: "I don't know enough to create the judgment at this point."
Sen. Lisa Murkowski (R-Alaska), the other critical vote, told CNN the committee "might" need to consider a delay.
Judiciary Committee member Jeff Flake (R-Ariz.) and Sen. Bob Corker (R-Tenn.), who isn't on the committee "but whose vote is critical to Kavanaugh's confirmation," told Politico that the committee should pause.
Senate Democratic Leader Chuck Schumer called for an FBI investigation and a postponement of the vote.
Be smart: The hardball tactics are designed to muscle through the confirmation before it can be further imperiled.
Republicans got more worried as the evening went along, but privately were optimistic about winning the P.R. fight: It's her word, backed by her therapist's notes, versus Kavanaugh and another man alleged to be in the room.
The White House essentially re-issued its previous statement on Monday morning: "On Friday, Judge Kavanaugh 'categorically and unequivocally' denied this allegation. This has not changed. Judge Kavanaugh and the White House both stand by that statement."
The other participant named by Ford, Mark Judge, said he has "no recollection of any of the events described."
This post has been updated to note that Ford is willing to testify.
Go deeper