The U.S-China race for quantum dominance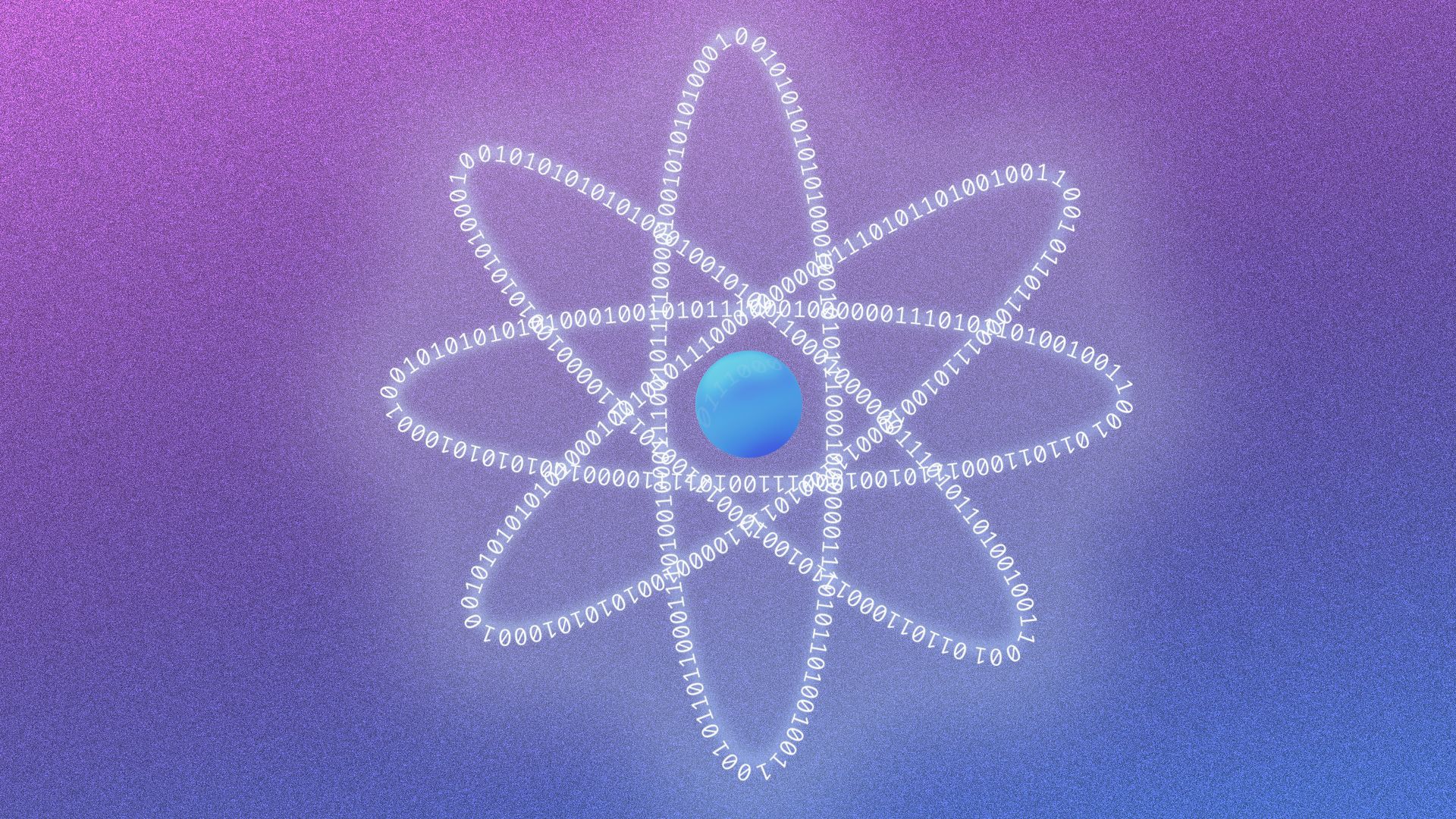 As the U.S. and China struggle for dominance in artificial intelligence, they are locked in a parallel, behind-the-scenes race to master quantum technology, a contest that could result in lasting military superiority and a possible new industrial revolution.
The big picture: Though still far off, conquering quantum technology could enable uncrackable communications, supercharged radar and more deadly undersea warfare. And as of now, China has some serious advantages.
A new report from the Center for a New American Security draws on open-source material for a window into China's quantum progress and aspirations.
The report's authors, Elsa Kania and John Costello, say that China has made substantial advances in some areas of quantum research, putting it in a position to overtake the U.S. in the science.
Chinese advantages include a national vision for technological research, significant investments, and tight bonds between the private sector and the military. By comparison, the U.S. yet to enact a quantum policy, though the White House recently added a quantum expert to its tech-policy staff.
"China's advances in quantum science could impact the future military and strategic balance, perhaps even leapfrogging traditional U.S. military–technological advantages," write Kania and Costello.
How it works: Quantum technology capitalizes on the unusual properties of super-tiny particles to surpass what's possible with normal, or "classical," computing. Among its applications:
Quantum cryptography, a leap over current techniques that would be nearly impossible to crack — and render modern encryption obsolete.
Quantum computing, which promises to enormously accelerate computing, a breakthrough whose effects would be felt across the economy.
Quantum supremacy — the moment when quantum computers will be more capable than classical ones — is still well out of reach, but researchers in both countries are pushing aggressively in that direction.
Kania and Costello argue that Chinese progress on quantum cryptography is world-class, demonstrated by the launch of the first-ever quantum satellite in 2016.
While China lags on research into quantum computing, it's quickly catching up.
Among the spoils of conquering the quantum space are computers that could decipher most of the world's encrypted data, like the NSA's store of intercepted communications, and overcome the U.S. stealth technologies on which the military heavily relies.
How they got here: China had a "Sputnik moment" in 2013, igniting a national plan that funnels billions of dollars and top scientists into quantum research, the authors write.
Its unlikely instigator was Edward Snowden, whose leaks revealed the extent of U.S. spying in China, and sparked a feverish response meant to shore up China's protections against cyber-espionage.
This inflection point mirrors another three years later: An Obama Administration report outlining a future U.S. artificial intelligence policy. Afterward, Beijing scrambled to put together its own, far outstripping American planning, while the Trump administration has neither engaged Obama's policy nor formulated its own.
In a series of policy recommendations, Kania and Costello say the U.S. needs to initiate a plan that ensures quantum research is well funded and attracts top scientists from around the world.
The U.S. should also closely monitor the research of rival countries to avoid an adversary quietly decrypting sensitive military communications — like the U.K. did in World War II, using Alan Turing's Enigma codebreaker.
China's approach to quantum research offers a look at the country's general model for innovation, write Kania and Costello.
The strategy involves "state investment, international collaboration, and academic transfers of knowledge" from abroad, such as when a student is educated in the U.S. and returns to China to work on quantum research.
In July, we reported the possibility that China is repurposing the results of AI collaborations with other countries for military purposes. That's equally true for quantum research.
Go deeper: The race to build a quantum economy (Axios)
Go deeper