Employers' role in solving surprise medical bills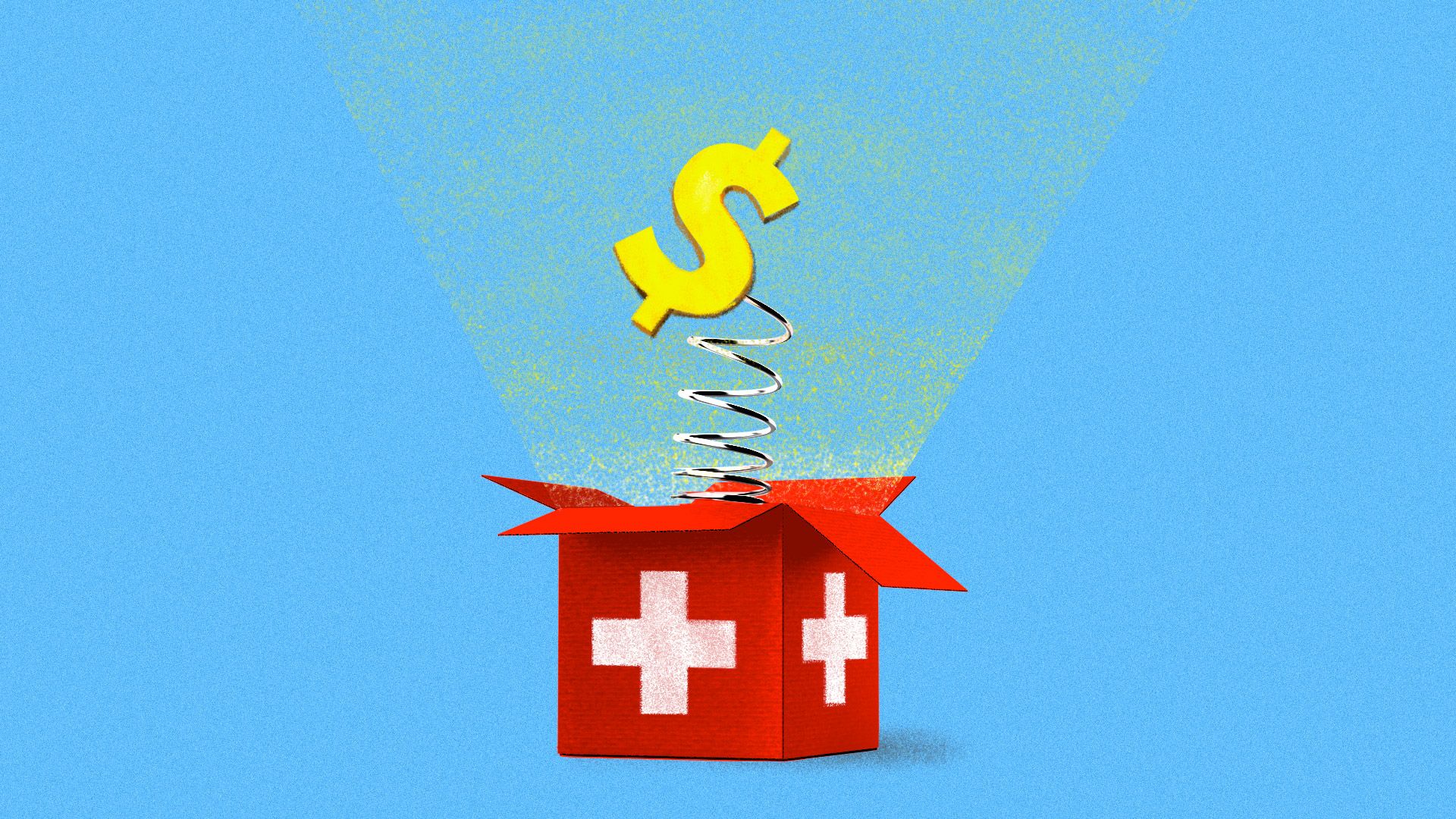 Every American who gets private health insurance — most of whom get it through their jobs— is at risk of getting a surprise bill from hospitals, doctors, air and ground ambulances, and other providers.
The big picture: Employers would need to be part of any solution, and they say they want this problem fixed. But they don't support some prominent proposals to rein in surprise billing, including tinkering with their own regulations or giving governments more power over doctors and hospitals.
Where things stand: Analysts at the Brookings Institution have suggested fixes that would force health care providers and the purchasers of care (employers and insurers) to agree on a couple things:
Patients should not be on the hook for surprise bills that are tied to emergencies, nor should they have to pay for care they receive at in-network hospitals where a specific doctor, like an anesthesiologist or a surgeon, turns out to be out-of-network.
Regulators should cap how much hospitals, doctors and others can charge in certain situations, and legislation should force fair arbitration when providers and insurers/employers can't agree.
Yes, but: Providers loathe the idea of having their payments regulated, and employers aren't keen about being forced into a dispute resolution process.
Employers believe arbitration benefits providers who stay out-of-network and charge at will, and that it unnecessarily pierces holes in the Employee Retirement Income Security Act of 1974 (ERISA), which governs employer plans that directly pay for their workers' medical claims and preempts state insurance laws.
"This is not an issue of the management of self-insured plans. It's an issue about the practice of medicine," said James Gelfand, who handles health policy for the ERISA Industry Committee.
The bottom line: This is messy. Toying with ERISA "is a political third rail," health policy legal expert Nicholas Bagley wrote in 2016. That means provider regulation — like outlawing balance billing for emergency care, or requiring all doctors at in-network facilities to accept in-network rates — is probably the most direct way to solve this issue.
All-payer rate setting is viewed as a compromise that could neuter surprise billing by reining in providers, but corporate America isn't championing it.
The ERISA Industry Committee has not polled its member companies on all-payer rate setting but does support state efforts in California and Ohio, for instance, that would cap dialysis payments near Medicare rates, Gelfand said.
Steve Wojcik, a vice president of policy at the National Business Group on Health, would not say whether his organization supported all-payer rate setting, and instead said it supported "reasonable" pricing and billing.
"We feel insurers and employers through the contracting process can get there," he said.
Go deeper: Federal legislation proposed by New Mexico Rep. Michelle Lujan Grisham would ban surprise billing, but has gone nowhere in Congress.
Go deeper