Bezos' $2 billion charity expands his influence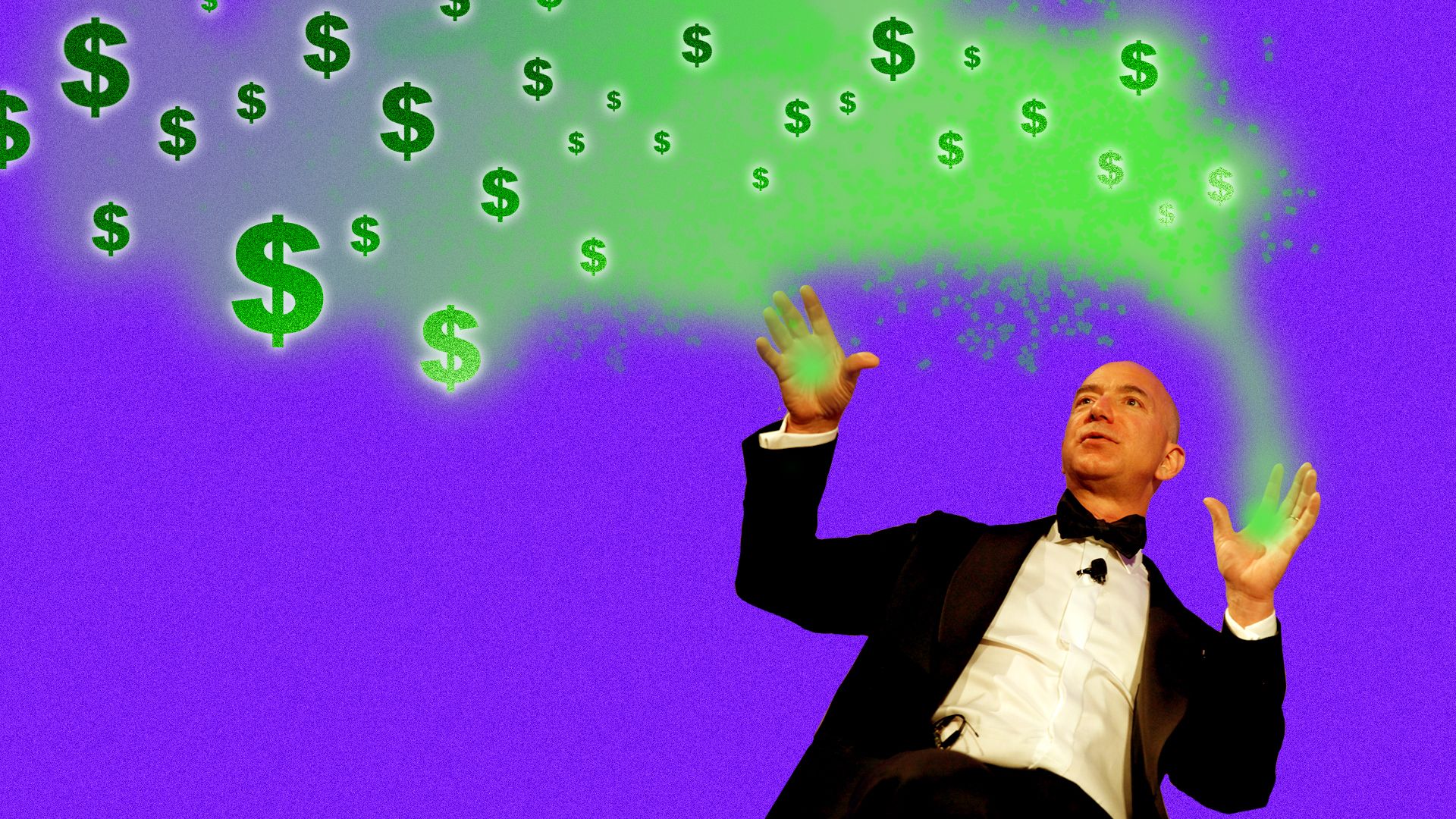 Amazon founder Jeff Bezos has finally joined the ranks of tech billionaires who use their sprawling wealth to shape the world through charity.
Why it matters: A new class of tech elites is using ambitious philanthropic strategies, a stated desire to "change the world" and unprecedented resources to transform money into influence. And there's nobody on the planet with more to give away than Bezos.
The details: Bezos and his wife, novelist MacKenzie Bezos, say they will start by spending $2 billion to give to non-profit organizations working on homelessness and to build and operate a network of free, Montessori-inspired preschools for low-income areas.
"If a kid falls behind, it's really difficult to catch up. That head start compounds fantastically. Money spent there will pay gigantic dividends for decades."
— Jeff Bezos, speaking at the Economic Club of Washington Thursday evening
Bezos is following in the footsteps of Bill Gates and other successful tech players whose philanthropic giving shares common qualities:
They influence big social debates. Bezos is tackling homelessness and access to early childhood education while the Chan Zuckerberg Initiative and Laurene Powell Jobs' Emerson Collective work on a range of public policy issues. (The Emerson Collective is an investor in Axios.)
They combine charity with Silicon Valley methods and mindset. Bezos said in a statement that his project's network of preschools would treat children like "the customer." Zuckerberg and his wife, physician Priscilla Chan, have built a significant technology team within their philanthropic initiative.
They deploy their money in unconventional ways. Tech donors have often built their philanthropic organizations to allow for impact investing or political activities. Bezos's organization, meanwhile, will not just fund preschools but operate them as well.
Bezos did not say in his statement how the Day One Fund would be structured, which can have an impact on transparency.
Earlier this year, however, he and his wife incorporated a nonprofit in Washington State called Bezos Foundation, according to public records, and someone reserved the name "Bezos Day 1 Foundation" for a nonprofit on Wednesday.
The structure of the fund helps determine what kind of tax advantages the donation might offer Bezos.
Yes, but: Bezos is getting into the philanthropy game late, and only after becoming the world's richest person.
He is under growing pressure over Amazon's role in fueling inequality, from the city around its Seattle headquarters to conditions in its warehouses and on delivery routes.
Bezos asked for philanthropic ideas via Twitter last year, and he said he "read through thousands and thousands of responses."
Speaking at the Economic Club of Washington Thursday night, he said he didn't know how much of his fortune he would end up giving away.
"I'm going to give away a lot of money in a non-profit model, but I'm also going to invest a lot of money in something that most investors might say is a terrible investment — like Blue Origin — but that I think is important."
— Bezos
Author Anand Giridharadas argues in his new book Winners Take All that the wealthy pursue social change without uprooting the systems that produce inequality. He said that Bezos has a "a stark opportunity to be a traitor to his class, to actually think about giving in ways that transform the system atop which he stands."
"It is great to be a winner who gives back," Giridharadas said. "It is even better to be a winner who thinks about how winners can take less."
Go deeper