The red flags on Trump's new election security order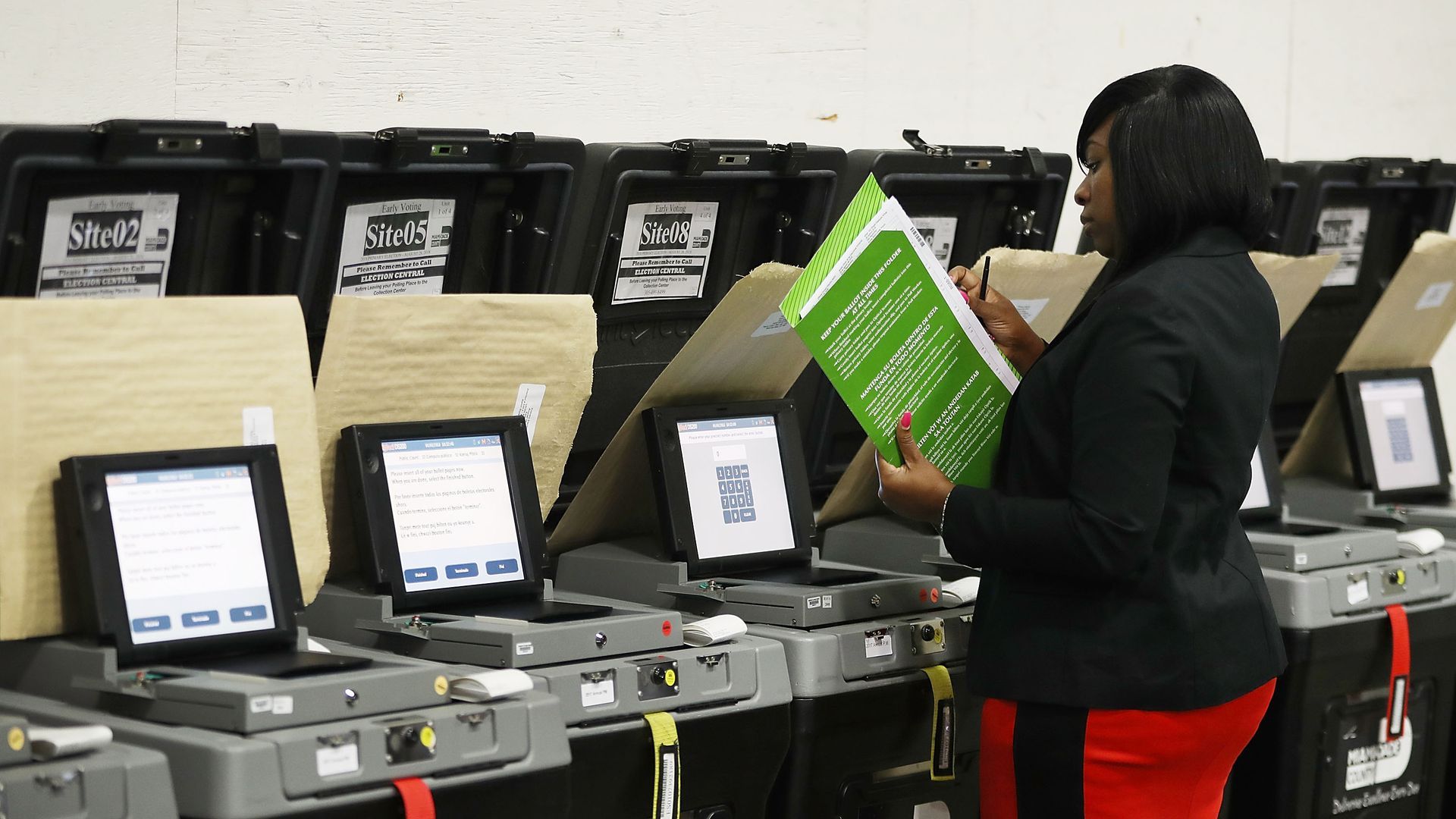 President Trump on Wednesday signed an executive order mandating automatic sanctions against countries that interfere in U.S. elections.
The big picture: The order covers fewer scenarios than you'd think, guarantees less in sanctions than a pending bipartisan Senate bill and has left critics wondering exactly how seriously the president can be taken on the issue, when he has repeatedly claimed that the jury is out on well-documented foreign interference.
Laura Galante, who heads a geopolitical cybersecurity strategy firm, weighed in at an Atlantic Council panel discussion Wednesday evening: "His words in Helsinki are louder than the executive action."
What the executive order covers:
Tampering with voting infrastructure.
Hacking political parties or candidates.
What it doesn't cover:
Social media campaigns and other illicit propaganda campaigns, which are increasingly what people think of when they hear "election interference."
Tertiary attacks that impact elections — like, for instance, a coordinated traffic jam near a polling station that could reduce the number of voters.
The automatic penalties are limited to freezing financial accounts that travel through the U.S. banking system. That's significant, and the president would receive a report of other sanctions to consider.
"I applaud the attempt to not let [election interference] fall away," said Michele Markoff, deputy coordinator for cyber issues at the State Department, at the same Atlantic Council panel.
But the president retains much more leeway than he would have had if Senate stakeholders had their way.
The Defending Elections from Threats by Establishing Redlines (DETER) Act, spearheaded by Marco Rubio (R-Fla.) and Chris Van Hollen (D-Md.), is muscular in ways that the executive order is not.
Details: Here is what would happen under that bill within 10 days if the director of national intelligence reported election interference of any kind — including social media campaigns — from Russia:
The U.S. would freeze the accounts of 6 major Russian banks; 3 major energy companies; entities involved in the defense and intelligence sector; state-backed aerospace, rail and mining concerns; any company at least half owned by Russia; and high-ranking Russian politicians and oligarchs.
American entities would be prohibited from purchasing Russian bonds.
The executive order has fewer automatic sanctions, but they apply to any actor — from Russia to, say, Luxembourg, on the off chance it is feeling feisty.
Rubio and Van Hollen released a joint statement excoriating the executive order as a half-measure: "The United States can and must do more."
In a call with reporters, national security adviser John Bolton said the administration was not opposed to hearing lawmakers' ideas on how to improve the executive order. "We're happy to discuss ... with the members of the House and the Senate ideas and thoughts that they have."
The bottom line: The move is certainly a step up from doing nothing, but it's hard — particularly for his critics — not to interpret the executive order in terms of the measures it's missing and the record of his past struggles with the issue of election security.
Go deeper