What Cynthia Nixon's campaign means for progressives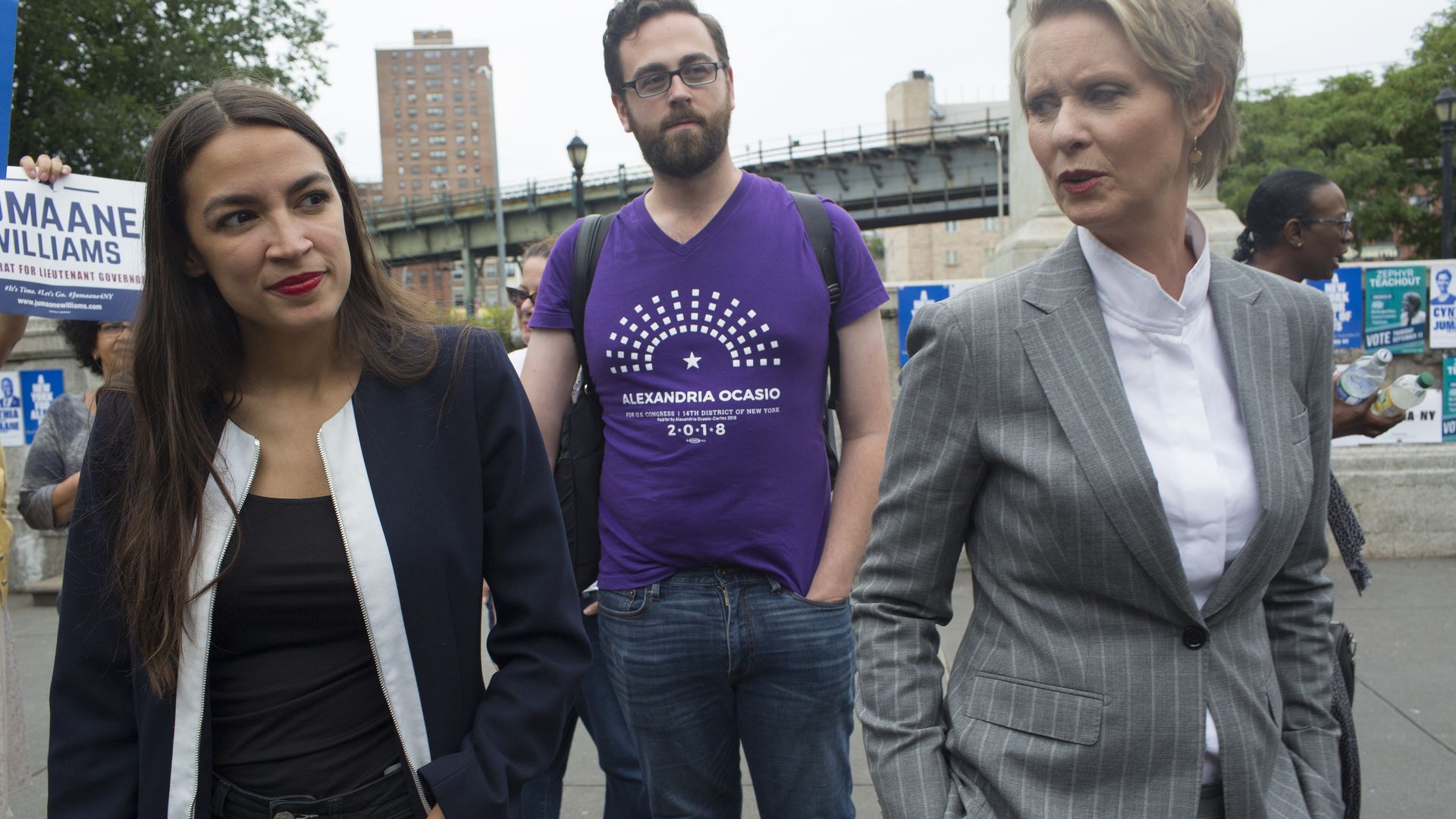 Cynthia Nixon may have gotten eye rolls when she first jumped into the race for New York governor. After all, she's never held political office before and she's a former TV actress challenging the man who has been governor since 2011.
Why it matters: Her campaign — no matter what happens tonight — is a win for the progressive movement and for the Alexandria Ocasio-Cortez wing of the Democratic Party that wants to challenge conventional politicians and political norms.
The backdrop: Nixon has campaigned on things like Medicare for All, legalizing marijuana, and investing in public education. She says she's been fighting for LGBTQ rights, women's rights, and civil rights for years. She's even won over some Obama-era New Yorkers along the way.
The big picture: The NYT has a list of issues where Gov. Andrew Cuomo has moved further to the left as a result of Nixon's campaign.
He laid the groundwork for legalizing marijuana after she jumped in the race. He previously called marijuana a gateway drug and remained opposed to its recreational use.
Cuomo pledged $550 million to fix the New York City Housing Authority crisis in April, some of which the NYT notes had been previously promised but not formally invested. He even declared a state of emergency at the city's housing authority.
He's now restoring voting rights to felons on parole. Before Nixon's campaign, the legislation was never signed into law.
Cuomo has dissolved a partnership between Republicans and Democrats in the State Senate, which had halted progressive legislation and which Nixon disagreed with, per NYT.
One year after signing legislation that prohibited NYC from imposing a tax on single-use plastic bags, he proposed a ban on them after Nixon led a march of environmental activists to the state capitol.
Cuomo has come around on education, specifically the idea of not tying teacher evaluations to students' test scores. Nixon has campaigned on increasing financial resources for early learning and poorer schools, and advocated taking a less "criminalizing" approach to student discipline.
What's next: Nixon has been down in the polls and has far less money than Cuomo. "I'm not going anywhere," she said this week when asked about what's next if she loses the primary. "I don't feel that any of our leaders in New York are fighting as strongly for these causes as I have been. This is just a step up."
The bottom line: This race is another battle for the soul of the Democratic Party. Moving the current governor to the left on various issues shows that the party's base has already shifted in Nixon's direction, even if she doesn't become New York's next governor.
Go deeper:
Go deeper