The future of U.S.-China tech fiefdoms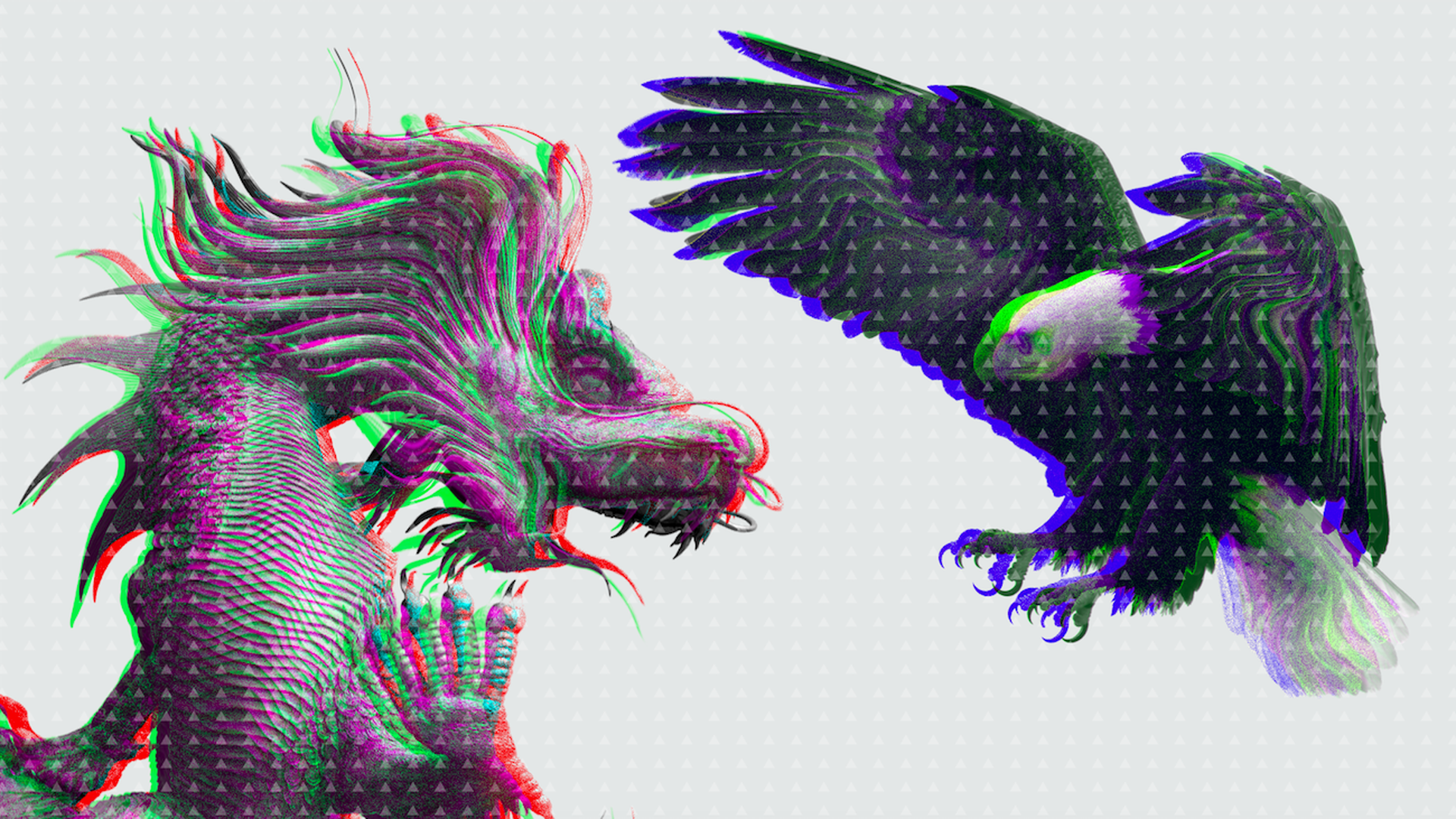 The U.S. and China often seem to be in a cutthroat technological race, but their rivalry may ultimately produce two geographically separate commercial fiefdoms where they rarely if ever cross swords directly, according to Beijing venture capitalist Kai-Fu Lee.
The big picture: In a scenario that conflicts with what most experts foresee, Lee, a former executive at Microsoft, Apple and Google, paints a largely bloodless future:
American and Chinese tech titans remain thoroughly entrenched at home, retaining the loyalty of their consumer base.
In terms of business abroad, they carve out their own geographical spheres of technological influence that mostly do not overlap.
"China and the U.S. are in parallel universes," said Lee, speaking at the O'Reilly AI Conference in San Francisco.
What's next: Commercial and tech history suggest that U.S. and China's giants will fight for business. But Lee argues that each country's tech companies will expand to dominate separate chunks of the world. American tech is likely to rule in Europe, while China captures big market shares in Southeast Asia, Africa and the Middle East.
But competition over artificial intelligence might look different. Both countries are attempting to amass the brightest AI researchers and biggest investments, and from there, they plan to build military superiority.
Although Chinese tech companies started from behind, by copying American products, their technology is often now equivalent or better.
WeChat's features outstrip Facebook Messenger and WhatsApp, forming what Lee describes in his forthcoming book, "AI Superpowers," as a "digital Swiss Army knife for modern life" — and Weibo has similarly leapfrogged Twitter.
Amazon can't hope to compete with Alibaba or JD.com on their turf, either.
The only way for a foreign company to break in is to somehow identify a space that Chinese companies haven't filled yet. For instance, if Waymo could wedge itself into the Chinese market — a leap made difficult by local rules for foreign companies — it might have an advantage over younger, homegrown self-driving ventures, Lee said.
Despite a more permissive U.S. business environment, Chinese companies can't easily slip in there, either, says Lee — in part because probable American wariness of how a Chinese business would handle their personal data.
Few of Amazon's U.S. customers are likely to flock to Alibaba, for instance.
Go deeper