Trump administration's foreign policy hampered by internal divisions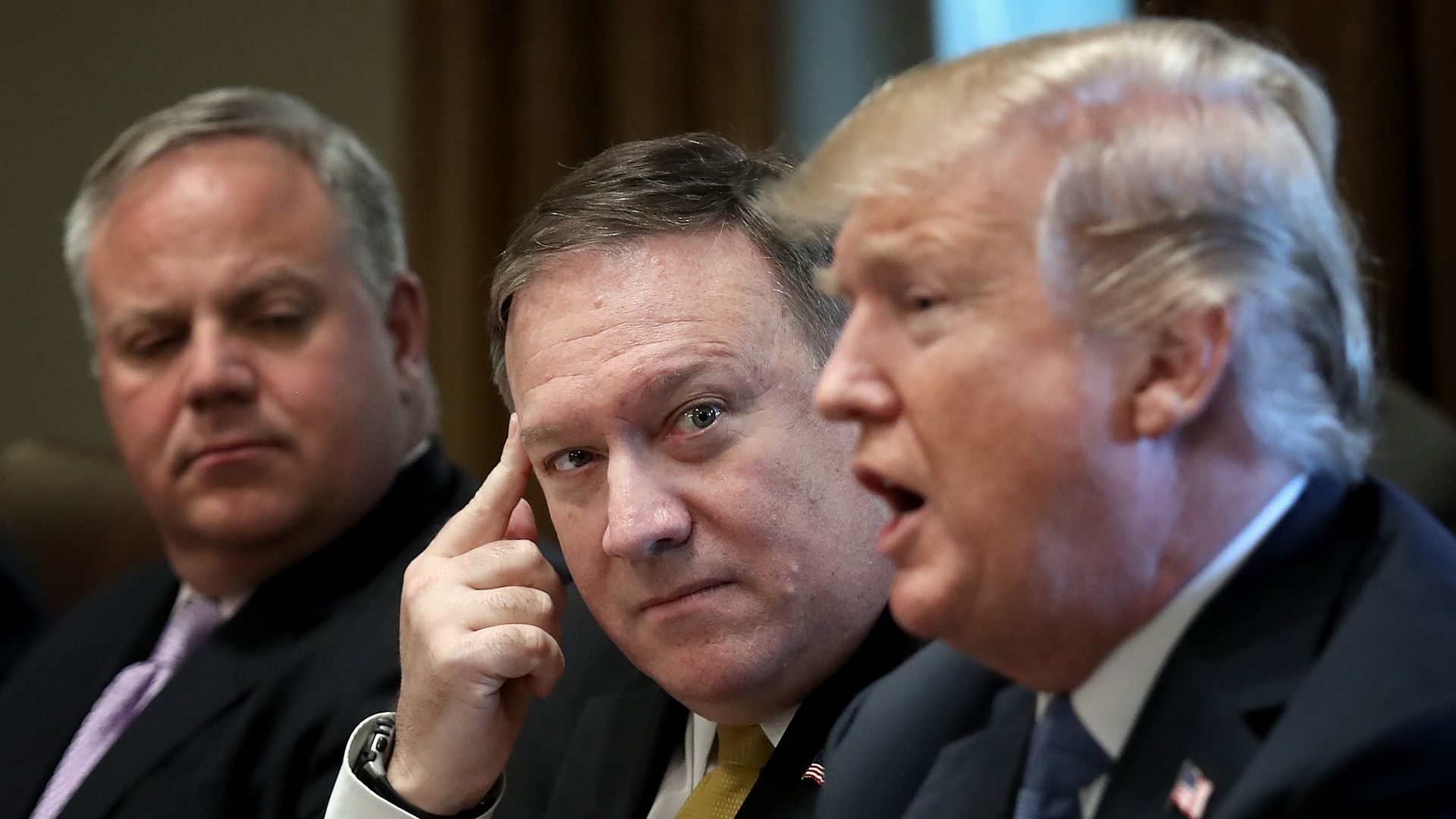 President Trump's favorite hot-and-cold deal-making strategy appears to be losing steam. Trump ratcheted up tensions with North Korea to get Kim to the Singapore summit, and is following the same script with Iran: scuttling the nuclear deal, increasing economic pressure but then proposing talks. But North Korea has been dragging its feet on denuclearization since the summit, and Iran has for now rejected Trump's offer.
The big picture: Both Pyongyang and Tehran have suspected Trump's administration of harboring internal resistance to him, an impression that's been bolstered by Bob Woodward and a senior official's anonymous op-ed. It's clear now that there's a rift between Trump's own foreign policy and the recommendations of much of his national security team, as well as the default positions of the Republican (not to mention American) foreign policy establishment, and that his administration is thwarting his efforts to implement it.
Far from benefitting the U.S., Trump's North Korea strategy advantaged Pyongyang and Beijing. Trump indulged Kim in Singapore, promised to cancel military exercises with South Korea and relaxed pressure on North Korea. So why is North Korea backtracking, and why would Tehran not see benefit in replicating the Singapore Summit?
Reality check: While engaging Trump could be an opportunity for Pyongyang and Tehran to secure results unfathomable under any other U.S. president, it's also unclear whether Trump would be able to deliver on them, and whether agreements made now would hold after he leaves office.
In Kim's and Rouhani's eyes, the Woodward book and the anonymous op-ed have likely heightened the expectation that the Mueller investigation and possible party setbacks in the midterms could weaken Trump and mire his administration in taxing wars of attrition with Congress. Better not to get into deal-making with a president whose fortunes are uncertain, and whose unorthodox initiatives are bound to be discarded quickly by his successor.
The bottom line: North Korea's and Iran's postures are not unique. Friends and foes across the world have adopted a wait-and-see approach. Trump's troubles at home have weakened his hand abroad, and that trend will only intensify if the Democrats take the House in November or the Mueller investigation gets closer to the president.
Vali Nasr is dean of the Johns Hopkins School of Advanced International Studies.
Go deeper