What went wrong at Social Capital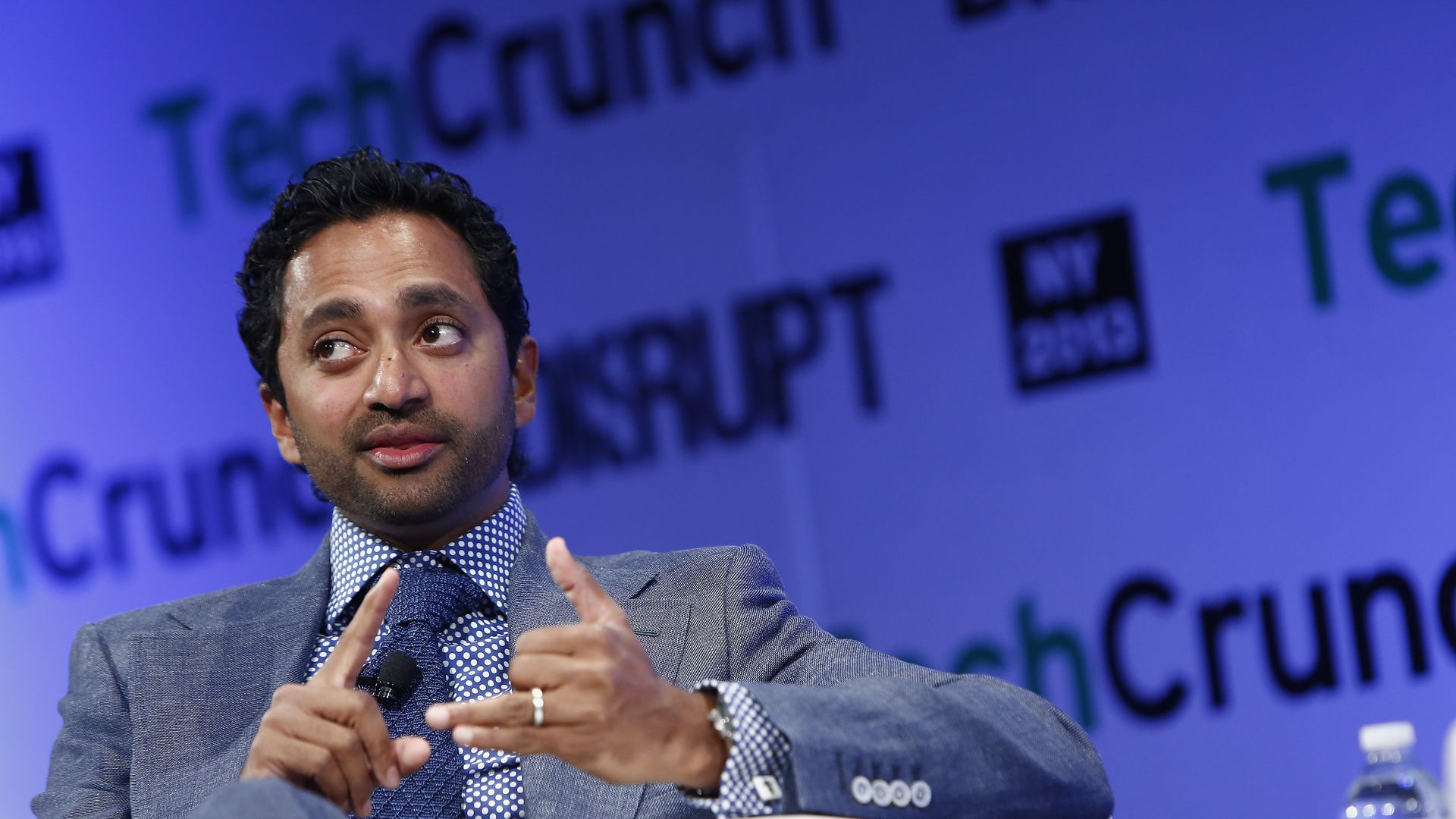 Social Capital arrived in Silicon Valley seven years ago with a charismatic co-founder, former Facebook executive Chamath Palihapitiya who also owns a piece of the Golden State Warriors. It raised more than $1 billion and made early bets on companies like Slack.
Why it matters: The firm is imploding and nine sources blame Palihapitiya for its demise. Here is Silicon Valley's Icarus story.
The first outward sign of trouble came in August 2017, when co-founder Mamoon Hamid left to join rival venture capital firm Kleiner Perkins. It was Hamid who led the Slack deal, and many of Social Capital's limited partners viewed him as the firm's "top rainmaker."
Soon after came the resignation of Social Capital's third co-founder, Ted Maidenberg. Like Hamid, Maidenberg was frustrated by Palihapitiya's push to prioritize data in the VC investment process, which is traditionally based on a more high-touch, personal approach.
Limited partners also weren't happy, but they were a bit stuck because Palihapitiya was the only "key man" listed on Social Capital's venture funds. Plus, shortly before Hamid and Maidenberg's departures, the firm recruited:
Former Skype CEO Tony Bates to raise a new growth equity fund.
Wall Street veteran Marc Mezvinsky (husband to Chelsea Clinton) as vice chairman.
Longtime private equity investor Phil Deutch as president.
Facebook HR exec Eimear Fischer as chief people officer.
As one Social Capital investor explains:
"We were suddenly invested in something with a different team and strategy from what we signed up for, but at the time it appeared to be an issue between three guys rather than something deeper."
Palihapitiya in February filed for divorce from his wife Brigette Lau, a partner with Social Capital and co-owner of its management company. Soon he began showing up less often to the office, with many employees speculating that he was in Europe with his new girlfriend, an Italian pharmaceutical executive.
Palihapitiya was also absent from other parts of Social Capital.
Multiple sources say that he repeatedly didn't appear for investor meetings, sending his regrets shortly before they were to begin.
He is said to have promised to spend significant time in London with hedge fund manager Carl Anderson, who had relocated there with his family at Palihapitiya's request, but rarely showed.
Current and former Social Capital employees say it could take days or weeks to get email replies from Palihapitiya.
Neither Palihapitiya nor a Social Capital spokeswoman returned multiple requests for comment.
By early June, Axios heard that Tony Bates and Marc Mezvinsky were planning to leave. Sources said they had come to believe that Palihapitiya was no longer putting the firm first in his life, and that he was unable to execute on the ambitious course he had set for Social Capital. In short, he was no longer the same sort of leader that some former Facebook colleagues still talk about in glowing terms.
Palihapitiya made the departures official on June 18 via a Medium post, which later had to be updated to explicitly state that Bates and Mezvinsky left voluntarily. In that post, Palihapitiya suggested that Social Capital was refocusing on its core business, leaving things like growth equity and a new credit platform behind.
But even the core business was hemorrhaging talent:
Venture capital partner Arjun Sethi resigned just before Bates and Mezvinsky, and soon created his own firm called Tribe Capital alongside Ted Maidenberg and Social Capital's chief data scientist, Jonathan Hsu. Tribe has begun investing in select Social Capital portfolio companies, while both Sethi and Maidenberg have retained some of their Social Capital board seats.
Firm president Phil Deutch left just weeks later.
Mike Ghaffry, who joined as a VC partner just last year, departed last month.
Eimear Fischer, the chief people officer recruited from Facebook, also left in August.
So did Ashley Mayer, the firm's VP of marketing, and Alex Chee, its head of product development, also left.
The firm's public equities managers, Carl Anderson and Sakya Duvvuru, are winding down Social Capital's hedge fund, sources said.
The firm's limited partner advisory committee meets later this month, and members expect much more information than they've received so far. "There has really been no communication," one investor says. "Most of what we know is what we read in the press."
Palihapitiya has hinted both internally and externally that he could just fund Social Capital himself, relying on algorithms to do much of the deal-sourcing and due diligence work.
But not everyone is sure he has the financial resources to do so in any large-scale way, at least not until the firm realizes its investment in Slack, or if his wealthy Valley friends would step up given the past year's problems. Some Social Capital alumni think he might just shut the whole thing down, although he's not communicated any such intentions.
The firm does continue to be affiliated with a blank check acquisition company, which aims to acquire and manage a large tech company, on which Palihapitiya serves as CEO and Tony Bates continues to serve as vice chairman.
Bottom line: Social Capital appears to be done, at least as a major venture capital investor.
Get more stories like this by signing up for our daily venture capital and private equity newsletter, Pro Rata. 
Go deeper