The big picture: Kavanaugh emerges unscathed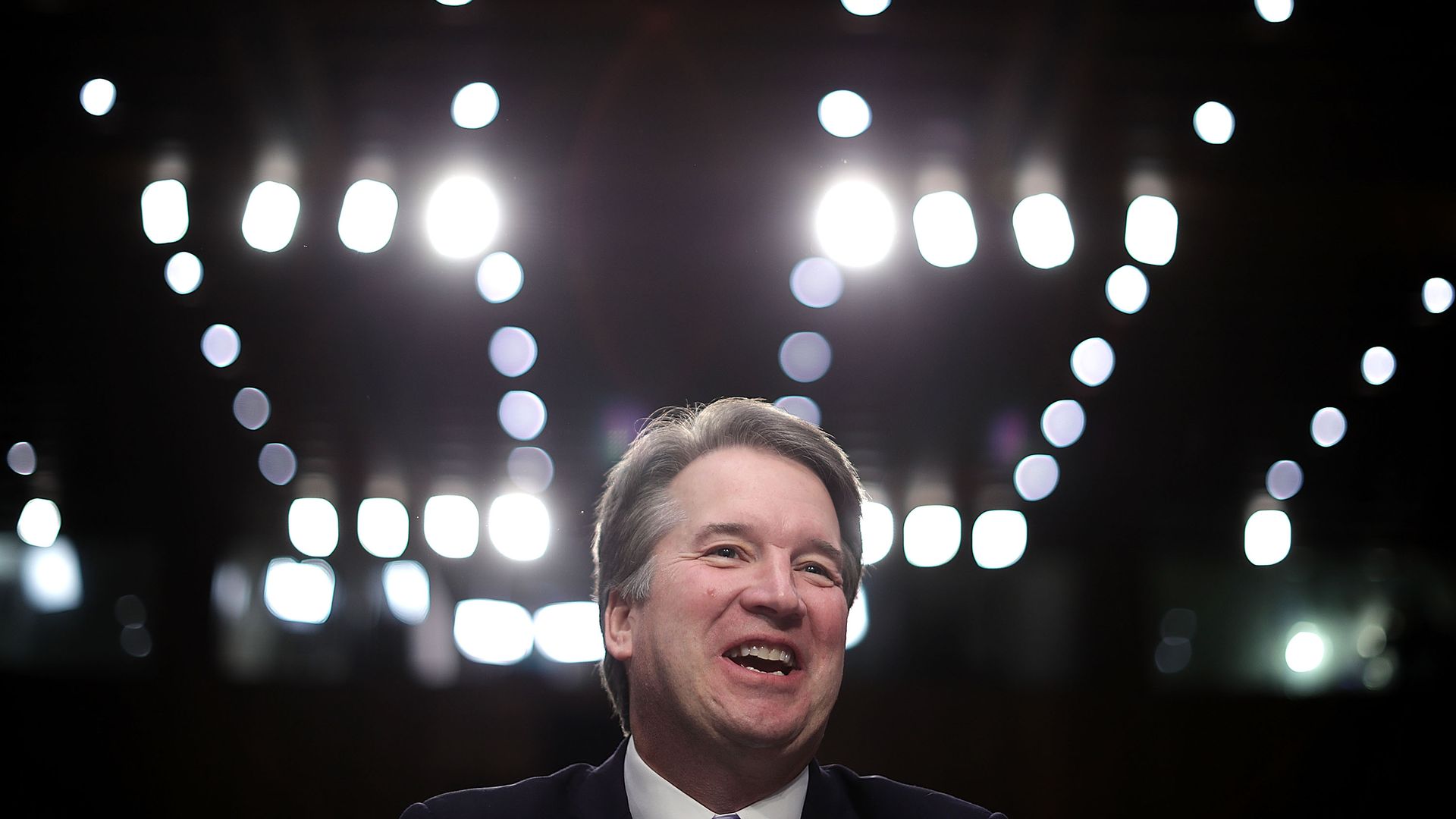 Judge Brett Kavanaugh's confirmation hearings were full of sound and fury — protests, fights about the rules, questions and insinuations that quickly went viral — but the big picture hasn't changed since the day he was nominated. He is very likely to be a Supreme Court justice, and a very conservative one, very soon and for a very long time.
Why it matters: Democrats are under a lot of pressure from their base to fight this nomination, and several of them made a go of it during Kavanaugh's hearing before the Senate Judiciary Committee. But two days of testimony only seemed to reinforce everyone's existing opinions of Kavanaugh, and that momentum works to his benefit.
Between the lines: To stop or even slow Kavanaugh's nomination, Democrats on the Judiciary Committee needed to plant new seeds of doubt about his qualifications or his beliefs. They threw everything they had at him, but none of it seemed to stick.
Liberal and conservative legal experts are both confident that Kavanaugh would be a reliable vote to curtail abortion rights, if he's confirmed. All he said this week was that Roe v. Wade and Planned Parenthood v. Casey are established precedent. That's simply a statement of fact, and makes conservatives no less confident about how they expect him to vote. It's also enough to satisfy moderate Republicans like Sen. Susan Collins.
The dispute over records related to Kavanaugh's time in the executive branch is mainly an intra-Senate one. Whether and to what extent Sen. Cory Booker broke the Senate's rules far overshadowed anything in the documents he released. Those documents, overall, generated no fire, and only a little bit of smoke — not enough to create a broader push for more time to keep digging.
On executive power and investigations into sitting presidents, Kavanaugh made several nods to the Supreme Court's decision ordering President Nixon to turn over the Watergate tapes, but refused to answer questions about how he might approach a similar situation.
The hearing's dramatic moments may well have helped energize Democrats, now and into 2020, and those can be real political gains for the party. But once Kavanaugh is confirmed, he's there for life. It won't matter what happens with the Mueller investigation, in 2018, or in 2020.
This is vindication for Trump's decision to largely outsource judicial nominations to the conservative legal establishment. They're getting their No. 1 priority — filling the federal judiciary with conservative judges at a record-breaking pace — and that is in turn helping to keep the Republican party in Trump's corner even as he keeps igniting new political firestorms all around himself.
Go deeper