Go deeper: The Trump officials who've denied writing the NYT op-ed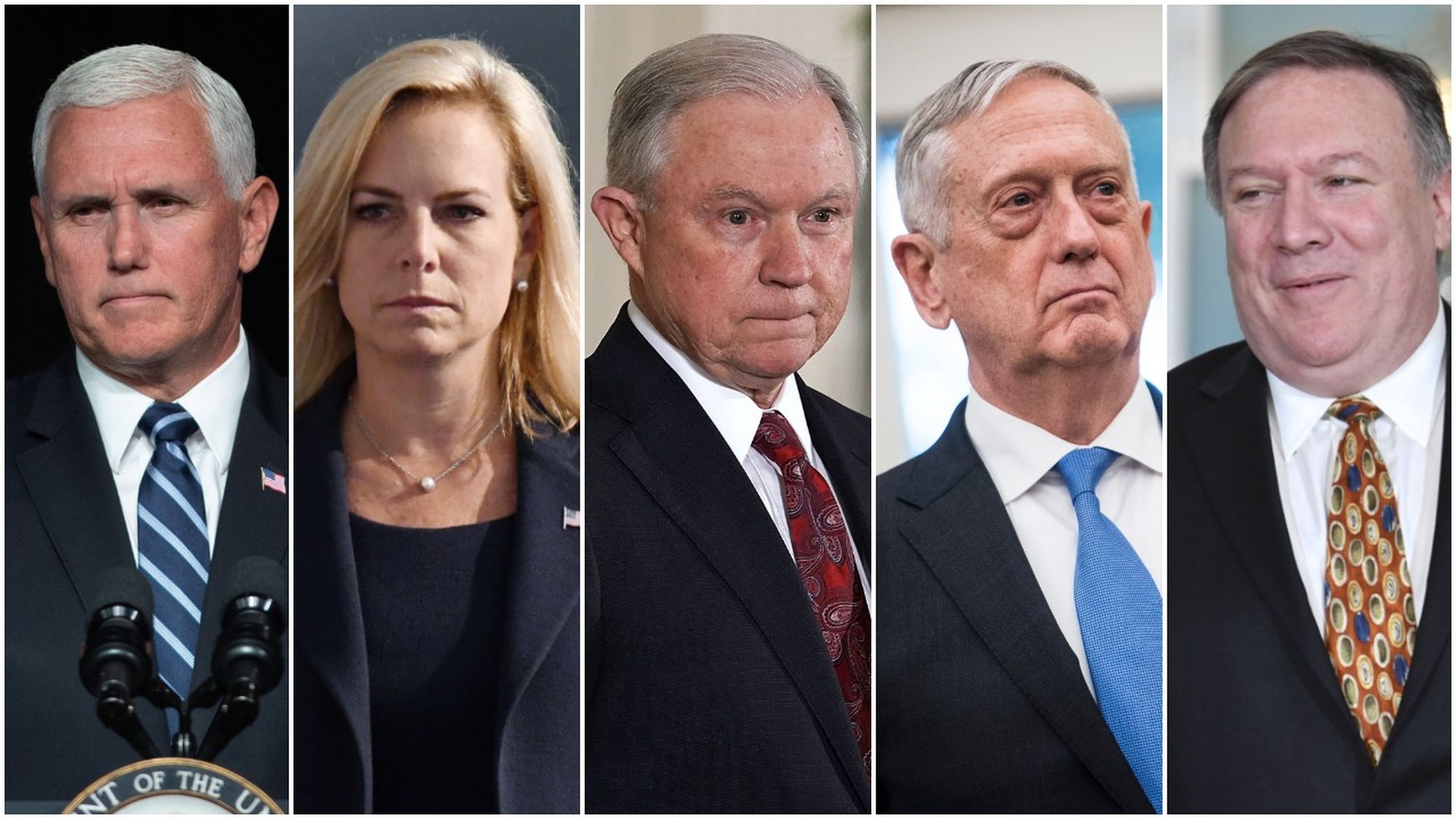 Washington has launched a massive "whodunnit" search to identify the anonymous senior White House administration official who wrote the scathing New York Times op-ed trashing President Trump.
The big picture: Scores of high-ranking officials from Vice President Mike Pence to Defense Secretary James Mattis are denying their involvement. Meanwhile, President Trump is calling on the Times to turn over the author.
Vice President Mike Pence: "The Vice President puts his name on his Op-Eds. The @nytimes should be ashamed and so should the person who wrote the false, illogical, and gutless op-ed. Our office is above such amateur acts," VP communications director Jarrod Agen tweeted.
Secretary of State Mike Pompeo: During a briefing with reporters in India, Pompeo said "they should not...have chosen to take a disgruntled, deceptive, bad actor's word for anything and put it in their newspaper. ...It's not mine."
Attorney General Jeff Sessions: A Justice Department spokesperson denied Sessions' involvement, stating that the AG "is not the author of the anonymous NY Times op-ed."
Defense Secretary James Mattis: Pentagon spokeswoman Dana White said "It was not his op-ed."
Homeland Security Secretary Kirstjen Nielsen: A DHS spokesperson said the secretary is "focused on leading the men and women of DHS and protecting the homeland—not writing anonymous and false opinion pieces."
Treasury Secretary Steve Mnuchin: Assistant Secretary for Public Affairs for Treasury tweeted "It is laughable to think this could come from the Secretary."
U.N. ambassador Nikki Haley: She replied "No" when asked by the Times as she walked into the Security Council.
Director of National Intelligence Dan Coats: "Speculation that The New York Times op-ed was written by me or my principal deputy is patently false," Coats said in a statement per CBS.
Housing and Urban Development Secretary Ben Carson: A HUD spokesman told Politico in an email, "Haha nope."
Interior Secretary Ryan Zinke: According to Politico, "A spokeswoman at the Interior Department replied with only the word "no" when asked whether Secretary Ryan Zinke or Deputy Secretary Dave Bernhardt wrote the letter."
Energy Secretary Rick Perry: The secretary tweeted, "I am not the author of the New York Times OpEd, nor do I agree with its characterizations."
Commerce Secretary Wilbur Ross: He tweeted, "I did not write and am thoroughly appalled by this op-ed. I couldn't be prouder of our work at Commerce and of @POTUS."
Be smart: Axios' Jonathan Swan tweeted earlier, "Are people actually bothering to ask all these cabinet secretaries whether they wrote the anonymous op-ed? I highly doubt it's a cabinet sec but if it is they'd happily lie to cover their butt. An inane exercise."
Go deeper