Leaders of Russia, Iran and Turkey to convene as Syria "catastrophe" looms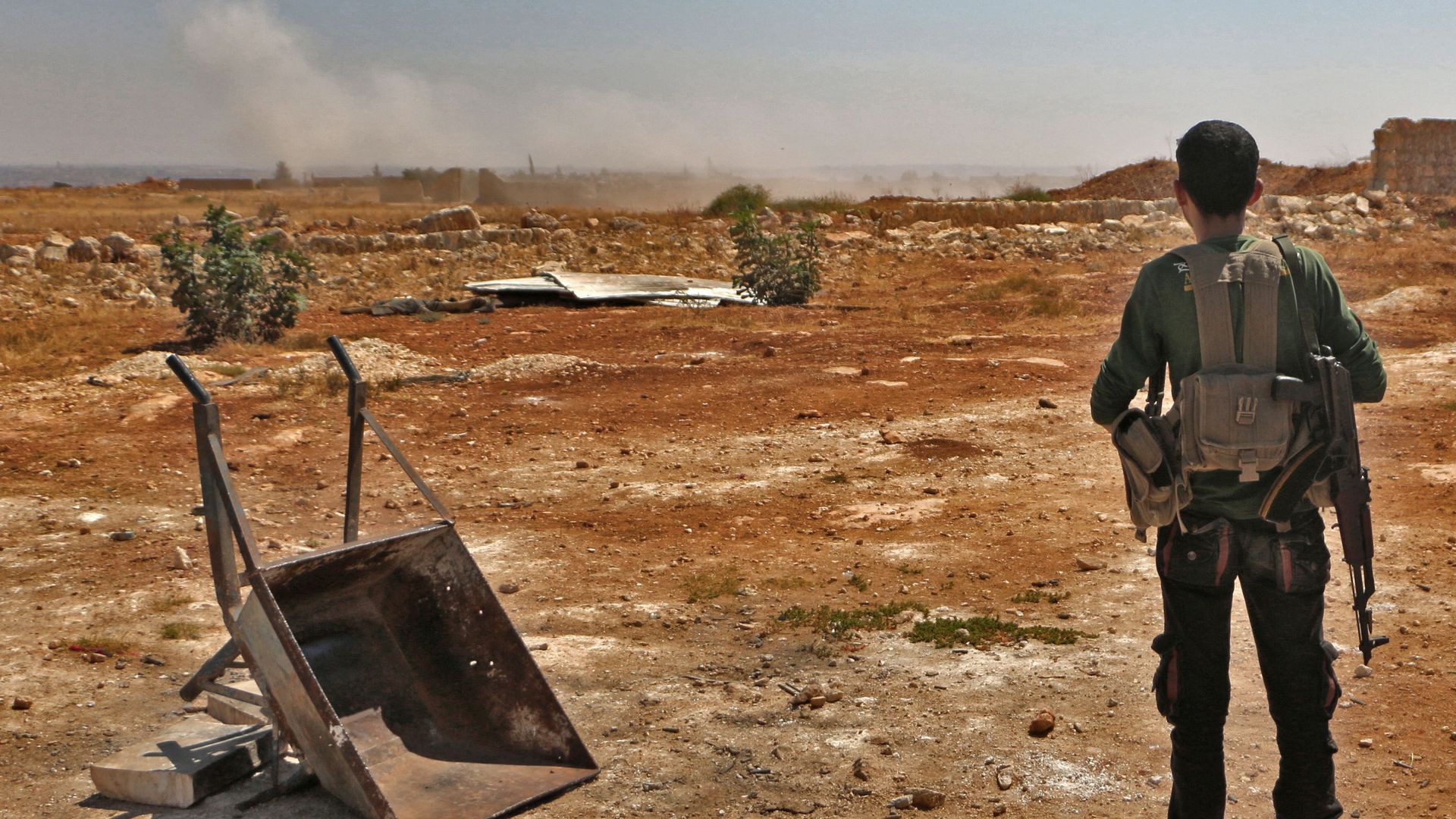 With Syria's army preparing for a major offensive in Idlib province, the country's last opposition stronghold, the leaders of Russia, Iran and Turkey will gather in Tehran on Friday to discuss a path toward ending the seven-year civil war.
The big picture: Syrian President Bashar al-Assad wants to strike a decisive blow in Idlib, but the three leaders meeting on Friday have clashing concerns and objectives. Meanwhile, the estimated 3 million civilians currently in the northwestern province —many of whom have already relocated from elsewhere due to the war — are in a precarious position.
We've seen crises like this before, in Eastern Ghouta and Aleppo. But what makes this different is that the people in the Idlib province have no where else to go. With the pro-regime coalition pushing on one side, and Turkey saying it won't take in more refugees on the other, civilians in the area would be trapped.
Chris Kozak, senior analyst at the Institute for the Study of War who focuses on Syria, told Axios: "You have a very large population that is already on the edge, there's not a lot of capacity to deal with a new big wave of internal migration provoked by fighting."
The decision of what comes next ultimately comes down to Turkey, which has set up observation posts with the intention of protecting its border, Kozak says.
Where they stand
While Russia is Assad's staunch ally, it is also seeking to exploit strained ties between the U.S. and Turkey. It doesn't want to risk that advantage with a military offensive in Idlib that would infuriate Ankara
Syria and Iran, however, "strongly want to go in and launch an offensive operation to recapture the area," Kozak told Axios.
Turkey has forces in Idlib, and has said an offensive there would cross a "red line." At the end of the day, though, it may concede some parts of the province to the coalition in order to keep security over its border.
What they're saying
President Trump weighed in on Twitter: "President Bashar al-Assad of Syria must not recklessly attack Idlib Province. ... Hundreds of thousands of people could be killed. Don't let that happen!"
Joint Chiefs of Staff Chairman Gen. Joseph Dunford said, per the Wall Street Journal: "We don't see any way that significant military operations are going to be beneficial to the people of Syria. ...[I]f major operations take place, we can expect a humanitarian catastrophe, and we would all want to see that be avoided."
U.S. ambassador to the U.N. Nikki Haley said this week that if Assad and his allies "want to continue to go the route of taking over Syria, they can do that, but they cannot do it with chemical weapons. They can't do it assaulting their people."
Kremlin spokesman Dmitry Peskov said, per Reuters: "A fairly large group of terrorists has settled [in Idlib]...We know that Syria's armed forces are preparing to resolve this problem."
The bottom line: Kozak believes that unless the Assad regime deploys chemical weapons in Idlib, the U.S. ultimately won't get involved.
Go deeper