A feud atop AI's commanding heights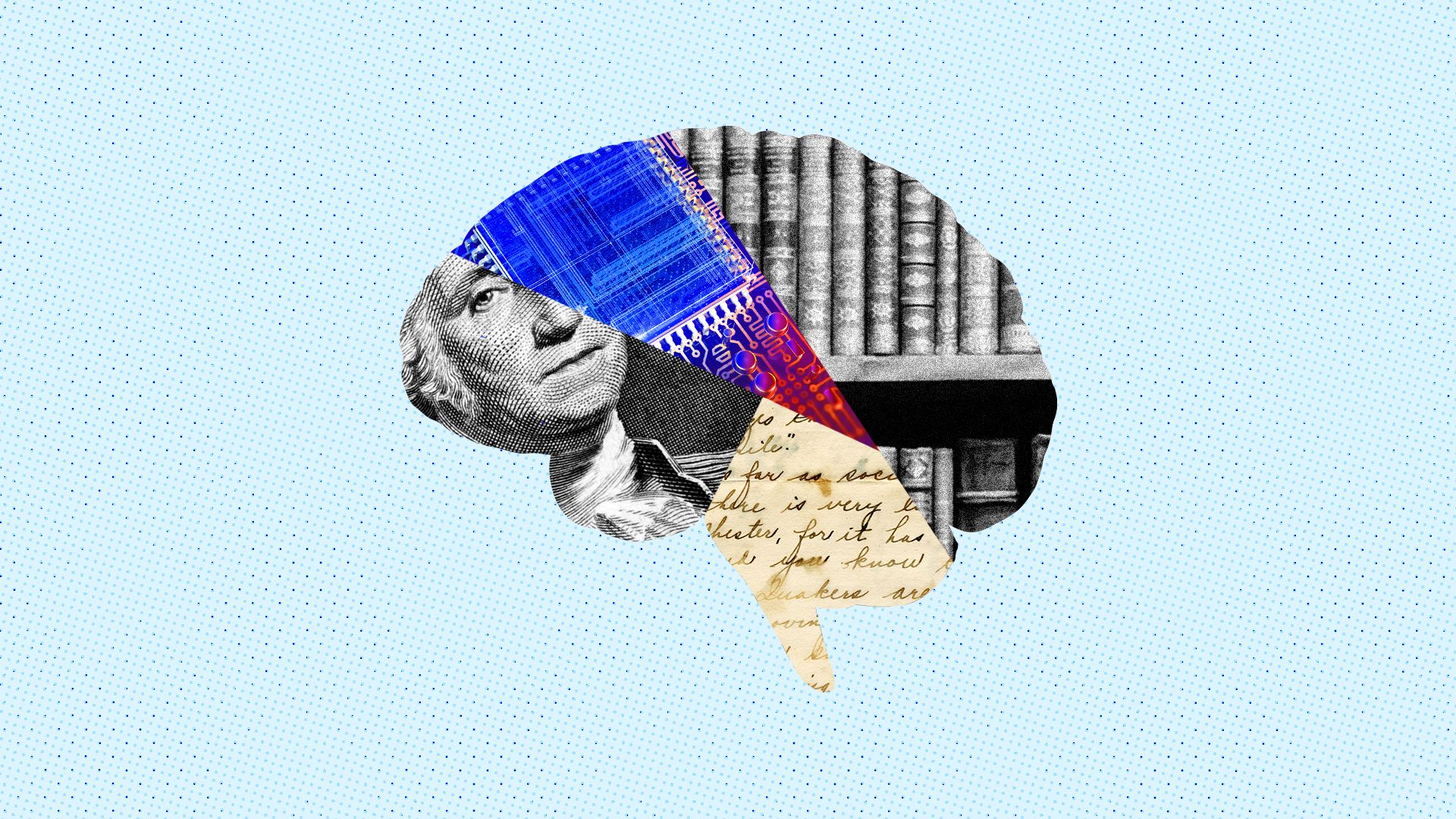 Heavyweight advances in artificial intelligence have typically come from two sources: academia and the tech industry. But beneath a mostly friendly surface is a steaming rift, with companies accused of holding up the field's advancement.
Why it matters: At a time of a fierce U.S.-Chinese rivalry for AI supremacy, academic critics accuse Big Tech of luring away university talent with high-dollar contracts, then focusing research not on big scientific questions, but on what bolsters their bottom line.
The context: Demand for AI experts is through the roof, and supply can't keep up.
Just 90,000 people worldwide have AI research skills, according to a February study from Element AI, making for intense demand for those who do possess the needed skills.
More than half of new AI-focused Ph.D.s take lucrative industry jobs after graduation, according to the Computing Research Association.
Top faculty members are being recruited by companies, too. University of Washington professor Ed Lazowska calls this a tragedy of the commons, because it chokes the supply of new AI experts, hurting academia and industry.
Among recent high-profile departures: Pedro Domingos is on leave from UW to work at the hedge fund D.E. Shaw, and legendary Carnegie Mellon computer science dean Andrew Moore announced he's departing, but not for where.
In perhaps the most famous poaching case, Uber cleaned out Carnegie Mellon's robotics lab in 2015.
The U.K. faces the same problem, with Silicon Valley companies raiding its universities for AI specialists, Hannah Boland of the Daily Telegraph reports.
What they're saying: Academics are sounding the alarm.
In a monster Twitter thread this summer, Carnegie Mellon professor Simon DeDeo painted a bleak picture of corporate labs.
The gap between academia and corporate labs is reflected in the questions they pursue, he tells Axios. Where academia might explore how social media changes how people think, a corporate social network might ask: If people post sad things, do they use our product for longer?
"An industrial research lab doesn't just do research," says Oren Etzioni, CEO of the Allen Institute for AI in Seattle. "They're also accountable to the corporation."
The other side: Jitendra Malik, a longtime Berkeley professor, joined Facebook's AI research lab earlier this year, but said he doesn't feel guilty. "I feel like I have paid my dues to academia," he said. He spends the majority of his time at Facebook while continuing to advise students at Berkeley. "I am currently finding it exciting to be at Facebook," he said.
In fact, some corporate labs do take on fundamental research, like this Facebook work on machine translation posted last week.
Researchers are free to set agendas based on their interest, Malik tells Axios, and aren't held back from publishing results that reflect poorly on their employer.
Conducting research at a corporate lab means less time chasing grants — a huge time suck for academics — plus access to bountiful data and computing power. Some companies, like LinkedIn, also offer up slices of their data for academics to use.
Facebook advocates a model it calls dual affiliation, in which professors split their time between corporate labs and their university. Yann LeCun, Facebook's chief AI scientist and a professor at New York University, spends 80% of his time at the company.
Facebook has hired at least a dozen AI researchers into dual roles. The company says it avoids hiring too many from any single faculty to avoid hollowing it out.
Berkeley professor Ben Recht pilloried dual affiliation in a blog post titled "You Cannot Serve Two Masters" and co-authored with two other computer-science professors. The trio argued that the model harms students and hobbles research and innovation.
A potential model for symbiosis offered by Etzioni: professors who take on a 50-50, rather than 80-20, split between corporate and academic duties. Better yet, according to every critic I spoke with, would be more corporate funding for academic research, in forms such as endowed chairs, fellowships and grants.
Go deeper: Facebook's new AI labs pressure universities (NYT)
Go deeper