Pompeo and Mattis aiming to ease tensions on trips to India, Pakistan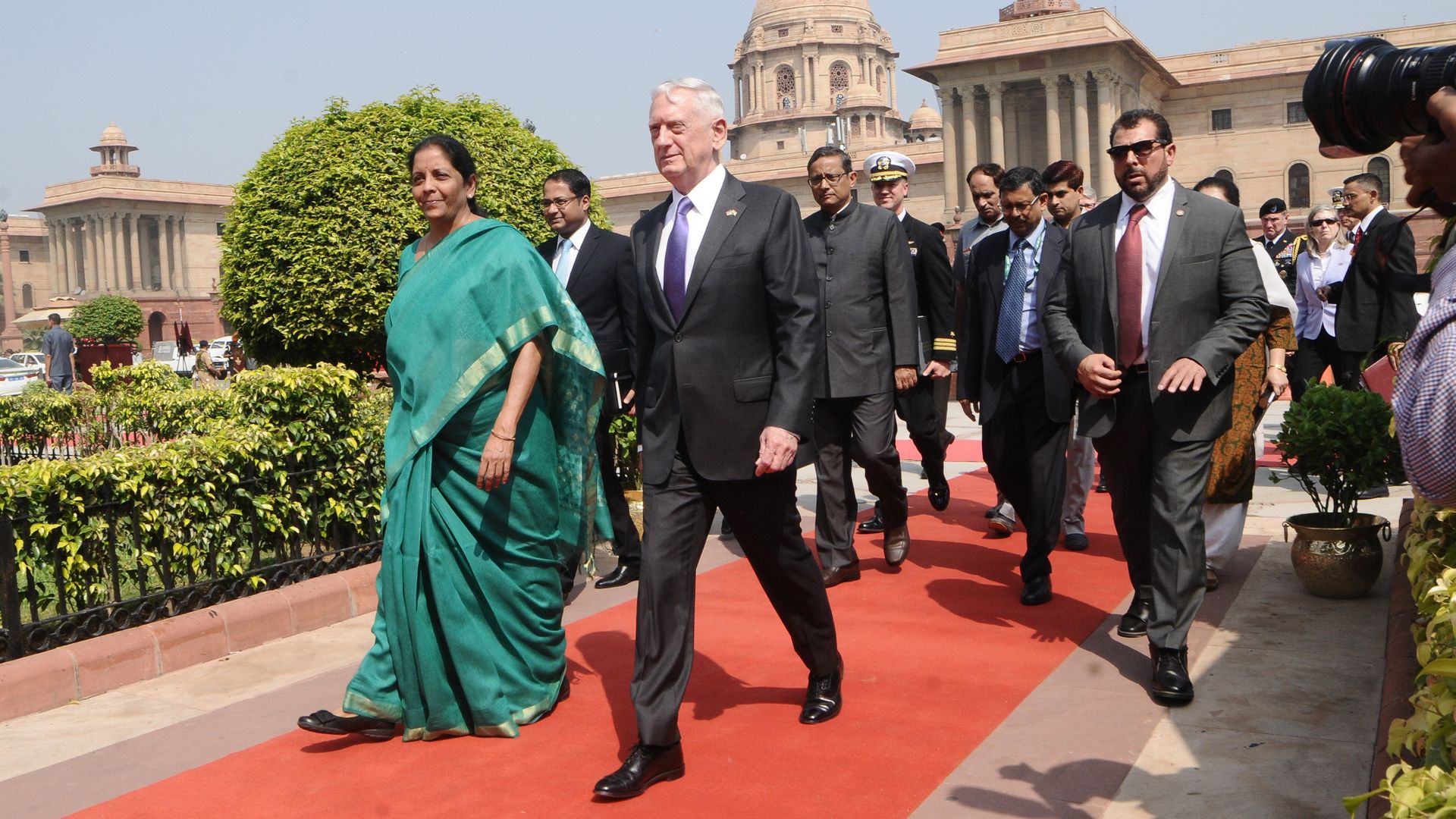 This week, U.S. Secretary of State Mike Pompeo and Defense Secretary James Mattis will travel to New Delhi for talks with their Indian counterparts. Pompeo will also visit Islamabad to meet Imran Khan, Pakistan's new prime minister.
Why it matters: This high-level U.S. diplomacy is freighted with importance for the Trump administration's South Asia strategy. The White House sees India as a key partner in U.S. efforts to push back against Beijing's rising influence in Asia. Pompeo and Mattis will try to reaffirm the strength of the U.S.–India relationship, which has suffered recent strains after years of growth and warmth.
Such cooperation will face challenges, rooted largely in Washington's unhappiness over New Delhi's warm relations with Iran and Russia. While India enjoys close energy and defense ties, respectively, to those two countries, the White House has moved to sanction both of them — and it doesn't want New Delhi doing business with them. Other White House policies, including its new steel tariffs and threats to dismantle visa programs that have greatly benefited Indian workers in the U.S., have also caused friction.
Meanwhile, Pompeo will arrive in Islamabad only a few days after Washington canceled $300 million in security assistance to Pakistan, citing the country's failure to take sustained action against terrorists who enjoy safe haven in Pakistan and target U.S. forces next door in Afghanistan. With Taliban offensives at a fever pitch and U.S. officials redoubling efforts to launch a peace process with the emboldened insurgents, Pompeo's meeting comes at a critical moment for the struggling U.S. war effort.
What's next: The outcome of Pompeo's and Mattis' diplomacy could go a long way toward determining the degree of success (or failure) of the Trump administration's South Asia strategy.
Michael Kugelman is deputy director and senior associate for South Asia at the Wilson Center.
Go deeper