Globally, outsized firms are wreaking havoc with workers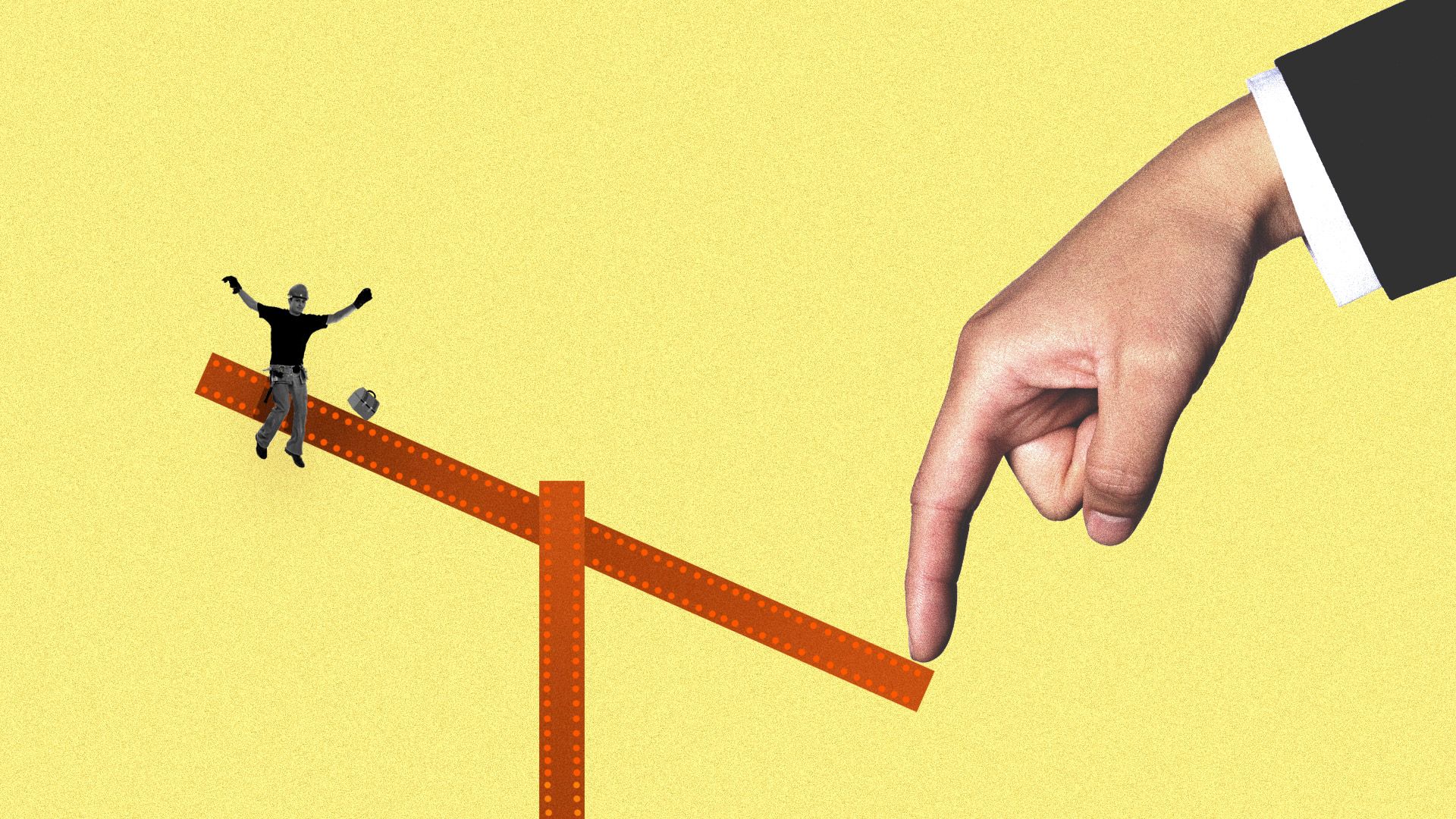 In the U.S., Europe and beyond, big companies are squeezing workers, overpowering their ability to negotiate wages, and leaving them with at best stagnant living standards, according to new studies.
What's going on: In March, we wrote about a decades-long reduction in the traditional share of the economic pie going to workers, a shift that economists call a primary reason for growing inequality. But in new papers and speeches, economists say the problem is global, not just in the U.S., cutting across developed and emerging nations.
Economists largely blame the problem on outsized market power of big companies — among them Amazon, Apple and Google in the U.S., HSBC and Tesco in the U.K., Siemens in Germany, and Alibaba and Tencent in China.
Driving the news: Amazon today reached $1 trillion in market value — like Apple, which reached the milestone last month — reflecting the remarkable change it has wrought on employment, economics and human behavior around the world.
Medium-size and merely large companies have not had such impact and are not to blame for flat wages, said John Van Reenan, an economics professor at MIT.
He said labor associated with most U.S. companies has not seen a shift. "It's all coming from what's happening to the top amongst the largest firms," he told Axios.
In a talk last month, Van Reenan and his colleagues coined such gargantuans as "superstar companies," which he said mainly grow up in what have become "winner-take-all" sectors.
The trend began earlier outside the U.S. In Europe, the labor decline began in the mid-1970s, a decade and a half before it was noticed in the U.S., according to a recent paper from the Federal Reserve Bank of Cleveland.
Economists at the International Monetary Fund said a half-century low point in labor's share of the economic benefits was reached before the financial crash and has not recovered since, according to a July 2017 paper.
In an interview, Mitali Das, who led the IMF research team, said globalization has played no role in the labor decline in advanced economies. Instead, it's been caused by technological advances including automation.
Das said her team's results align with Van Reenan's at MIT. "For one thing, the superstars in their analysis are those that adopted technology in spades — Facebook, Google, Apple, etc."
Go deeper: Robots are shifting income from workers to owners
Go deeper