The energy and climate stakes of the midterm elections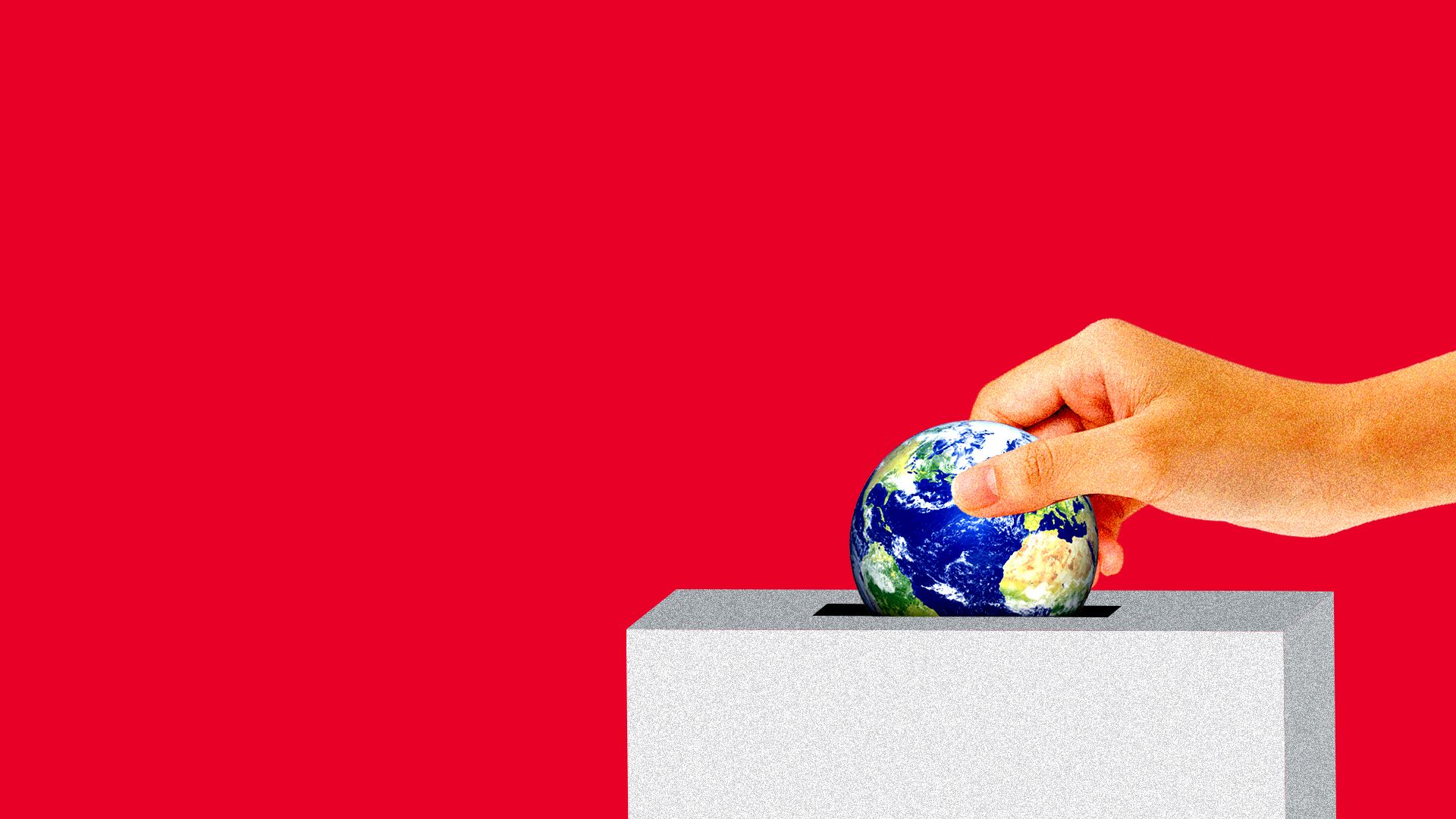 Bubbling beneath the battle for control of Congress during this year's election cycle is a series of consequential energy and climate fights.
Why it matters: The midterm elections will go a long way in shaping both state-level policies and Washington's future appetite to consider legislation in this area. Here are six electoral moves on my radar.
Moderate Republicans
Climate change is just beginning to reemerge as an issue some congressional Republicans talk about publicly. If that leads to defeat for the small handful of moderate, politically vulnerable Republicans who do it, it sets back any prospect for bipartisan climate policy.
Races I'm tracking:
Rep. Carlos Curbelo of Florida, who represents the tip of Florida, is a top target of the Democratic Congressional Campaign Committee. Curbelo last month introduced a carbon tax bill, the first substantive climate policy from a Republican in nearly a decade.
GOP Reps. Brian Fitzpatrick of Pennsylvania and Francis Rooney of Florida, who are co-sponsors of Curbelo's legislation.
Other Republican members of a bipartisan House caucus on climate change, which has grown significantly since President Trump came into office.
Greens' trickiest test
The political arms of environmental groups are prioritizing helping Democrats win back the House, but Curbelo's race presents a tough call, as evidenced by the varied positions top groups are taking.
Environmental Defense Fund Action Fund is supporting him, according to elections data compiled by the Center for Responsive Politics, along with Fitzpatrick and one other House Republican.
The League of Conservation Voters, one of the most influential environmental groups in politics, is likely to sit out the race, according to people familiar with its position.
NextGen America, the political advocacy group founded by billionaire activist Tom Steyer, is supporting Curbelo's Democrat opponent, Debbie Mucarsel-Powell. The group's executive director, Heather Hargreaves, said Curbelo's membership in the Republican caucus that is "enabling the Trump agenda" matters more than his support for a carbon tax.
Colorado fracking
Coloradans are set to vote on a ballot initiative imposing a 2,500-foot setback, up from the current 500 feet, for most new oil and gas drilling.
Colorado, a political battleground, is America's fifth-largest gas-producing and seventh-largest oil-producing state. Layer on top of that a growing population colliding with an increase in fracking, a controversial extraction technique for oil and gas, and it's ripe for this controversy. Two similar efforts to get similar initiatives on the ballot in 2014 and 2016 failed.
If it passes, expect it to re-energize efforts to ban fracking in other regions of the country--and raise big issues for oil companies with big footprints in Colorado.
Washington carbon tax
After voting down a carbon tax ballot initiative two years ago, Washington state voters have another chance — and the outcome will reverberate nationally.
This latest proposal is different from 2016 in a way that attracts support from environmental groups: The money earned from the tax would be distributed across environmental and clean-energy priorities, instead of mostly going to reduce sales taxes.
Oil companies are opposing the proposal, partly due to the fact it exempts some emitting sources, including a coal plant, according to a letter BP sent to state business leaders and elected officials a few weeks ago.
California gas tax repeal
This ballot initiative would repeal a recent gasoline tax hike that raised the fuel tax by 12 cents a gallon, a 40% increase.
If it succeeds, it would be a big rebuke to energy taxes of any kind — and gasoline tax hikes in particular, which nearly half of all states have approved since 2013.
Conservative interests and anti-tax advocates are hoping it also rallies conservatives to get out and vote in some close House district races Democrats are hoping to flip. If that happens, it could help Republicans maintain House control and secure a tax repeal in one swoop.
Southwest renewable energy standards
Two ballot initiatives bankrolled by Tom Steyer's NextGen America would increase the percentage of renewable electricity mandated in Arizona and Nevada. They'd amend each state's constitution to:
Require 50% clean-energy electricity in Arizona by 2030, up from its current mandate of 15% by 2025.
Require 50% renewable-energy electricity in Nevada by 2030, up from 25% by 2025.
These are the main energy issues Steyer's group is involved in, which last year broadened from a climate focus to a range of progressive causes.
Stay tuned for deeper dives on some of these topics in the coming weeks. What energy and climate issues are you following this election cycle? Let me know at [email protected]
Editor's note: This story was corrected to say Arizona's initiative would require 50% clean-energy electricity by 2030.
Go deeper