D.C. dreams of saner times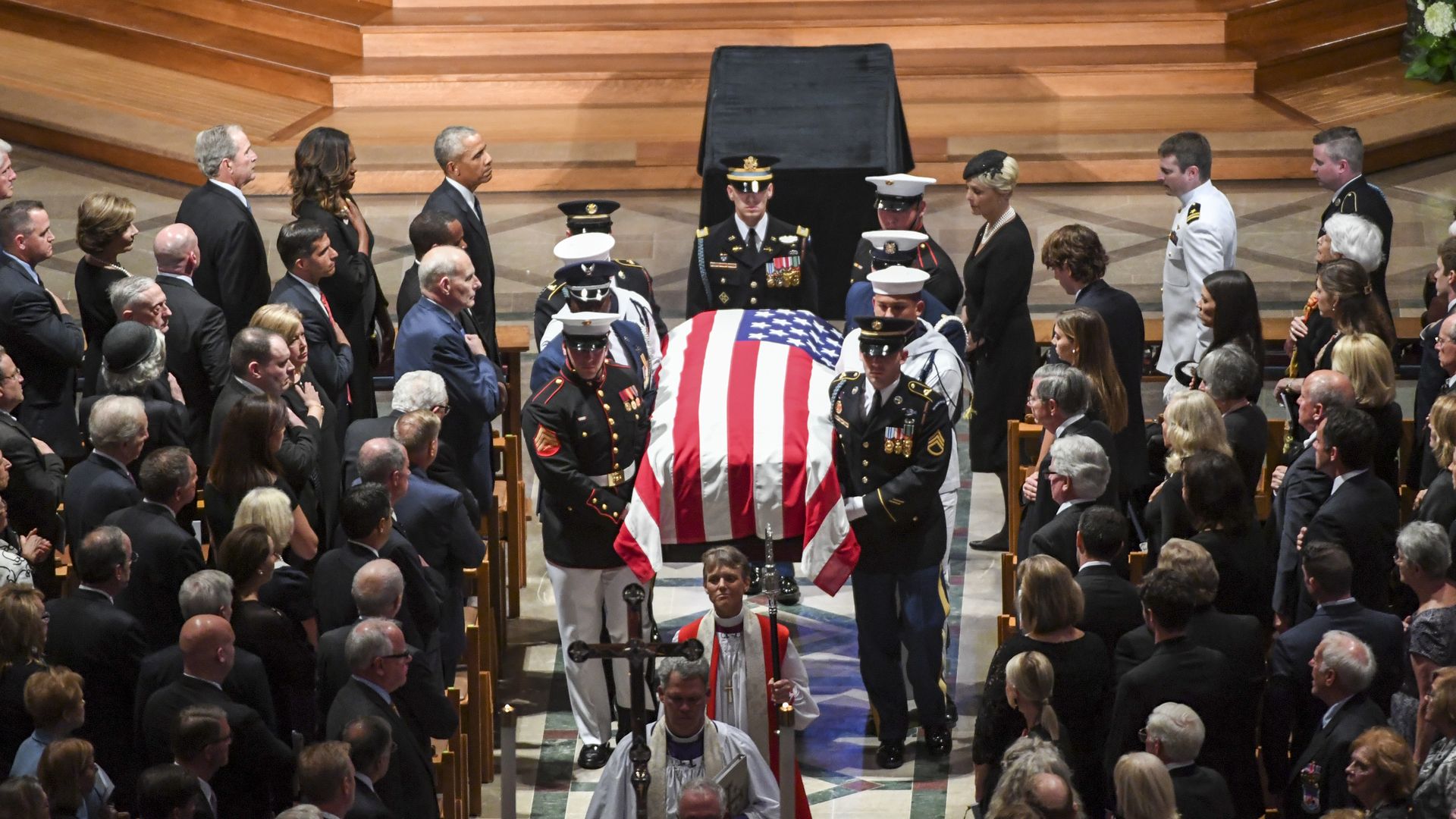 Amid the Trump-shaming at the emotional Washington National Cathedral sendoff for Sen. John McCain, the televised eulogies and private conversations reflected a broader dream that the United States is still capable of a saner politics.
The big picture: "We were reminded by his funeral that we have been, and could again be, a nation based on values like honor, truth-telling, service, humility, respect, and kindness," Walter Isaacson, author of a shelf of historical biographies, told me.
"That was the last gift McCain gave us."
One of the day's most socially viral moments was a bipartisan gesture that wasn't even on the program: TV coverage captured President George W. Bush trying to unobtrusively pass a piece of candy from Laura Bush, on his left, to Michelle Obama, on his right.
President Barack Obama captured the mood with the single word "small":
"So much of our politics, our public life, our public discourse, can seem small and mean and petty, trafficking in bombast and insult, in phony controversies and manufactured outrage."
"We never doubted the other man's sincerity or the other man's patriotism, or that when all was said and done, we were on the same team."
Obama spoke right after Bush. Both had vanquished McCain for president, but got a call from the senator in his waning months, asking them to eulogize him.
The unusual invitation gave Obama the line of the day: "It showed his irreverence — his sense of humor, little bit of a mischievous streak. What better way to get a last laugh than to make George and I say nice things about him to a national audience?"
Bush called McCain "a man with a code": "John's voice will always come as a whisper over our shoulder: We are better than this. America is better than this."
Reality interlude: This is likely to be a late-summer fling. Every single sign heading into President Trump's 2020 reelection campaign is that the rhetoric and reality of politics are only going to get worse.
Demography and technology are fueling the Trump brand of tribal politics, and his governing choices have left him more dependent on stoking his own forces rather than bringing in new swaths of support.
The day's only mid-speech applause went to Meghan McCain, who gave fiery remarks through tears: "The America of John McCain has no need to be made great again because America was always great."
She certainly followed some of McCain's last advice: "When my father got sick, when I asked him what he wanted me to do with this eulogy, he said, 'Show them how tough you are.'"
One of the sweeter McCain memories came from former Senator Joe Lieberman of Connecticut. The two senators had traveled the world together as part of congressional delegations. McCain always regretted not naming Lieberman to a historic bipartisan presidential ticket, instead crassly picking Sarah Palin.
"One of John's favorite cities in the world was Jerusalem," Lieberman recalled. "And one of his favorite things to do there was to stand on the balcony with [Sen. Lindsey Graham] and me of our hotel looking out at the old city and discussing all of the religious and political history that happened there over the centuries."
So there are causes larger than ourselves, as McCain constantly reminded his audiences, particularly young people.
Now we just have to remember what they are.
Go deeper