The trade deal before the trade war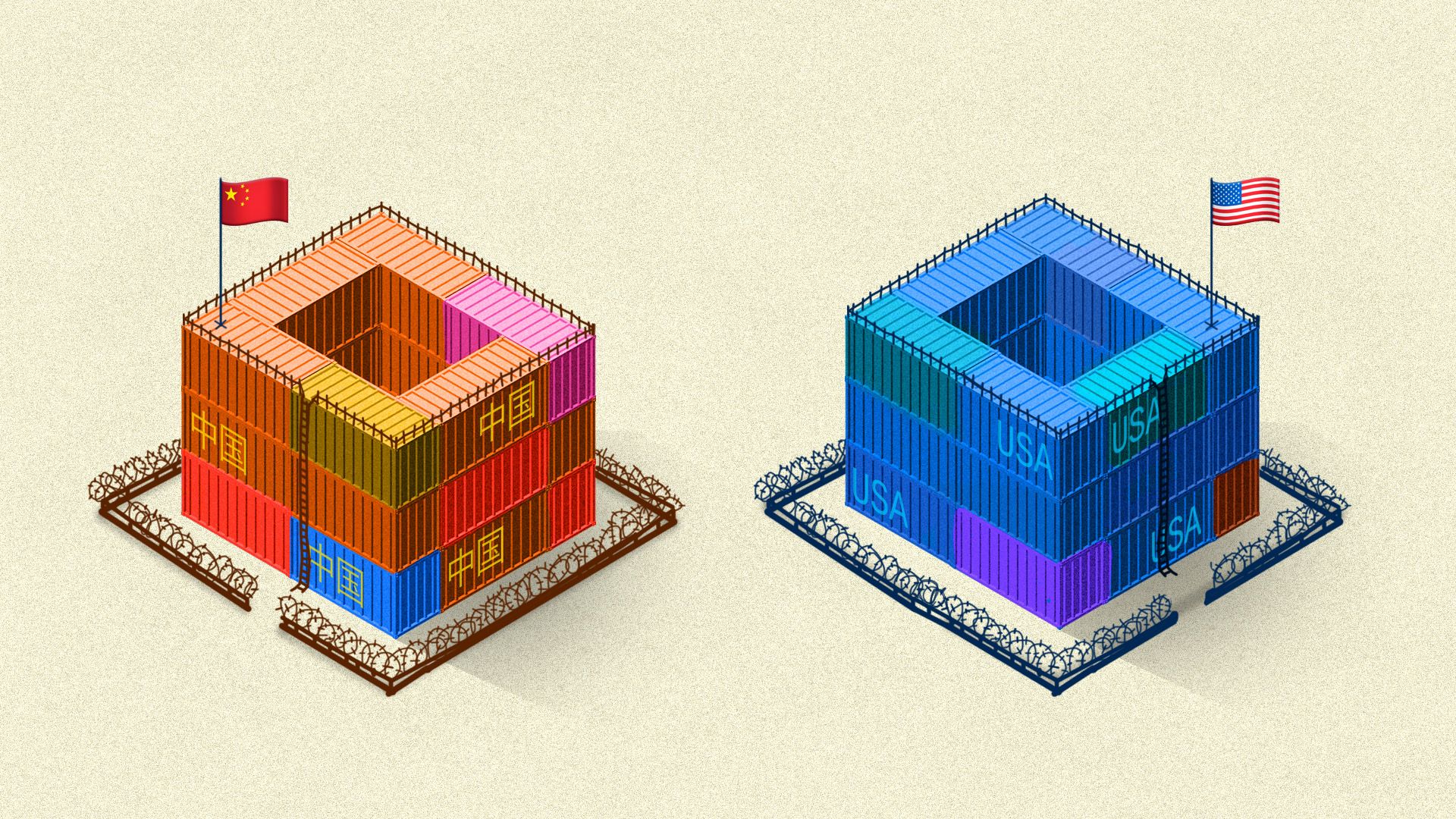 The U.S. could well have a new trade deal by tomorrow, and a trade war of staggering proportions by next week.
The big picture: President Trump has been fighting on three fronts — contentious NAFTA negotiations, tariffs on allies in Europe and Asia with the threat of more to come, and a multi-pronged standoff with Beijing. The China dispute pits the world's two largest economies against one another, and has by far the greatest stakes for the global economy.
Gary Hufbauer of the Peterson Institute tells Axios that if Trump imposes fresh tariffs on $200b in Chinese goods, as Bloomberg reports he plans to as early as next week, "that will trigger a trade war with huge financial repercussions, because China will not back down."
Axios contributor Bill Bishop, who recently returned from Beijing, writes: "I consistently heard that Chinese President Xi Jinping and his advisers had decided U.S. trade pressure is just one piece of a multi-dimensional strategy to 'thwart China's rise,' and so it made little sense to them to offer significant concessions."
Axios' Jonathan Swan says Trump sees this as a winning issue and is not about to change course: "He believes in this. It's like theology to him."
On NAFTA, Trump has reached a preliminary deal with Mexico, and wants Canada to come aboard by Friday so the agreement can be finalized before a new leftist government takes office in Mexico City.Where things stand: Swan is hearing some confidence in the White House and doubts on Capitol Hill, while Canadian leaders have expressed cautious optimism. It would be a remarkable turn of events to see Canada, sidelined in the talks and anxious to stand up to Trump, come around so fast.
Remaining sticking points include Canada's protectionist policies on dairy and a controversial system for handling investor disputes. The U.S. has backed off nearly all its most hardline proposals.
All that's really needed tomorrow is a three-way handshake. The parties would then have 30 days to iron out the details and keep the process moving toward a potential ratification vote next year.
Behind the scenes: Swan reports that Trump is under pressure from Republican senators to get a deal — any deal — to show progress is being made. The senators, particularly those from farm states, feel Republican voters are willing to give Trump the benefit of the doubt for now, but are growing nervous.
Meanwhile, Trump today rejected an EU offer to bring all auto tariffs down to zero. The new auto tariffs he's threatening would hit Europe and Japan hard and, according to an analysis from the Peterson Institute, could cause 624,000 U.S. workers to lose their jobs and car prices to spike.
Trump wants to move ahead on auto tariffs but is facing strong resistance within his administration and from the Hill, Swan reports. One GOP senator told Axios "the dam would break" in Congress if Trump pulled the trigger. The senator has expressed that to Trump.
The fallout here would be orders of magnitude larger than what we saw over metals tariffs. "Neither Europe or Japan is going to roll over on autos the way Mexico basically has," Hufbauer says.
Trump's view: "The European Union is almost as bad as China, just smaller."
Go deeper