Trump announces "understanding" on U.S.-Mexico trade deal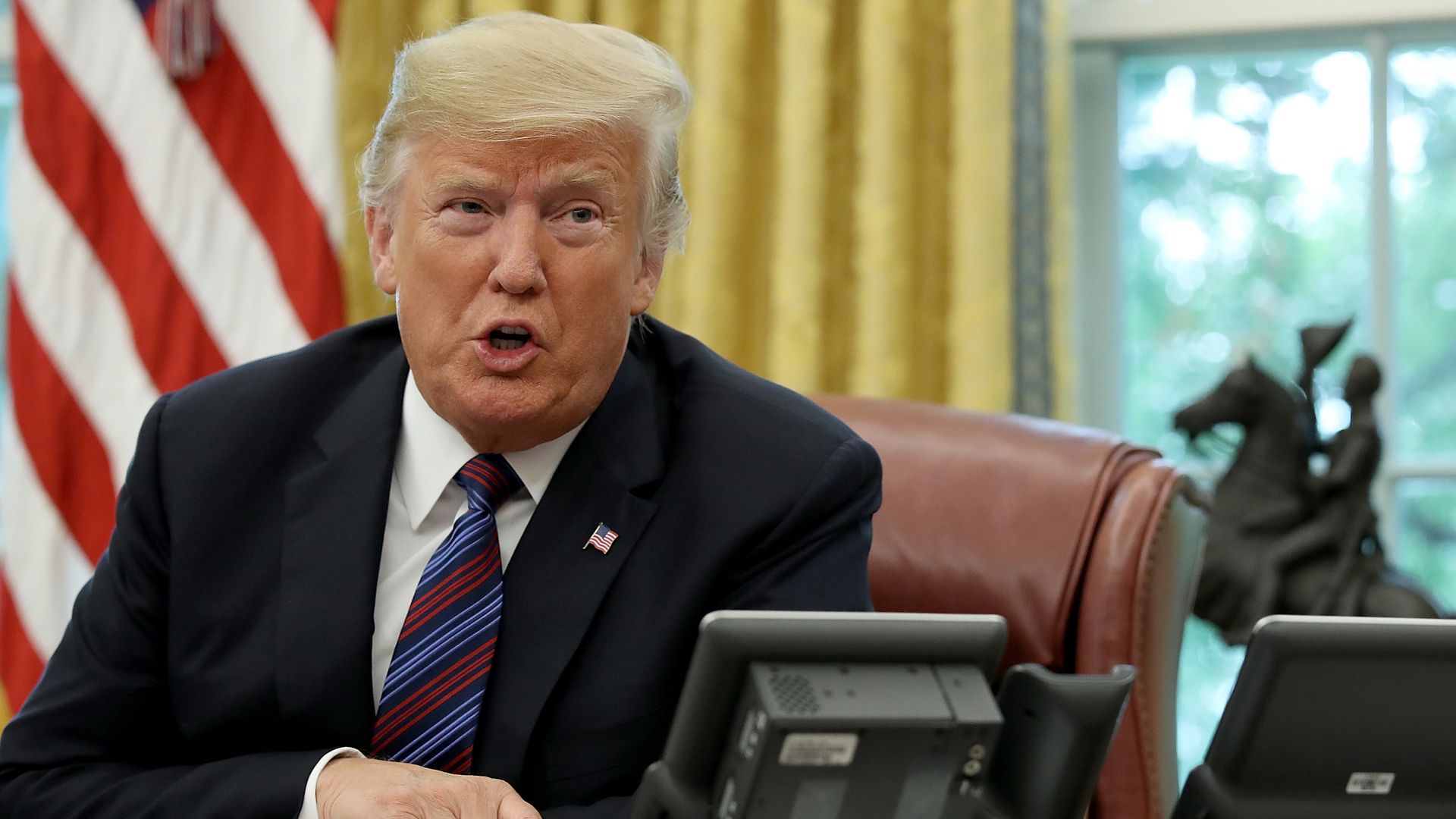 President Trump announced Monday from the Oval Office that he plans to enter into a new trade agreement with Mexico called the United States-Mexico Trade Agreement — getting rid of the name NAFTA — with the hope that Canada will "negotiate fairly" and join at a later date, enter into a separate deal, or face automobile tariffs.
The details: Despite Trump's announcement, any trade deal would have to first be approved by Congress. The agreement with Mexico requires 75% of an automobile's value to be manufactured in North America, up from NAFTA's current level of 62.5%. It would also require 40% to 45% of the car to be made by workers earning at least $16 an hour.
A senior administration official told reporters Monday that "there's never been a trade agreement remotely as good on labor" as this one, which the administration hopes will help win the support of Democrats. The official also said the new standards the agreement sets for modernizing digital trade, financial services, and intellectual property are far better and more enforceable than anything in NAFTA or the now-abandoned Trans-Pacific Partnership.
What's next: Negotiations with Canada are expected to begin this afternoon. Both the U.S. and Mexico have expressed a desire to have Canada join the agreement, but according to the U.S. Trade Representative Bob Lighthizer, the deal is set to be presented to Congress either way.
Per CNBC, the White House would need to ask Congress to approve a bilateral track if Canada does not join the agreement, a process that would take at least 180 days. A senior administration official said they will have a better sense of whether they will need to notify Congress of a bilateral or a trilateral agreement by the end of the week.
The bottom line: When asked if Mexico would agree to a bilateral deal if Canada cannot be brought onboard, the senior administration official told reporters they would have to ask the Mexican government.
Go deeper