Sen. John McCain dies at 81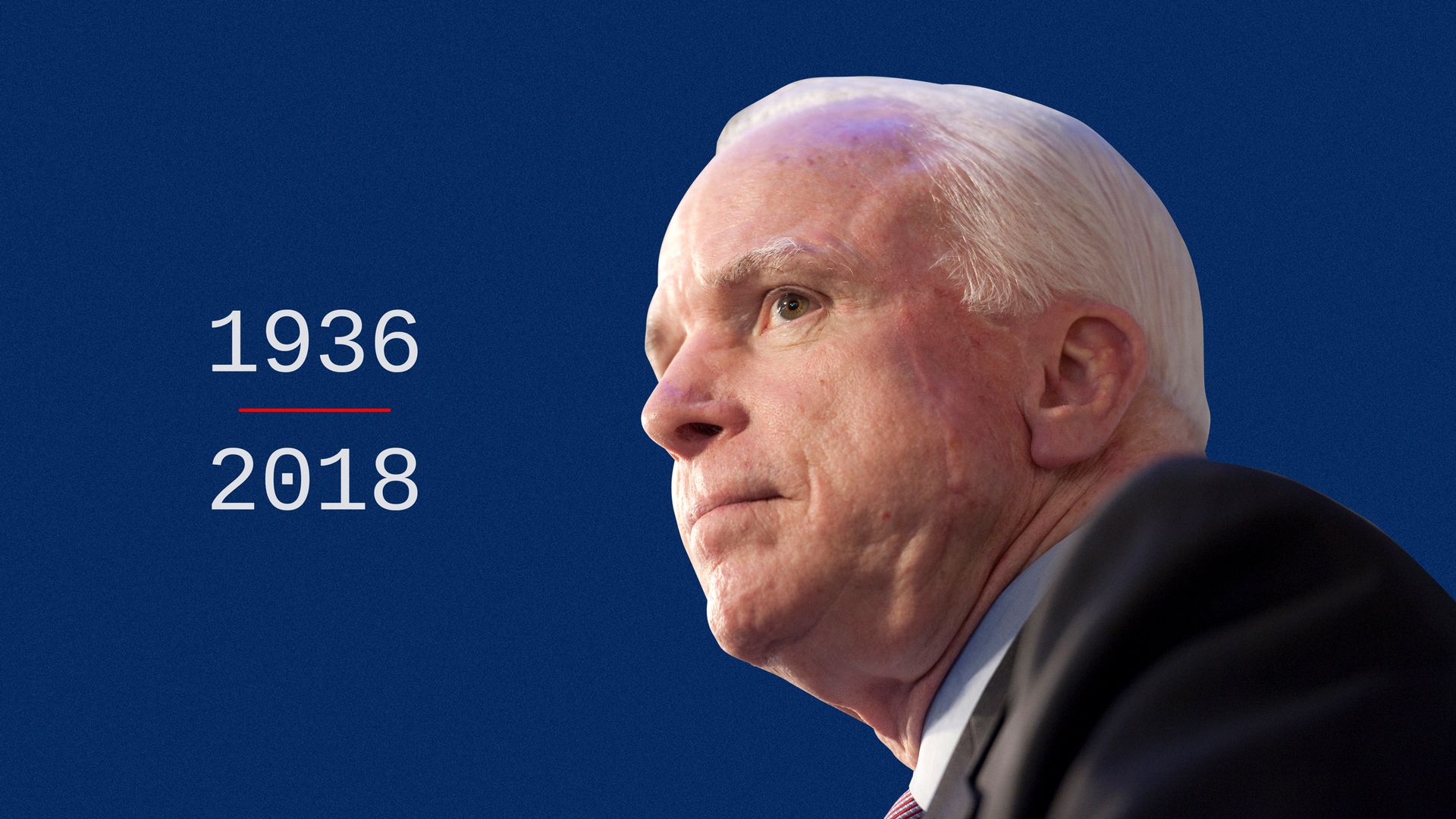 Arizona Sen. John McCain passed away today at the age of 81 after a battle with a malignant brain tumor, called a glioblastoma.
"Senator John Sidney McCain III died at 4:28pm on August 25, 2018. With the Senator when he passed were his wife Cindy and their family. At his death, he had served the United States of America faithfully for sixty years."
— Statement from McCain's office
The bottom line: McCain was one of the last giants of the Senate who could reach beyond partisan politics.
The big picture: A war hero and giant of the Senate, McCain was a third-generation Navy officer whose military career spanned more than two decades, including nearly six years as a North Vietnamese prisoner of war after he was shot down over Hanoi in 1967.
He launched his political career after his 1981 retirement from the Navy, serving two terms in the House of Representatives before being elected to the Senate in 1986. McCain, who was tapped as the GOP's nominee for president in 2008, was in the midst of his sixth Senate term.
Looking back on McCain's life
He refused an early release from North Vietnam offered after his father, John S. McCain Jr., was named commander of all U.S. forces in the Vietnam theater, stipulating that every POW captured before him would have to be released as well.
The continued beatings that McCain suffered while a prisoner of war left him permanently disabled and unable to raise his arms above his head.
Following a failed 2000 presidential run, McCain captured the Republican nomination for president in the 2008 race. After crisscrossing the country in the Straight Talk Express, he selected Alaska Gov. Sarah Palin as his running mate — a controversial choice — before losing to Barack Obama.
McCain often wasn't afraid to buck Republican orthodoxy, earning him the title of "maverick." He publicly repudiated that reputation following his loss in 2008, but shades of the maverick McCain still showed in recent years, especially with an attempt at broad immigration reform with the Gang of Eight.
McCain's most notable maverick moment came last year with his dramatic thumbs-down on the Senate floor that killed his party's attempt to repeal the Affordable Care Act, earning him the continued ire of President Trump.
McCain's daughter, Meghan, released the following statement upon her father's passing:
Go deeper