Facial recognition edges toward the mainstream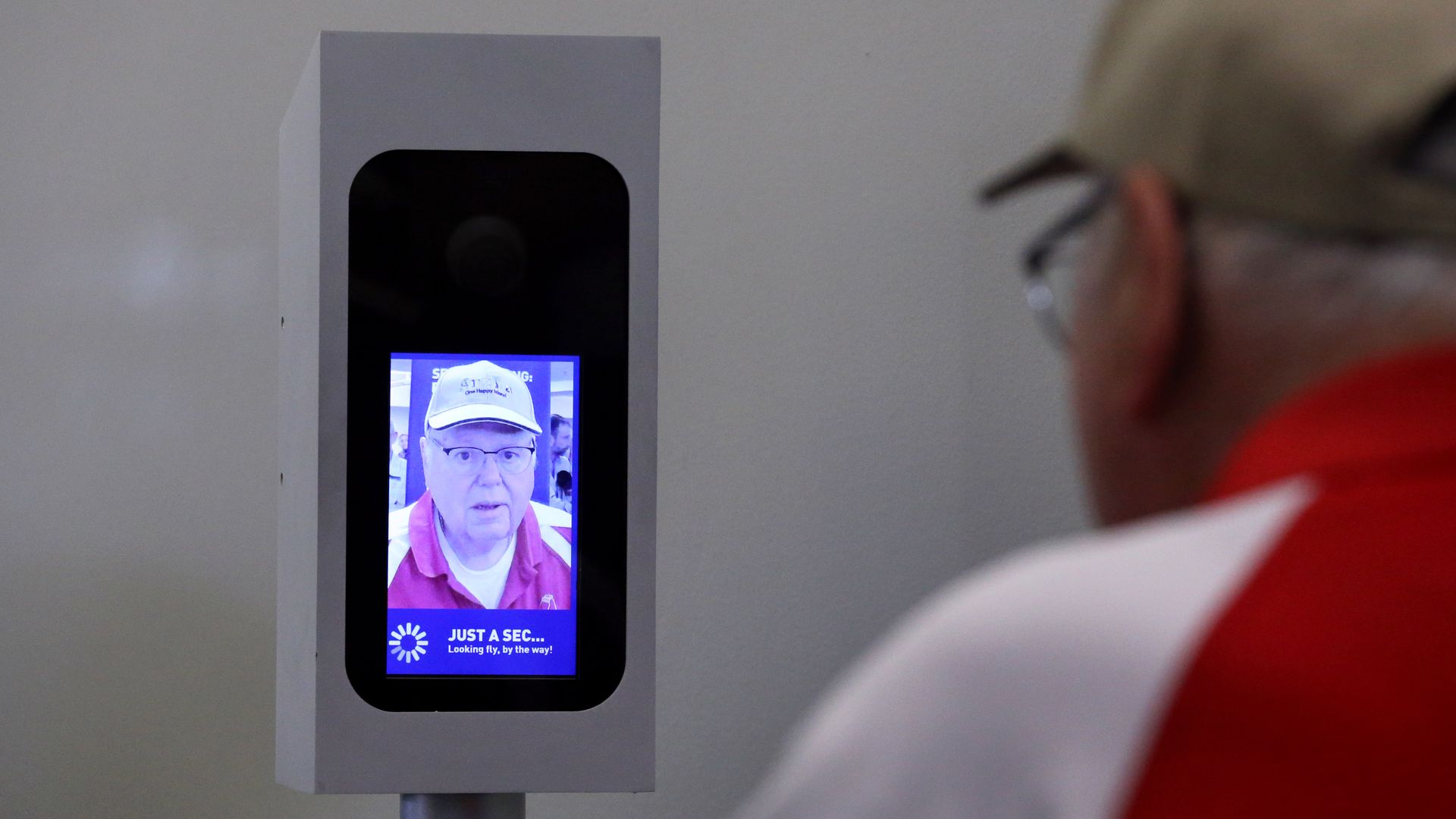 A few weeks ago, we wrote about faces increasingly replacing passwords. But your mug can do more than get you through security: Companies are planning to use facial scans to identify you in stores, restaurants, and sports arenas, and tag you for specialized ads and custom coupons — widening the potential for privacy breaches.
The big picture: When the film Minority Report was released 16 years ago, its hyper-targeted ads were a creepy window to the future. Now, millions unlock their iPhones with their faces every day, edging a technology that, to many, still seems invasive toward the mainstream.
What's happening: When the National Soccer Hall of Fame opens in October in the Dallas suburb of Frisco, visitors will have the option to register their face and fill out a short questionnaire about their favorite teams and players.
Once they've opted in, they'll see images and stats related to their choices when they walk by certain displays.
Once they leave the venue, their faces will be purged from the system.
Benji Hutchinson, a vice president at the U.S. subsidiary of NEC, which made the system, says Apple's Face ID — a feature of last year's iPhone X — is pushing facial recognition mainstream.
Facial recognition is a natural extension of fingerprint readers, Hutchinson argues. "The stigma is slowly being eroded," he said, especially for younger people.
The push toward commercial biometric identification is part of a century-long trend toward extreme personalization, said Joseph Turow, a professor of communication at the University of Pennsylvania.
Retailers and restaurants want to know as much as possible about each customer. The problem with singling out specific computers or credit cards is that they can be shared by relatives — unlike faces, which by definition belong to just one person.
But will biometrics go viral? Turow says yes, but when it does, voice identification may take off before facial recognition.
"This is not just an incremental change," he says. "Passing into the world of biometrics is a major step in how we allow our data and our body to be used."
Your face as a cookie: When you surf the internet, the various websites you have previously visited can follow you because their cookie is embedded in your browser. Now, the vision is that, as you walk around town or anywhere else, stores that share data with one another will be able to follow you on foot because your face will be associated with their businesses.
For a taste of this potential future, head to Caliburger, Universal Studios, or the airport, where facial recognition is already being used.
At the fast-food chain, customers can link their face to a loyalty account that looks up past orders and accordingly suggests meals.
At Universal, Hutchinson said, facial recognition could allow customers to skip lines, go faster through concession stands, and pay without cash or a card.
Some airlines are boarding passengers with software that matches faces to passport photos or visa applications.
The other side: The surveillance culture developing in China has increased global public awareness of facial recognition by law enforcement agencies. Look for the public conversation to extend to scrutiny of its commercial use.
Companies have been repeatedly hacked, and their data abused around the world.
There are no rules regulating or even guiding how businesses share face data with each other or brokers, who could link to your real-world shopping activities — just like happens with your web browsing.
Go deeper