Venezuela's crisis roiling South America, drawing international aid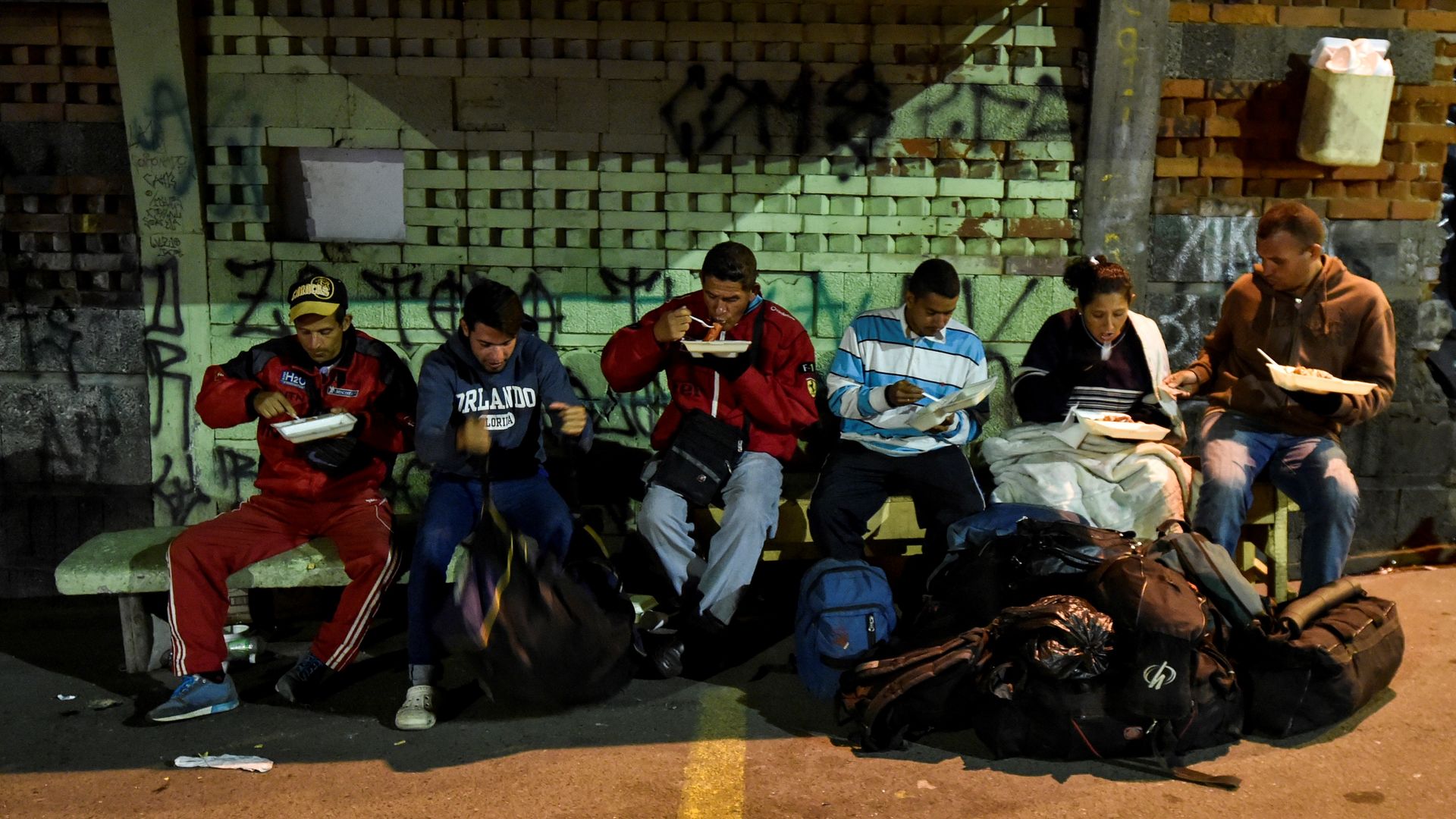 Venezuela's regime-driven economic collapse has hollowed out public services and accelerated hyperinflation, worsening its humanitarian crisis and fueling one of the largest mass migrations in South American history. An estimated 2.3 million Venezuelans — 7% of the population, many suffering illness and malnutrition — have fled since 2014, but the patience and resources of regional host countries may soon wear thin.
The big picture: International actors are now trying to rush in to help. Yet, like President Maduro's recently announced measures to stabilize the economy, such assistance may be too little too late.
The biggest global players have chipped in financial and technical assistance to mitigate destabilization and alleviate suffering, including commitments of more than $50 million from the U.S. and $40 million from the EU. The U.S. is dispatching a naval hospital ship to provide humanitarian assistance in neighboring Colombia, while China — a strategic ally of Venezuela — is reportedly doing the same in Venezuelan territory.
What to watch: Washington accepts that the Venezuela crisis is a top concern, but President Trump has yet to articulate the global stakes or define U.S. interests. While he has not yet turned to his forceful persuasion playbook to try to compel change — as he has with China, Iran, North Korea and Russia — it's not clear whether those alternatives to more traditional diplomatic and military options can be successfully applied in Venezuela. For now, expect more sanctions and further debate about how to time them around the next disaster event.
The bottom line: These moves are important starting points, but they do nothing to clarify the end game for a crisis likely only to worsen.
Michael McCarthy is a research fellow at American University's CLALS, an adjunct professor at George Washington University's Elliot School for International Affairs and the founder and CEO of Caracas Wire.
Go deeper