Updated Aug 26, 2018 -

World
Artists are facing pressure not to perform in Israel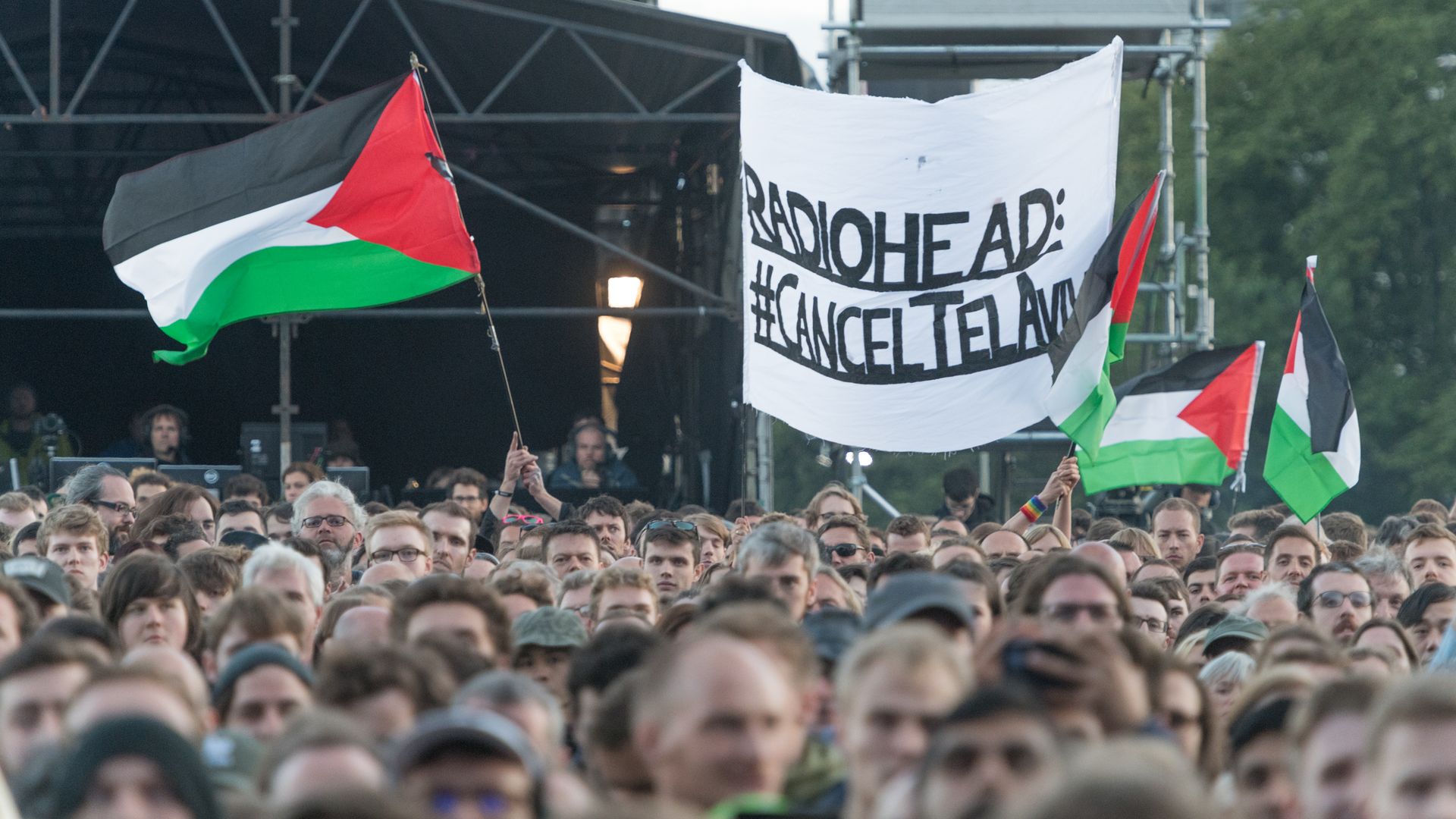 Lana Del Rey is the latest performer pressured to explain performing in Israel, tweeting: "We don't always agree with the politics of the places we play within or even in our own country ... but we are musicians and we've dedicated our lives to being on the road."
The big picture: Social media campaigns and protests are putting pressure on artists to cancel shows in Israel over the ongoing Israeli-Palestinian conflict. Two fans that implored Lorde to cancel her show last year cited Israel's "policies of oppression" and "apartheid," per the Washington Post.
Lorde cancelled her show in December, saying in a statement: "I'm not too proud to admit I didn't make the right call on this one." She received support from a "hundred artists," the Post reports, while critics pointed out that she performed in Russia despite "human-rights abuses."
The pressure on artists has been building for several years:
Elvis Costello cancelled two performances in Israel in 2010, per the Guardian, on "a matter of instinct and conscience."
Lauryn Hill also cancelled her show in 2015, saying in a Facebook post: "It is very important to me that my presence or message not be misconstrued, or a source of alienation to either my Israeli or my Palestinian fans. For this reason, we have decided to cancel the upcoming performance in Israel."
Flashback: There was a wave of cancellations in 2014 during Operation Protective Edge, a nearly two-month conflict between Israel and Palestinians in the Gaza Strip.
Neil Young and Crazy Horse: "It is with heavy hearts and deep sadness that we must cancel our one and only Israeli concert due to tensions which have rendered the event unsafe at this time. We'll miss the opportunity to play for our fans and look forward to playing in Israel and Palestine in peace."
Cee Lo Green: His promoter in Israel said the performance had to be postponed "because this is not the right time to advertise and push a concert and also because Israel Defense Forces' regional Home Front Command allows gathering of up to a thousand people only."
Megadeth: "The band was looking forward to this concert and is disappointed they will not be able to put on the show for their fans but expect to return to Tel Aviv on their next international tour."
The bottom line: The social media campaign is far from slowing down. The Palestinian Campaign for the Academic and Cultural Boycott of Israel (PACBI) said in a statement on Twitter, in response to Lana Del Rey's defense: "We would welcome you to Palestine should you cancel your Meteor performance. ... But we cannot accept your token gesture as you step across our boycott picket line."
Go deeper