New cervical cancer screening guidelines add sole HPV testing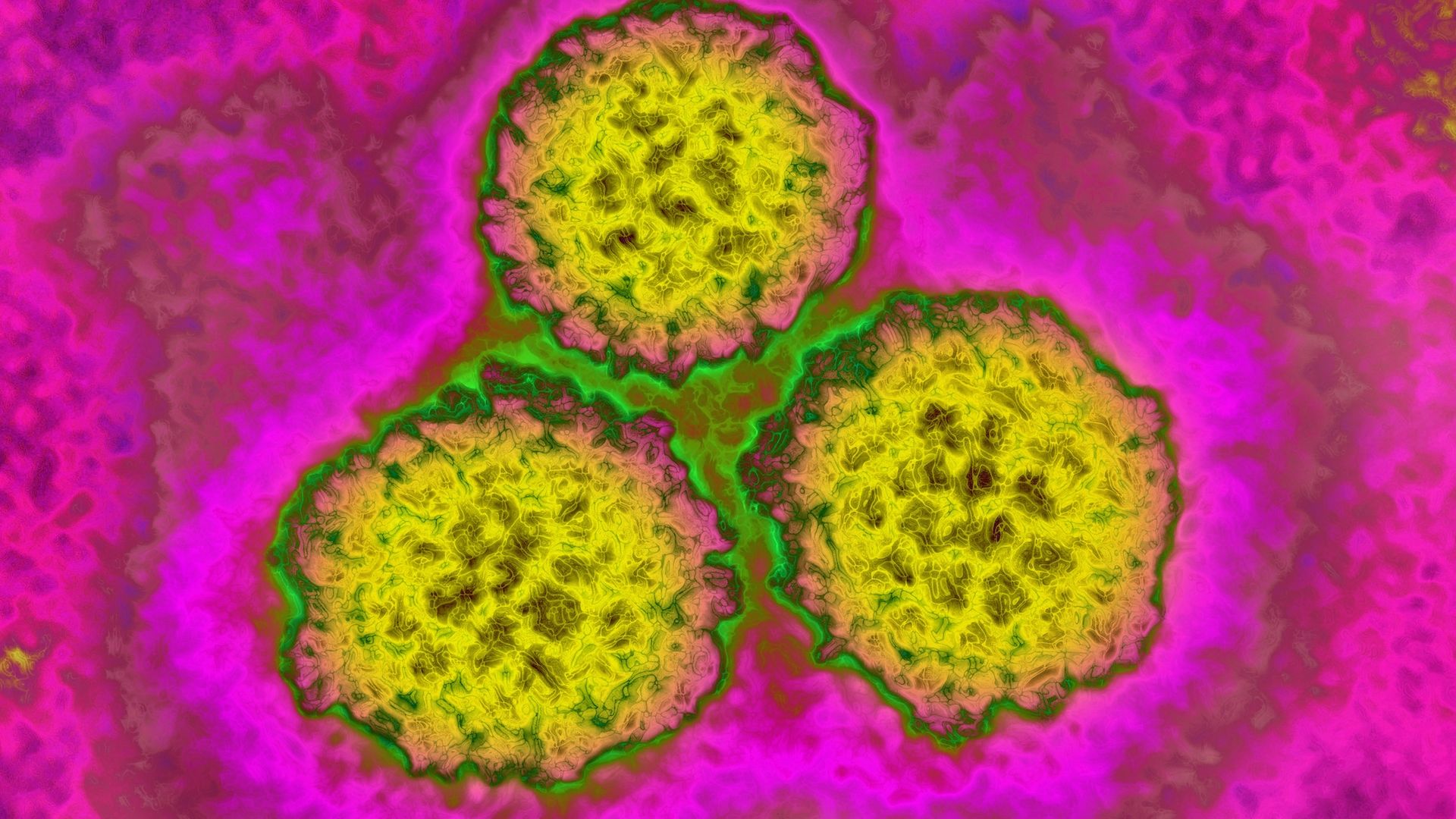 The U.S. Preventive Services Task Force (USPSTF) on Tuesday issued its latest recommendations for cervical cancer screening, which now say women 30 and older can drop the traditional Pap tests every 3 years in favor of testing for human papillomavirus (HPV) every 5 years, if they choose to.
Why it matters: There's been some debate in the medical field if Pap tests (also called cytology tests) should be dropped completely from the roster for women of that age group, as recent studies increasingly show HPV tests can be more sensitive and are valid for a longer period of time.
However, the task force says it's important to offer the three options: the pap test, the HPV test and a combination.
The recommendations, as published in JAMA:
Women 21-29 should receive a pap test every 3 years to check the cervical lining for abnormal cells.
Women 30-65 should receive either a pap test every 3 years, an HPV test every 5 years, or a combination of both every 5 years.
Healthy women younger than 21 most likely don't need any screening.
Women older than 65 who've had normal testing in recent prior years likely don't need any screening.
Healthy women who've had a hysterectomy with cervix removal likely do not need screening.
Varied reactions
Mark Stoler, professor emeritus of pathology and clinical gynecology at the University of Virginia School of Medicine, says he believes the optimal test is HPV alone and that the numbers behind the task force's recommendations show this.
The number of women without any screening who are estimated to die from cervical cancer — 8.34 out of every 1,000 women — drops to 0.76 deaths/1,000 with pap testing, 0.29 deaths/1,000 with HPV testing, and 0.3 deaths/1,000 with joint testing, per a USPSTF chart.
"I was surprised [they didn't select solely HPV testing] since given the equivalent performance, one would expect the USPSTF to choose the strategy that has the best impact on a patient's case," he says.
While running co-tests has a slim chance of catching a case that HPV testing alone would not have caught, Stoler says the HPV test catches almost all cases and would be more efficient and less burdensome in the long run.
Mark Spitzer, medical director of The Center for Colposcopy and past president of the American Society for Colposcopy and Cervical Pathology, says he commends USPSTF for recommending all three types of tests.
He says American women and their health care providers want the three options.
"Multiple large U.S. studies have shown that co-testing identifies more cases of cervical pre-cancer and cancer than either test alone, and co-testing is the gold standard recommended by U.S. medical societies," Spitzer says.
"In discussing the issue with my patients, they place the greatest value on the incremental benefit co-testing offers over either test alone. I also explain that the experience with all screening options are the same and involve just one swab," he adds.
Kathleen Schmeler, gynecologic oncologist at The University of Texas MD Anderson Cancer Center, tells Axios that she's glad USPSTF is including sole HPV testing amongst its recommendations for a "completely preventable" cancer.
However, the main issue that needs to be tackled is helping the medically underserved receive more screening plus followup appointments when necessary, she says.
As the USPSTF points out, cervical cancer incidences and death rates are higher amongst certain populations, such as African American women (10.1 deaths/100,000 women), American Indian/Alaska Native women (3.2 deaths/100,000 women) and Hispanic women (2.6 deaths/100,000 women) particularly along the Texas/Mexico border.
"Cervical cancer is more prevalent in the medically underserved," Schmeler says. "The most important thing is to allow people to have access to the screening... and to have supportive followup appointments."
Go deeper:
Listen to the JAMA podcast interviewing one of the USPSTF recommendation authors, Carol M. Mangione.
Read a JAMA editorial by UC-San Francisco's George Sawaya on "Cervical Cancer Screening — Moving From the Value of Evidence to the Evidence of Value."
Go deeper