College chat app pulls a page from Facebook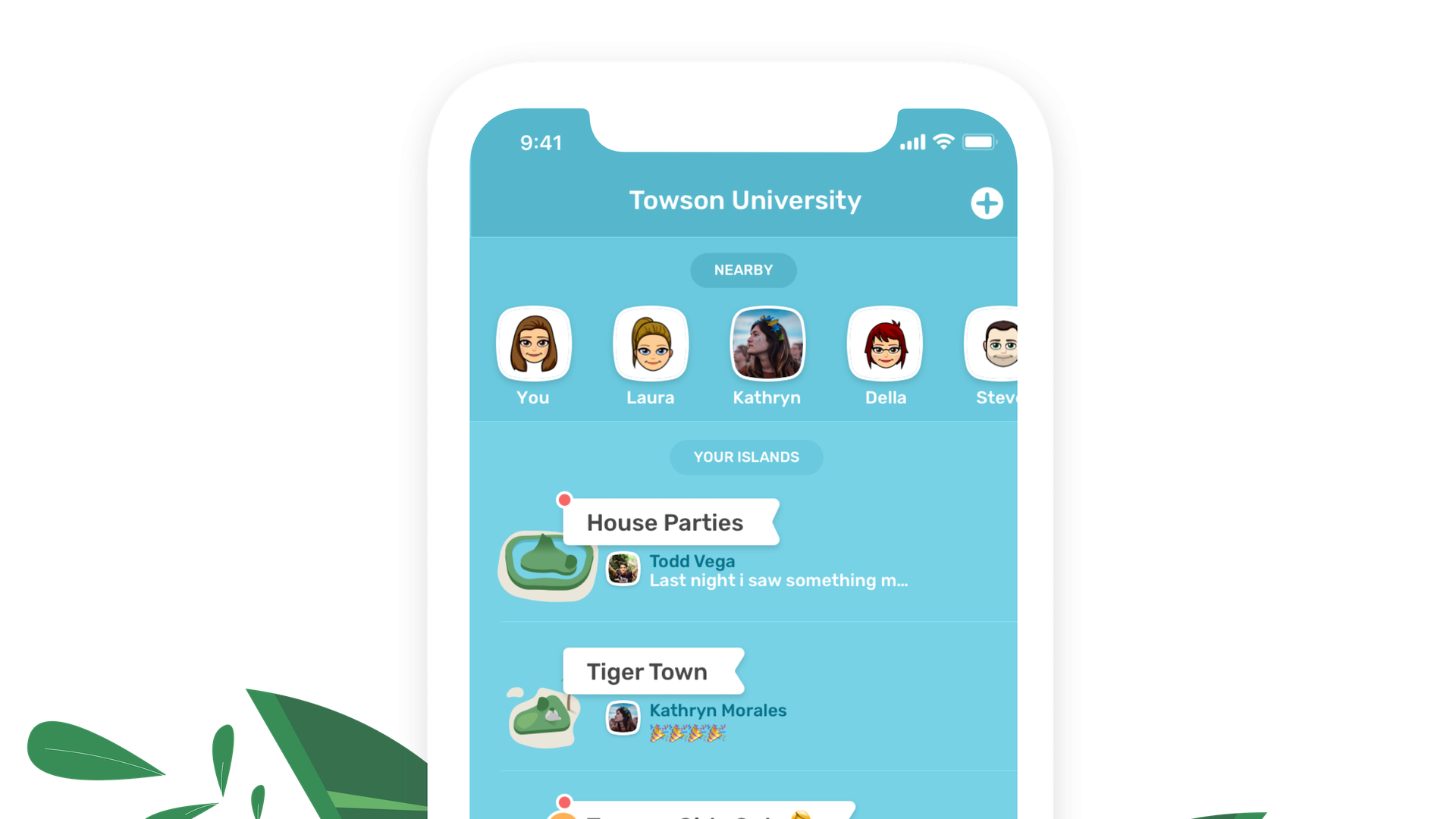 Islands, a chat app for college students that's growing in popularity, is rolling out a new version that adds a student directory to the service. That's exactly where Facebook started, nearly 15 years ago.
Why it matters: Teens' social media preferences have changed since then in major ways, such as a preference for ephemerality (Snapchat) over permanence (Facebook). But some social-media needs transcend generations, as Islands' makers discovered, and chat apps could end up building new Facebooks for their Facebook-averse users.
"We launched Islands and our thesis was the group chats are the new social network," Islands founder Greg Isenberg tells Axios.
That wasn't a bad idea: The most popular apps among teens and college students today include Snapchat (which does have group chat), and GroupMe, an 8-year-old group texting app.
Islands also found that college students today are typically members of about 2 Facebook groups—even though they don't use the service for much else.
A year ago, the company quietly began rolling out its app in select U.S. college campuses a year ago and it's now available in 15 schools, including Virginia Tech, University of Central Florida, University of North Dakota, and Cornell University. It plans to add 25 more colleges this month.
As more and more students began to use the app, the team saw a pattern. "We noticed that the average user was visiting 30 [Islands] profiles a month, and power users are visiting 70 profiles a month," says Isenberg.
It turned out that the students were looking up others' profiles in the app because they wanted to know more about someone they'd met, or to find classmates to reach out to about classwork, for example. But they weren't using Facebook for this purpose. While most have a Facebook account, Isenberg found that most don't really use the service at all. "It's like a mailbox… I don't check it enough but I have it," he says.
In the new version of Islands, users will be able to join and create group chat rooms on their campus, have a profile page that includes their Snapchat and Instragram handles, see other students who are nearby (within about 1 mile of them), and view a directory of students in their school who have signed up for the app.
Currently, 5-25% of students on active campuses are using Islands, according to Isenberg, and each user invites two others. At the end of this past spring semester, Islands' users were sending thousands of messages per day, and Isenberg predicts that when the app rolls out in every U.S. college, users will be sending 2 million messages every day.
"All that's new is old, and people still wanna learn about what's going on around them, people are still interested in the people that are part of their community and network," says Isenberg. Islands is only the latest social app to tackle this.
When Facebook debuted in 2004, it took its name from Harvard's listing of freshmen and described itself as "an expansive online directory," according to a media deck from the time. It also touted that its user profiles included a section for courses to make it easier for classmates to connect on the basis of classes and studies.
Since then, the number and variety of social media apps have soared.
For example, Path, co-created by ex-Facebook exec Dave Morin, focused on keeping users' social networks intimate by limiting them to 50 connections (it sold to Kakao in 2015 after waning popularity in the U.S.).
Yik Yak, which emerged in 2013, made its name as an anonymous social media app for college campuses, though it quickly faced controversies when it was used for bullying by high school students and eventually shut down in 2017.
Less than 1% of the content on Islands, which offers the ability to create a chatroom where users are anonymous, is reported as inappropriate, and the company has yet to see any major incidents, according to Isenberg.
What's next: In 2019, the company hopes to begin generating revenue, which will include a combination of advertising and other forms. The startup will likely also raise more funding next year, as it's been subsisting on the $1.85 million it raised in 2016 from Greylock Capital, TechStars Ventures, Advancit Capital (Shari Redstone's fund), Scott Belsky, and others.
Go deeper