Inside the security clearance revolt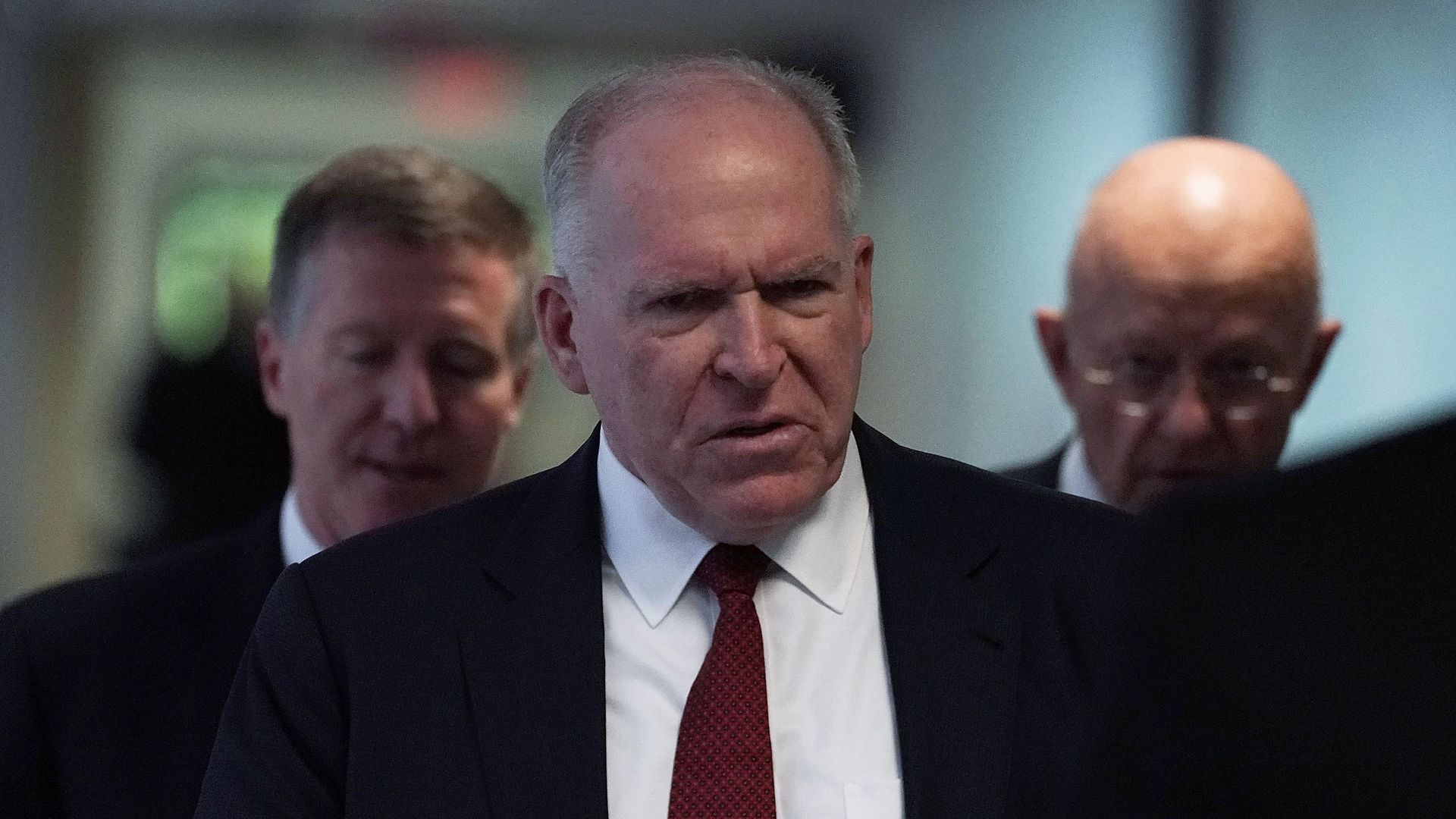 Several wanted to fiddle with the punctuation, some wanted to add nice things about John Brennan; others thought it would be wiser to pare them back.
But in 12 hours, a couple of former CIA senior aides pulled off a first in American history. CIA directors who had served every previous president going back to Ronald Reagan had signed on to a letter doing something they would never have imagined doing: publicly criticizing the president of the United States.
They were objecting to President Trump's announcement that he was stripping the security clearance of Brennan, who was CIA director under President Obama.
"I call it the rigged witch hunt, [the Russia investigation] is a sham," Trump told The Wall Street Journal. "And these people led it!"
And there may be more coming ... The WashPost's Karen DeYoung and Josh Dawsey report: "The White House has drafted documents revoking the security clearances of current and former officials whom President Trump has demanded be punished for criticizing him or playing a role in the [Russia] investigation."
"Trump wants to sign 'most if not all' of them, said one senior White House official."
"[C]ommunications aides ... have discussed the optimum times to release them as a distraction during unfavorable news cycles."
The letter's startling roster includes former CIA directors Webster (Reagan, George H.W. Bush), Gates (George H.W. Bush), Tenet (Clinton and George W. Bush), Goss (George W. Bush), Hayden (George W. Bush), Panetta (Obama) and Petraeus (Obama).
"As former senior intelligence officials, we feel compelled to respond in the wake of the ill-considered and unprecedented remarks and actions by the White House regarding the removal of John Brennan's security clearances," the letter begins.
The addition of this "subject to" was one of the late edits: "You don't have to agree with what John Brennan says (and ... not all of us do) to agree with his right to say it, subject to his obligation to protect classified information."
Nick Shapiro — a former CIA deputy chief of staff in the Obama administration, who helped orchestrate the letters — tells me that a major concern of many of the signatories was President Trump's implicit threat to current intelligence officers:
"It's setting up a system where the national security and intelligence apparatus is being told: 'You better just agree with the president, and you can't give him news he doesn't like.'"
"That's a very dangerous thing: It's the exact opposite of the climate and culture you want in your intelligence team."
The letter was endorsed by 15 former intelligence officials of the director or deputy director level.
But other CIA alumni wanted to join in. So late yesterday, a second letter was circulated, signed by 60 former CIA officers (analysts, station chiefs, operations officers, a former President's Daily Brief briefer):
"Our signatures below do not necessarily mean that we concur with the opinions expressed by former Director Brennan or the way in which he expressed them. What they do represent, however, is our firm belief that the country will be weakened if there is a political litmus test applied before seasoned experts are allowed to share their views."
Another person coordinating the letters tells me: "[R]equests from many other senior CIA alumni who would like to have signed it are pouring in."
Be smart: Some of the former officials feared they would just inflame Trump, who could point to them as the "Deep State" he rails against. They ultimately decided they couldn't stay silent. But neither letter includes the word "Trump."
Go deeper: See the names of everyone who signed both letters.
Go deeper