Ride-hailing caps don't address the root causes of urban congestion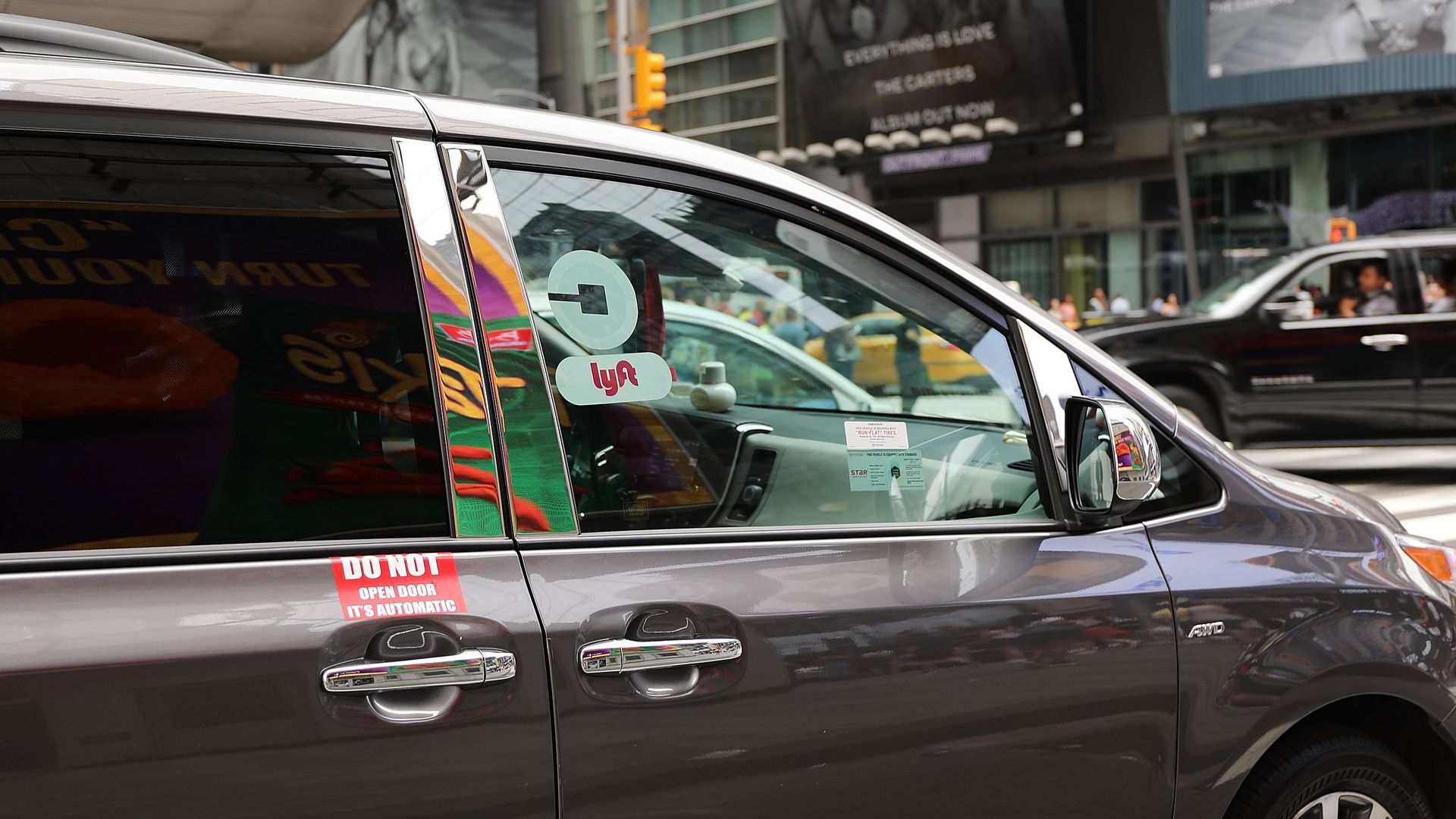 Last week, New York City passed the nation's first cap on new licenses for ride-hailing vehicles, like those driving for Uber and Lyft, citing in part concerns over worsening congestion and declining transit ridership. The decision represents the culmination of alarm over app-based ride-hailing companies and could serve as a blueprint for cities across the U.S.
Yes, but: Privately owned vehicles driven for personal use still dominate our transportation system, in large part because using one is cheap, fast and comfortable after the initial investment. Any regulatory solution to congestion must focus on personal vehicles first. Short of that, placing limits on Uber or Lyft will be a mere drop in the gas tank.
Despite rapid ride-hailing growth over the past few years, over 75% of all passenger miles in the U.S. are traveled in personal vehicles, and over 90% when air travel is excluded. By comparison, taxis and ride-hailing vehicles account for less than 0.5% combined, and all public transit less than 5%. Even in the New York City metropolitan area, personal vehicles account for over 75% of all land travel, versus 1.2% for taxis and ride-hailing vehicles.
Meanwhile, with the advent of self-driving cars, many of the reasons people currently take taxis or public transit — such as disability, aversion to driving, and difficulties with parking — might begin to disappear within the next few years. While some have predicted that autonomous vehicles will lead to the end of private ownership as we know it, this is hardly inevitable: No fleet operator will ever provide the same convenience of having a robot chauffeur in your driveway whenever you need it. And any cap on shared vehicles will make personal vehicles even more desirable.
Fixing transportation will require cities to foster alternatives to personal vehicles by incentivizing shared rides and integrating ride-hailing with public transit, and then implementing congestion pricing and eliminating parking in areas where people no longer need to drive. Otherwise, by the time personal automated vehicles develop a constituency, it will be too late.
The big picture: A new age of transportation is dawning, and we have a choice to make: Rethink the necessity of personal vehicles, or let their share of the transportation pie continue to grow larger and larger while public transit and ride-hailing fight over the diminishing crumbs.
Gordon Bauer is a National Science Foundation Research Fellow in the Energy and Resources Group at UC Berkeley.
Go deeper