Ryan Zinke says human role in climate change is unknown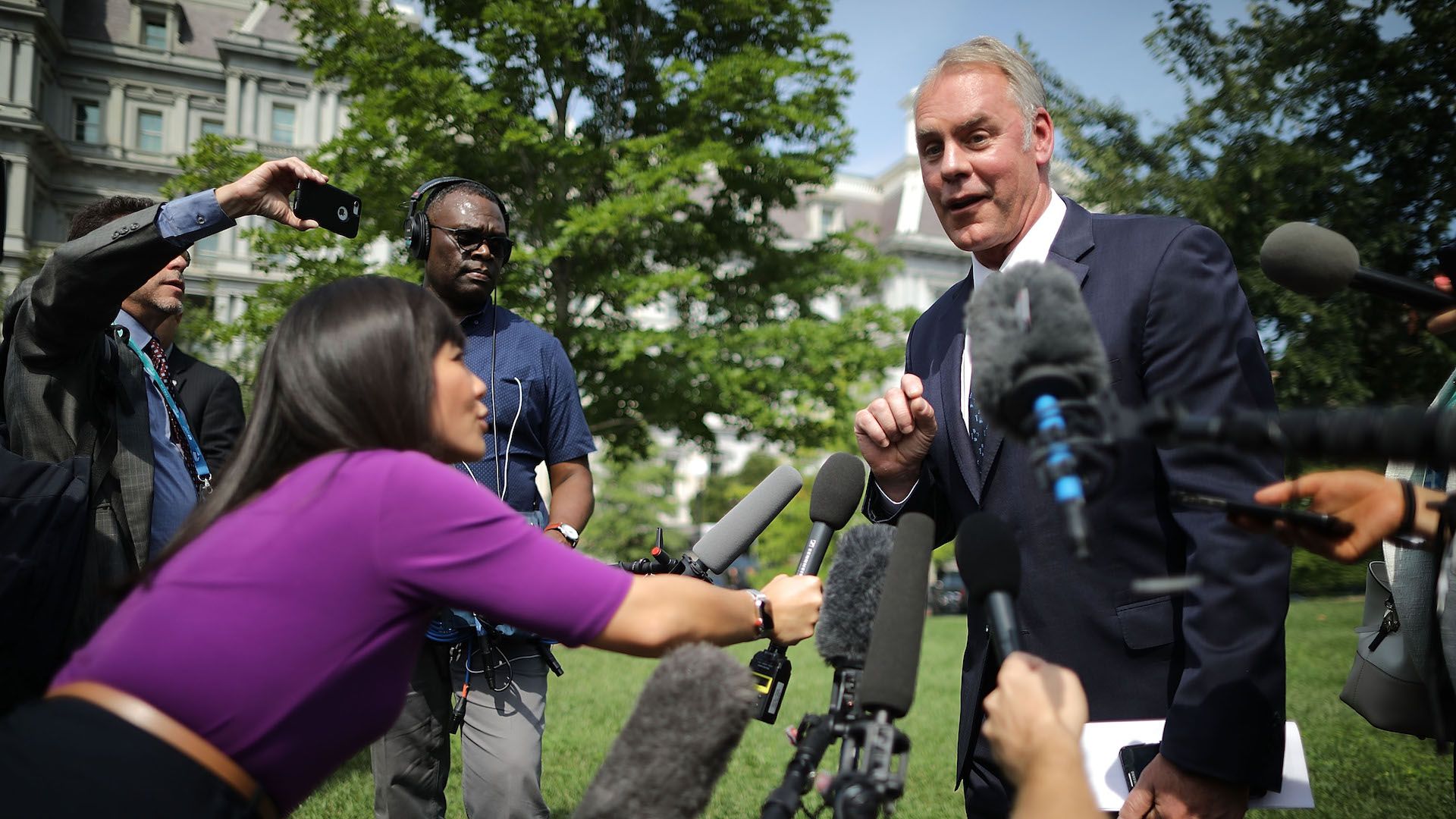 During an appearance on Fox Business on Thursday morning, Interior Secretary Ryan Zinke broke sharply with the scientific consensus regarding mankind's role in climate change.
Why it matters: Zinke oversees the agency that manages U.S. public lands, many of which are currently burning due to hotter, drier weather that scientists say is part of long-term climate change. How he views climate science findings will help inform his approach to managing our forests and national parks.
The exchange: "Do you believe climate change is real and that man is the cause?" Fox Business host Neil Cavuto asked Zinke.
"It's clear in the forest fires that the temperatures are being elevated, the fire season's extended, it's longer, and there's no dispute about that. There's no dispute the climate is changing, although it has always changed. Whether man is the direct result, how much of that result is, that's still being disputed."
— Ryan Zinke
The big picture: Zinke's comments go against core findings of the climate science community. For example, a 2017 peer-reviewed report that included contributions from Interior Department scientists found that the period from 1901 to 2016 "is now the warmest in the history of modern civilization."
"This assessment concludes, based on extensive evidence, that it is extremely likely that human activities, especially emissions of greenhouse gases, are the dominant cause of the observed warming since the mid-20th century. For the warming over the last century, there is no convincing alternative explanation supported by the extent of the observational evidence."
— National Climate Assessment
The same report found that human activities, such as the burning of fossil fuels for energy, "likely" contributed between 92% and 123% of the observed warming since between 1951 to 2010. (The reason for the greater than 100% number is that without greenhouse gas emissions, the planet may otherwise have been cooling during that period.)
Our thought bubble: Zinke's response on climate science was similar to former EPA Administrator Scott Pruitt's statements on CNBC in March.
"I think that measuring with precision human activity on the climate is something very challenging to do and there's tremendous disagreement about the degree of impact, so no, I would not agree that it's a primary contributor to the global warming that we see."
— Scott Pruitt, after being asked if the main cause of climate change is human emissions of carbon dioxide
Those statements resulted in a lawsuit and a federal judge's order that has required the EPA to reveal what science Pruitt used to justify such statements. So far, the EPA has not produced any agency research to support the former administrator's views.
Go deeper:
Go deeper