Devastating algae could sway Florida Senate race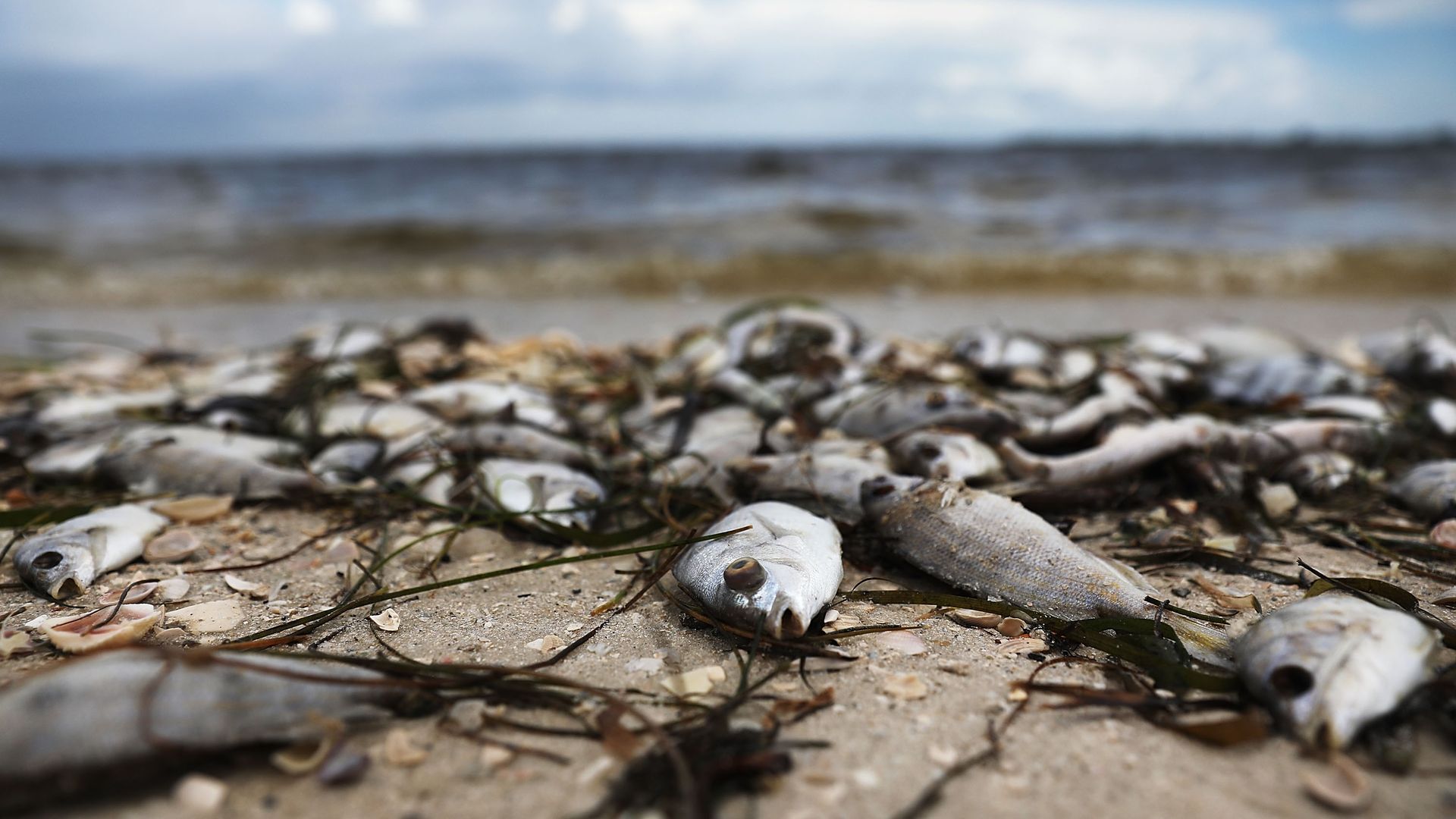 Florida's southwest coast has been ravaged by two unprecedented algae outbreaks that are killing wildlife, making people sick and crushing the crucial tourism industry.
Why it matters: The worst algae blooms in Florida's modern history have spurred political finger-pointing that could sway one of the country's most closely-watched Senate races this fall.
The big picture: The algae outbreaks are the largest and longest-lasting in years. Weather patterns coupled with pressures on land use are stoking long-held tensions over natural resources between two of the state's biggest industries — agriculture and tourism. And it's happening at a time when Florida is also seeing massive population growth.
What's happening: The crisis is caused by two separate but equally toxic algae blooms. One is a salt-water red tide in the Gulf of Mexico, while the other is fresh-water blue-green algae stemming from the inland waters of Lake Okeechobee. The inland algae is festering in the vast canals and winding inland waterways of Southwest Florida.
Residents have held town halls and organized rallies to put pressure on elected officials to do more. As a result, candidates are making environmental issues a central part of their campaigns leading up to the August 28 Florida primaries.
In the Senate race, Scott, a Republican, is finishing his last term as governor and looking to take the Senate seat of Sen. Bill Nelson, a Democrat.
In the governor's race, candidates are making environmental issues a central part of their campaigns.
What to watch: In states like Florida that are experiencing more extreme weather events, voters may coalesce around climate and environmental issues heading into the next election cycles.
"People in these places understand that things are changing rapidly right in front of their eyes, and it's raised awareness to a level it's never been before," Denis Dison of the Natural Resource Defense Council's Action Fund told the New Republic.
Go deeper:
Go deeper