Go deeper: The intra-media debate over coordinated critiques of Trump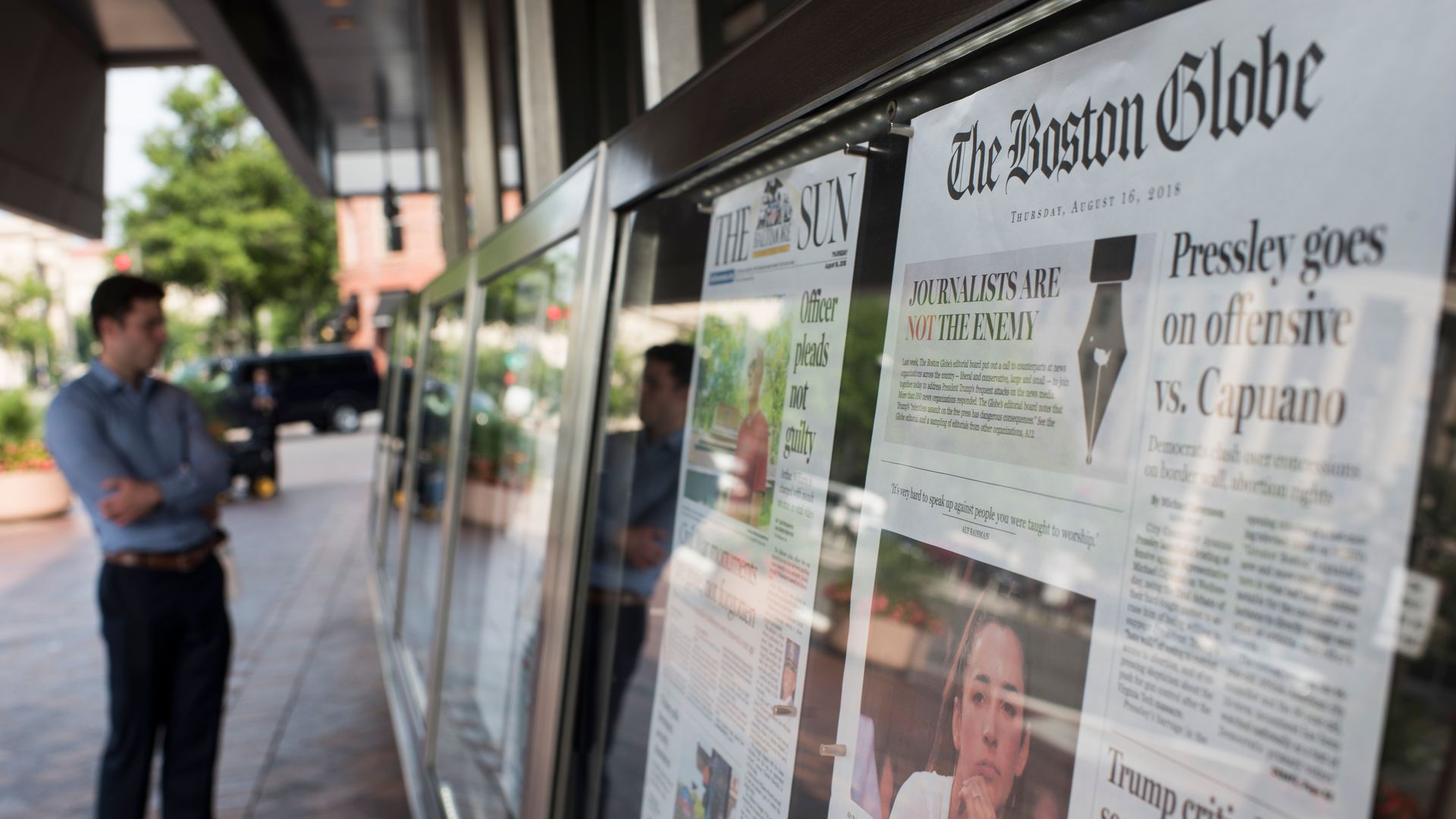 The Boston Globe launched a campaign with hundreds of U.S. newspapers Wednesday evening criticizing President Trump for calling the American press an "enemy of the people."
The big picture: Though many organizations are participating in the campaign, several others have been critical of the effort. They argue that the president, like other United States citizens, has the right to his opinions about the press, and that the campaign infringes upon them.
What they're saying
The Wall Street Journal was one of the first papers to actively denounce the campaign. WSJ columnist James Freeman says the paper's editorial board was asked to join the coalition, but refused.
The invitation from the Globe presents an ethical problem for editorial boards around the country, he writes: "That's because most editorial boards emphasize their independence from the newsrooms at their respective papers."
Although papers should properly criticize Trump when he tries to strip down others' first amendment writes, Freeman says papers cannot do the same to the president.
The Capital Gazette, where five journalists were killed in an attack earlier this summer, is among those who have not joined the Globe's coalition. Their editorial board says they declined because "the president's opinion, frankly, is just not that important to us."
"We don't feel coordinating with other news organizations will change the president's appreciation of that," the editorial board writes. "Even if it did, you won't suddenly find President Trump on the front page or at the top of our website."
The board says that, if they align with the coalition on anything, it's their common role as "watchdogs."
The L.A. Times also chose not to participate in the Globe's campaign, stating that it wants to keep its independence.
Columnist Nicholas Goldberg explains: "The Los Angeles Times editorial board does not speak for the New York Times or for the Boston Globe or the Chicago Tribune or the Denver Post."
In other words, the paper will condemn Trump's attacks in its own way if it chooses to do so. Goldberg also argues that the coalition finally gives Trump a reason to accuse the media of "collusion."
The other side
Despite pushback from some major organizations, the coalition is still plowing ahead with its editorial push, and more than 300 papers have already joined the campaign.
The coalition also received support from the U.S. Senate Thursday, which unanimously passed a non-binding resolution stating attacks with the goal of discrediting the media is "an attack on our democratic institutions."
Go deeper:
Go deeper