Go deeper: Ryan Zinke discounts climate change's role in wildfires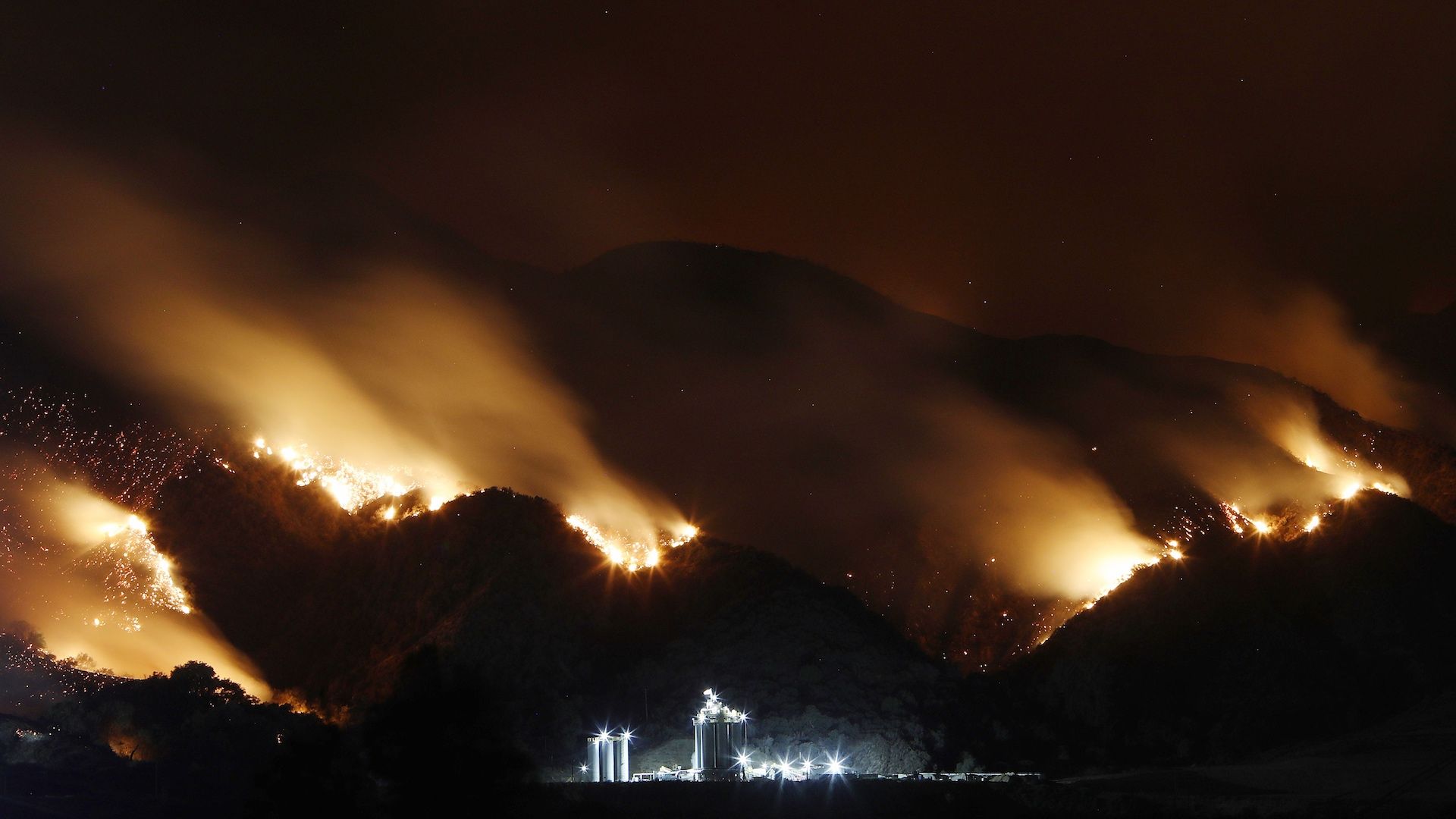 With some of the largest-ever wildfires on record burning in California and the death toll rising, Interior Secretary Ryan Zinke has blamed the massive fires on environmentalists refusing to allow more logging operations in federal forests.
Why this matters: Zinke, along with Agriculture Secretary Sonny Perdue, are in charge of land management policies for vast tracts of fire-prone forests in the West. How each official views climate change's role in these blazes will help determine those policies.
During a tour of fire-ravaged areas in California this week and in a newspaper op-ed, both officials avoided emphasizing climate change as an important contributor to the current crisis.
The big picture
California's largest wildfire complex on record, known as the Mendocino Complex Fire, has already torched an area larger than the city of Los Angeles, which is the sixth-largest city in the country. Until 2018, no single California wildfire had exceeded 300,000 acres.
Though the ignition sources for each fire ranges from lightning to accidental and purposeful human actions (arson), scientists have repeatedly said that unusually hot, dry weather traced in part to long-term, human-caused climate change is allowing the wildfires to grow into historic and devastating events.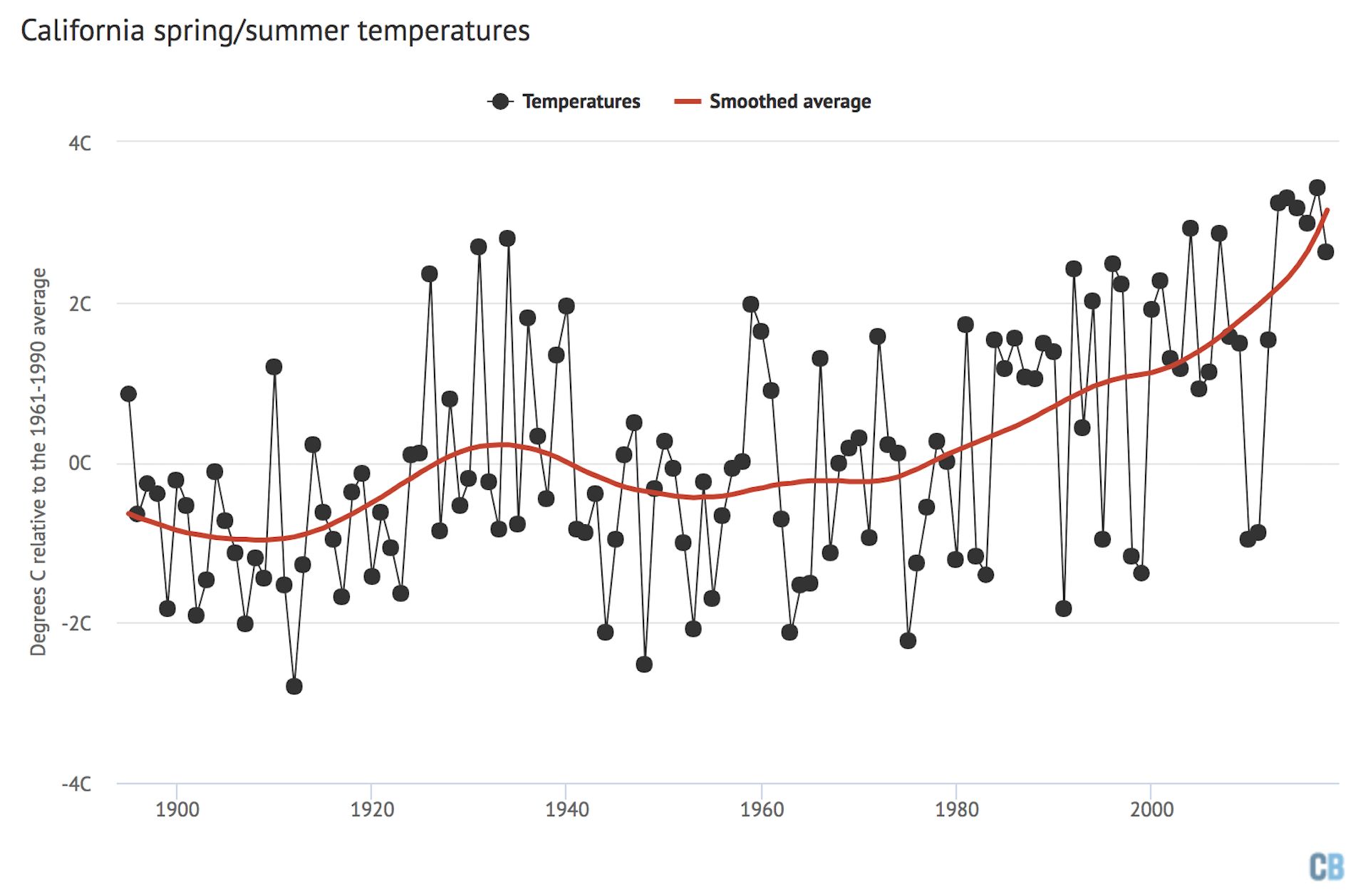 And while scientists have said that the climate context of the wildfires is a key — though not sole — factor in allowing the fires to grow into such large conflagrations, the Trump administration is not emphasizing these findings. This has been especially apparent in Zinke's statements in the past several days.
What he's saying
"We have been held hostage by these environmental terrorist groups that have not allowed public access — that have refused to allow [the] harvest of timber," Zinke told Brietbart radio over the weekend.
Zinke and Perdue instead pushed active forest management as a way to prevent such big fires from becoming the new normal.
"Whether you're a proponent or an opponent, a believer or a non-believer of climate change, it doesn't relieve you of the responsibility to manage our public lands," Zinke said at a press conference in Redding, Calif. on Monday.
"Its not 'climate change equals fires,'" Zinke said, according to the Sacramento Bee. "It's a variable in a longer equation that includes (tree) density, mortality ... fuel loads, species."
Heather Swift, a senior adviser to Zinke, told Axios via email that Zinke is not ignoring climate change. "The Secretary addressed climate change dozens of times [in] the past 48 hours including to a press conference with about 30 reporters. He even published in his OpEd that the fire season is longer and that hotter and drier conditions are contributing to fires being worse."
Notably, though, Zinke's piece in USA Today on Aug. 8 did not contain the term "climate change" or "global warming." It did, however, decry litigation that prevents the Interior Department from opening forests to forest thinning or logging.
Reality check
Improved forest management would have some mitigating effects on wildfires, given the decades of fire suppression policies that have now left forests loaded with fuel for future fires.
Long-term records show a clear trend across much of the West toward hotter, drier summers with larger fires and longer fire seasons.
Go deeper:
Go deeper