The White House's next Iran fight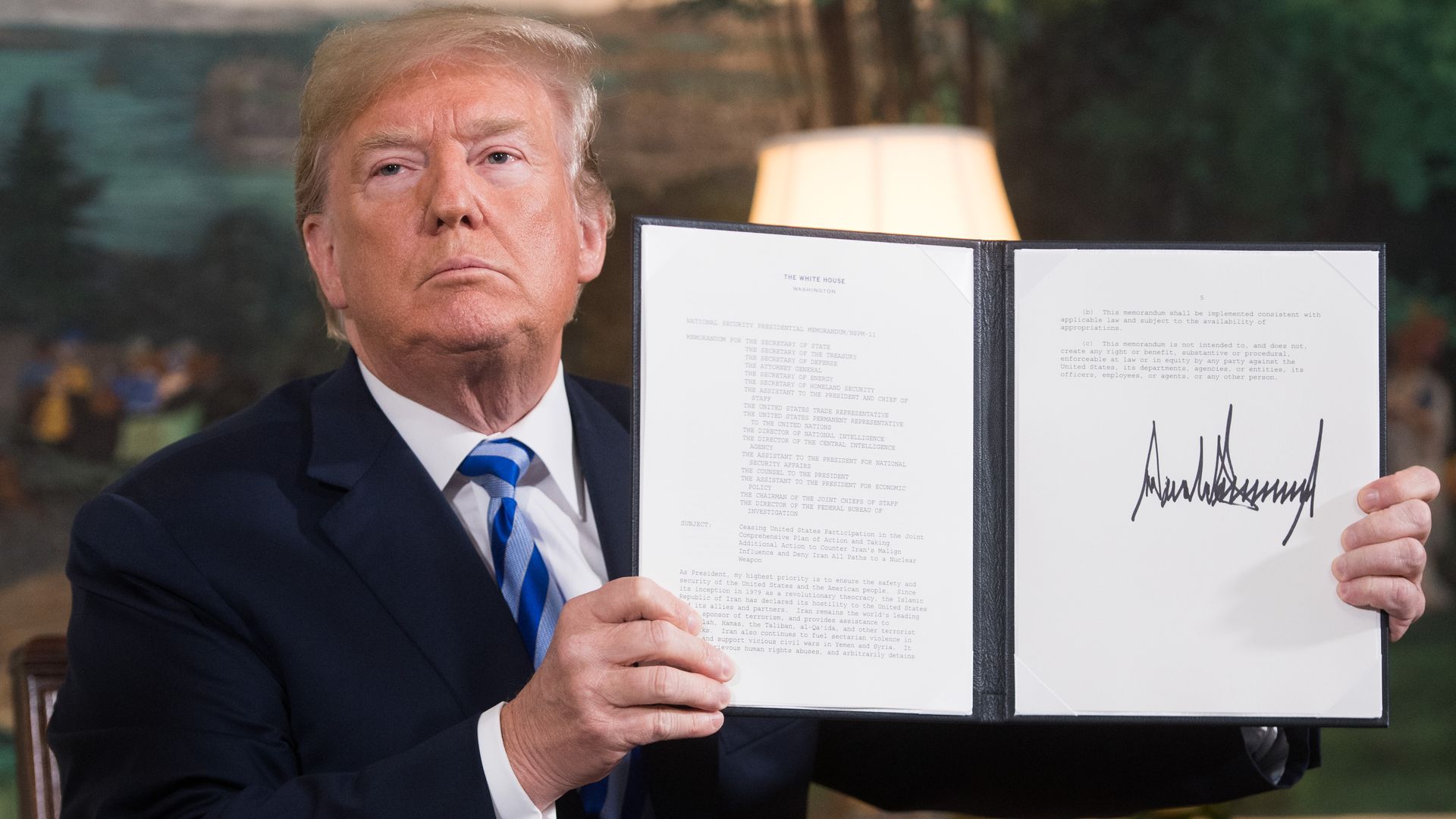 On a White House conference call with Iran experts last week, a senior administration official said the Trump administration will reimpose sanctions on financial messaging services later this year. That might sound boring. But the administration official was referring to what could soon become another major fight between the Trump administration and Europe.
Why this matters: In the context of Iran sanctions, "financial messaging services" refers to SWIFT (Society for Worldwide Interbank Financial Telecommunication) — a linchpin of the global financial system that facilitates payments across borders and connects more than 11,000 banks around the world.
SWIFT cut off Iran from the global financial system in 2012 as a result of American pressure on the Europeans to crack down on Tehran. Then SWIFT reconnected Iran after Obama secured the nuclear deal with Iran.
"SWIFT is the backbone of the global financial system and without access to SWIFT Iran can't move money around the world, cannot get paid for oil, pay for their imports and would have a difficult time financing its activities abroad," said Mark Dubowitz, an Iran hawk who heads the Foundation for Defense of Democracies and was on the call last week.
"The administration seems committed to financially and economically squeezing the regime using all instruments of national power," Dubowitz added, "and has already signaled that it will bring back the SWIFT sanctions to deny Iranian banks access to the SWIFT system."
Behind the scenes: Following Trump's withdrawal from the Iran deal, in May, the Europeans have been fighting to keep the deal alive and to make sure that enough money is flowing to placate Iran's leaders. A big part of that is ensuring that Iranian banks remain plugged into the SWIFT network.
A U.S. source in close touch with senior European officials tells me they want to shield SWIFT from U.S. pressure to expel Iranian banks.
But Trump officials are signaling they may even sanction SWIFT officials if they keep Iran connected to the global financial system.
What's next? SWIFT is governed by a board of directors, including senior executives from the world's largest banks. In November, the board will have to decide whether or not to call Trump's bluff.
"Regardless of the views of European political leaders, SWIFT may want to protect the integrity of its financial messaging platform from the illicit financial activities of Iranian banks that will be re-sanctioned by the administration," Dubowitz told me.
If they do call Trump's bluff, the president will have to decide whether to take the unprecedented step of sanctioning top executives from the world's leading banks, like Citi and J.P. Morgan.
The bottom line: This issue isn't getting much attention yet, but it could become one of the biggest brawls between the Trump administration and the EU.
Go deeper