Turkey decries Trump's "stab in the back" as lira sinks lower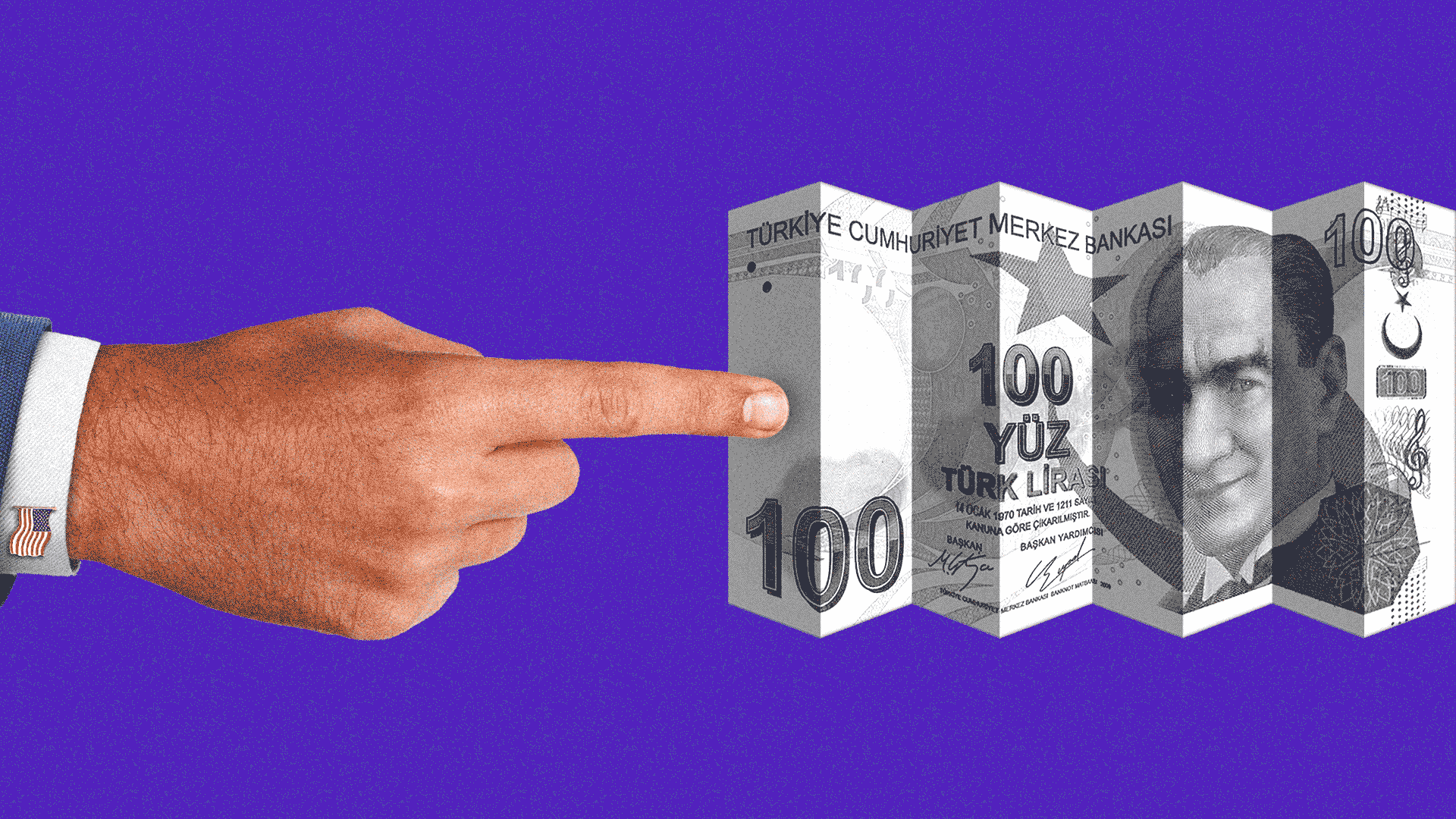 Turkey's currency plunged to new depths today amid a standoff that has Turkish President Recep Tayyip Erdogan accusing the U.S. of sabotaging an ally.
Why it matters: Turkey was already bracing for economic turbulence, but President Trump's decision to apply sanctions over the detention of American pastor Andrew Brunson has accelerated the crisis, and provided Erdogan with a scapegoat. The dispute could also exacerbate another trend: Turkey's drift away from the West.
Catch up quick…
Erdogan — beginning a fresh term after 15 years in power — has been pulling Turkey in an increasingly authoritarian direction, particularly after surviving a coup attempt in 2016. Thousands were arrested in the wake of the failed coup, including Brunson, who was charged with links to terrorism, an accusation the U.S. says is baseless.
Trump sanctioned Turkey's justice and interior ministers on August 1 over Brunson's detention and followed up last Friday by announcing the doubling of steel and aluminum tariffs on Turkey.
Turkey's already sliding currency has lost more than 40% of its value against the dollar this year, and 22% as tensions have ratcheted up over the past week. Erdogan is blaming an "economic war" against Turkey. Investors cite economic mismanagement from his government.
The bigger picture...
A Turkey-U.S. split is "not the intention of either side," says Ozgur Unluhisarcikli, director of the German Marshall Fund's Ankara office, "but events could lead Turkey there," particularly because Trump and Erdogan both "seem to care more about their own political power" than their alliances.
Unluhisarcikli says public and elite opinion in Turkey has been turning against the U.S. under the Trump administration, and the situation surrounding Brunson's detention could escalate further because "Trump has denied Erdogan any honorable way out of this."
What to watch...
"While the sanctions might cripple Turkey's economy, they are unlikely to pose a threat to Erdogan's power," Soner Cagaptay of the Washington Institute writes for Axios Expert Voices. "In fact, his base is likely to band around him even tighter."
"It is actually Russia that stands most to gain from a weakened Turkey," Adham Sahloul of Tufts' Fletcher School writes for Expert Voices. "Despite the amicable diplomatic and military coordination between Erdogan and Putin in Syria, Russia views Turkey as a geopolitical threat in Eurasia."
"Amid signs of emerging market contagion, the South African rand briefly fell as much as 10% to a two-year low on Monday morning. ... The Indian rupee slipped 1.1%, while the Indonesian rupiah lost 1%," per the Financial Times.
Go deeper