Combining common drugs with a high price tag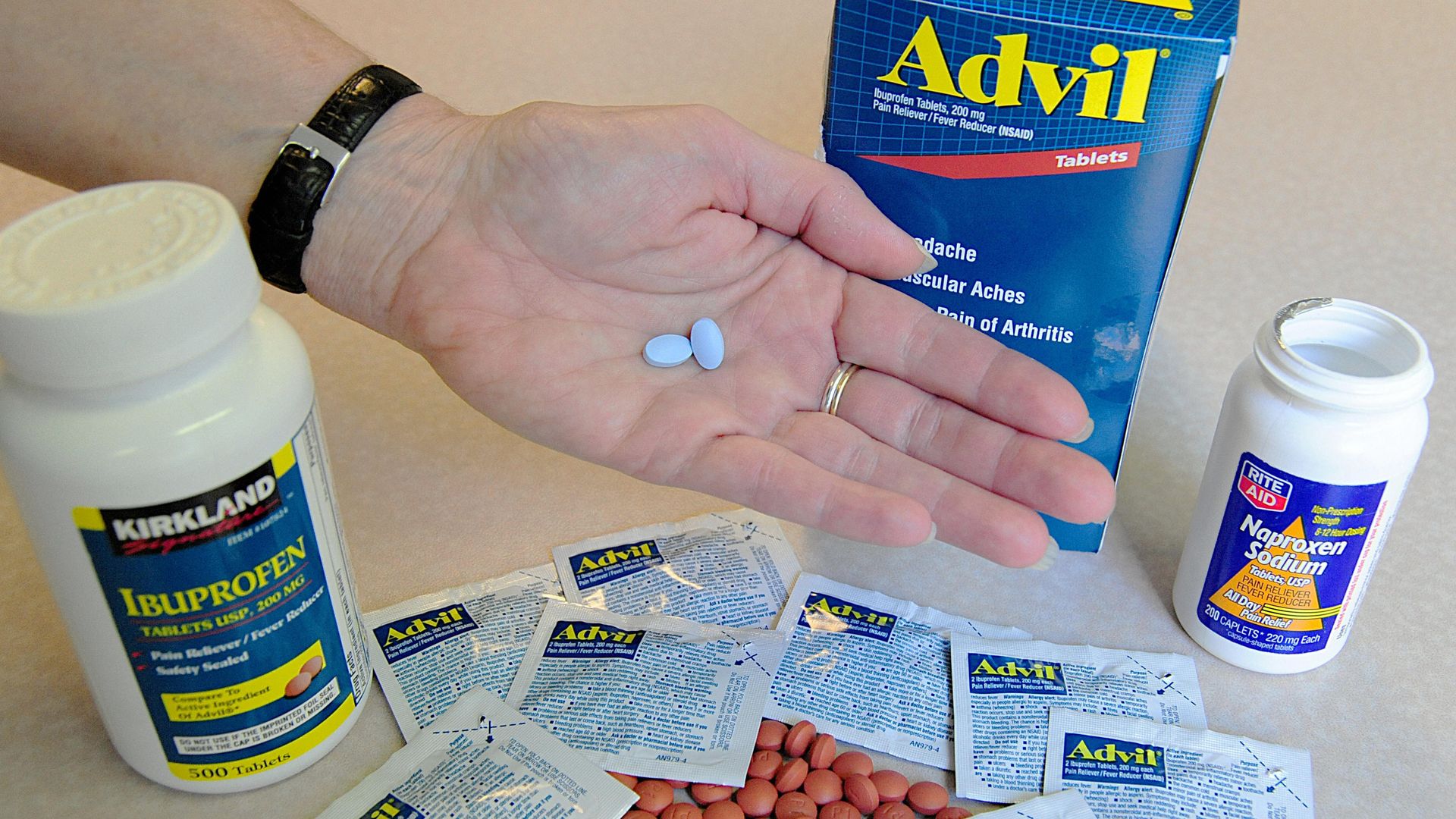 Common medications like ibuprofen or naproxen don't cost a lot on their own. But in several instances, drug manufacturers blend those kinds of medicines into one tablet and then sell the combined drug for hundreds or even thousands of dollars.
Why it matters: Patients and the public are paying huge sums of money for cocktails of old medications that are cheaper when bought separately. Experts say the system is loaded with perverse incentives, and that pharmaceutical companies and intermediaries like pharmacy benefit managers have worked in tandem.
The details: Here are four combination drugs that industry experts have highlighted as notably pricey examples. List prices come from Elsevier's Gold Standard Drug Database.
Duexis, made by Horizon Pharma: $2,482 for a 90-pill bottle
Vimovo, made by Horizon Pharma: $2,482 for a 60-pill bottle
Treximet, made by Pernix Therapeutics: $880 for a 9-pill bottle
Caduet, made by Pfizer: $580 for a 30-pill bottle
The intrigue: Each of these drugs is made up of two different medications that can be bought in pharmacies as over-the-counter pills or as generics for a total of $20 or less. Vimovo, for example, is a mixture of Aleve and Nexium.
Clinicians and researchers largely agree the prices of many combo drugs do not match the value of the separate alternatives that cost far less.
"It's certainly not worth $580. I'd gladly swallow twice," Michael Rea, a pharmacist who started Rx Savings Solutions to help employers with drug spending, said of Caduet, which treats high blood pressure.
By the numbers: These are the aggregate sales of each drug.
Duexis: $674 million from 2013 through the first six months of 2018.
Vimovo: $540 million from 2013 through the first six months of 2018.
Treximet: $693 million since the drug was launched by GlaxoSmithKline in 2008 (Pernix bought the drug in 2014).
Caduet: more than $4 billion since the drug came out in 2004 until Pfizer stopped reporting individual sales in 2014.
It's worth noting that Treximet and Caduet have generic competitors on the market — meaning they are generic combinations of drugs that are still cheaper separately.
The big picture: Drug companies and middlemen like pharmacy benefit managers have been enemies as of late, each side pointing to the other as the root cause of high drug prices. But people still pay for these kinds of combination drugs because pharmaceutical companies cut deals, in the form of rebates, to PBMs as a way to keep their drugs on lists covered by insurance.
All four of the drugs above are "non-preferred" on Express Scripts' national formulary for 2019, an Express Scripts spokesperson said. They are not excluded from coverage, but they are not preferred drugs in the class and often come with higher copays.
Be smart: Drug makers and PBMs had been tight partners before they needed someone to blame.
The other side: Drug companies have argued their combination pills offer convenience and ensure people take both medicines they need.
Pfizer said in a statement: "This is a question of patient choice. Comparing the price of a branded combination medicine to individual generics is apples to oranges." The company added that Caduet is cheaper per pill than its brand-name components (Lipitor and Norvasc, both of which are also Pfizer products).
Horizon Pharma submitted a statement that said its drugs had "no approved generic, over-the-counter or clinically equivalent medicines" and that taking the component drugs separately "will not work in the same way."
Pernix Therapeutics did not respond.
Go deeper: ProPublica and Bloomberg have worthwhile pieces on the combination drugs made by Horizon Pharma.
Go deeper