Three of California's largest-ever wildfires are burning at same time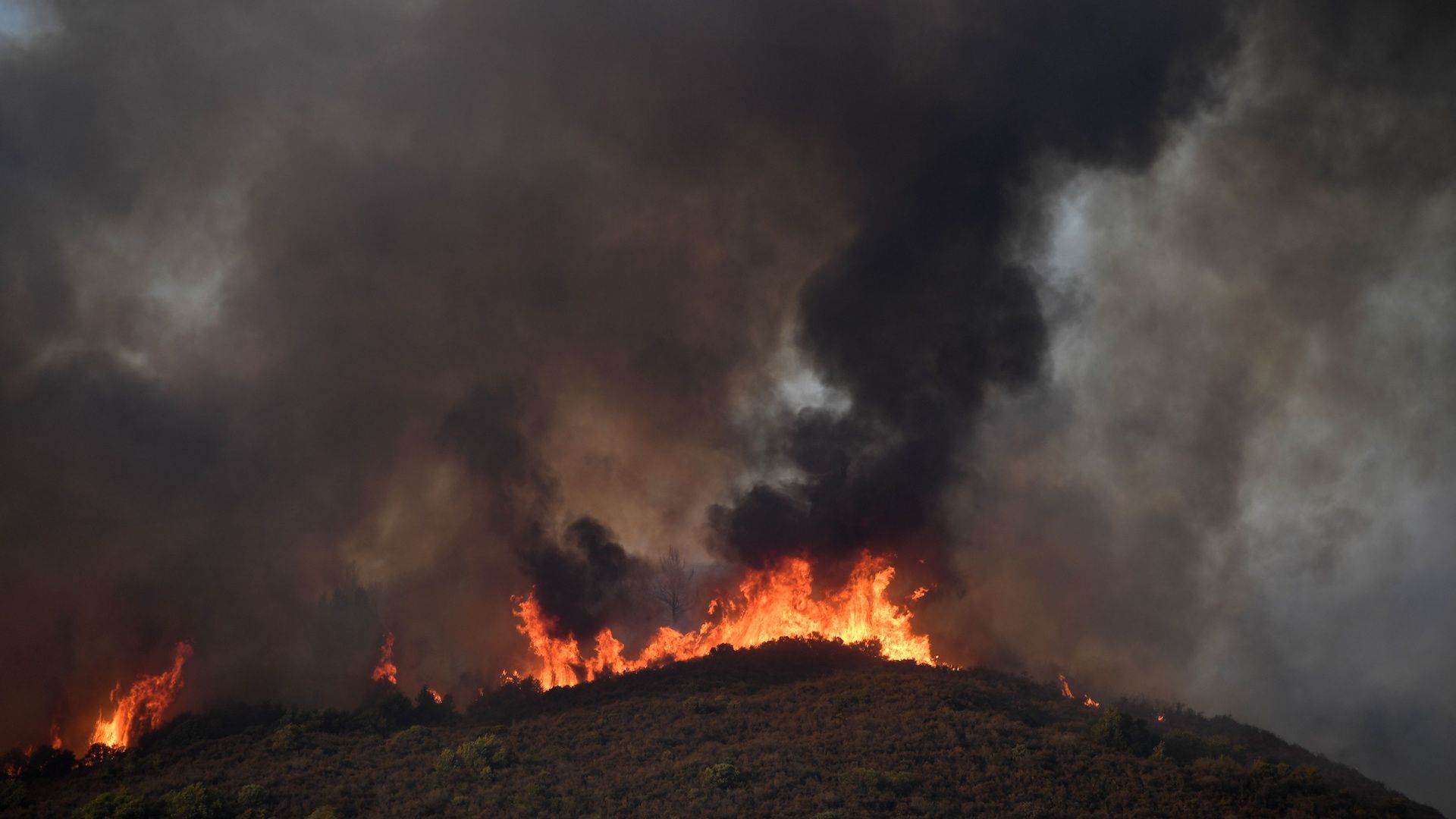 California's deadly wildfire season continues, and one staggering data point illustrates just how serious things are: Three of the state's top 10 largest wildfires on record are burning at the same time.
Why this matters: California forests are primed to burn after the state saw its hottest month on record in July, and vegetation is at record levels of dryness. Ominously, the peak of the California wildfire season doesn't arrive until September and October.
By the numbers
The largest single wildfire in modern California history is currently burning in Colusa County, Lake County and Mendocino County. The Ranch Fire had scorched 295,970 acres as of Monday morning, and was 59% contained. This beats the size of the Thomas Fire, which torched 281,893 acres just last year.
The Ranch Fire, together with the River Fire burning nearby, comprise the Mendocino Complex Fire. This ranks as the state's largest fire complex on record, at a staggering 344,890 acres. It was 68% contained as of Monday morning.
Until the Mendocino Complex, no single or combination of wildfires in California history had eclipsed 300,000 acres burned. This year, it's possible that multiple fires and fire complexes will exceed this threshold.
The Carr Fire, which is burning in Shasta and Trinity Counties, has now grown to 202,976 acres and was 61% contained as of Monday morning. This puts the blaze at the 8th spot on the state's top 10 list of largest fires.
At this point, 9 of the top 10 largest wildfires in California history (as with the top 3 list, this includes both the Ranch Fire and the Mendocino Complex Fire) have occurred since the year 2000.
The bottom line
There is a clear trend, driven by climate change, decades of fire management policies and human development, toward larger fires in California and the West in general. Heat is a big factor in worsening these fires.
California had its hottest month on record in July, with average temperatures at 5°F above the 20th Century average. Death Valley, California, set a record for the hottest month of any location on Earth, NOAA found.
Go deeper:
Go deeper