The Parkland generation has huge plans for this fall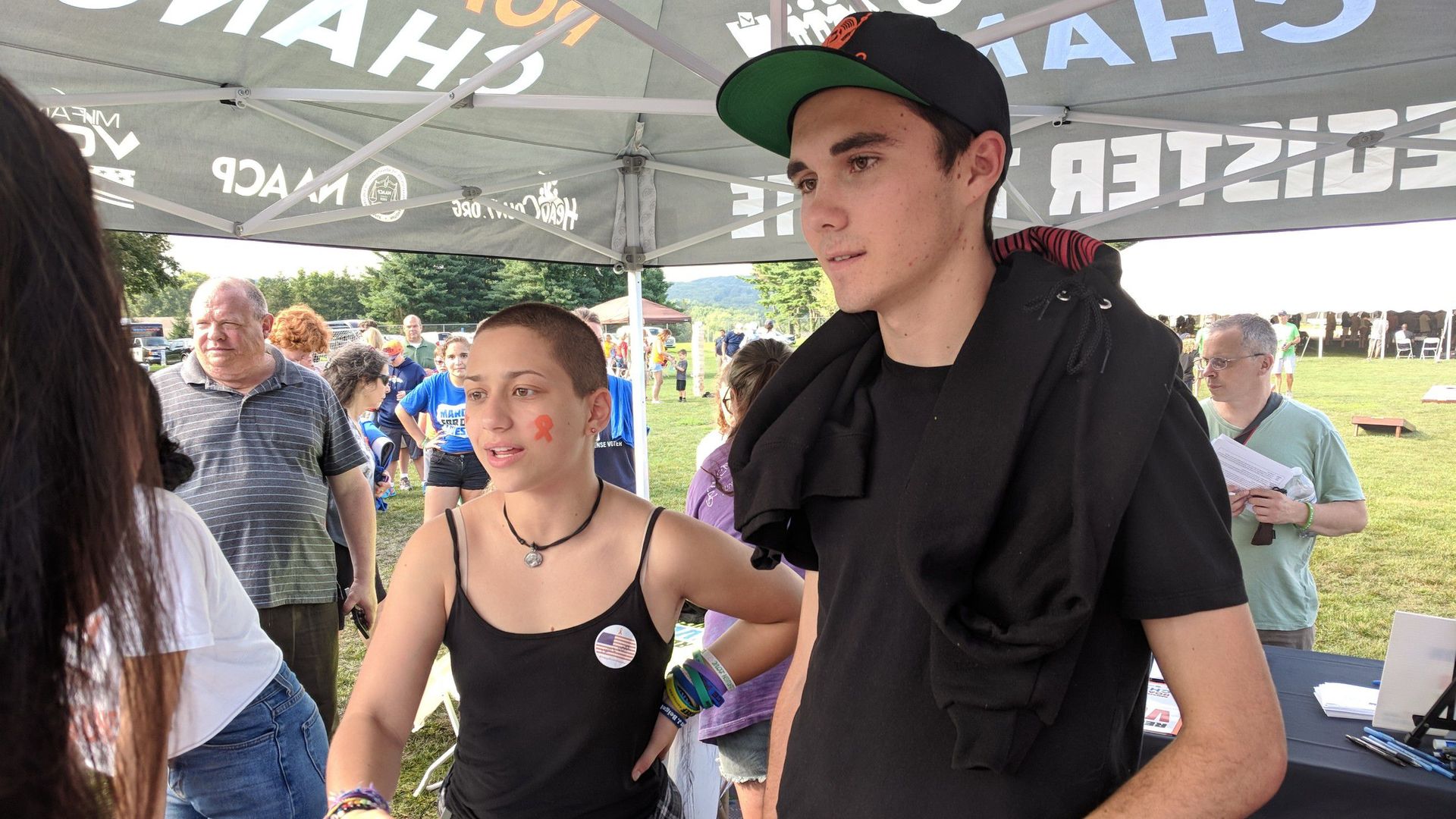 Six months after the school shooting in Parkland, Fla., some of the surviving students are only becoming more organized and more ambitious — ringleaders of a vocal, demanding, tech-savvy strata of their generation.
Why they matter: This looks a lot like the '60s. The students aren't much younger — and some are the same age — as the Kent State shooting victims of 1970. They're smart, snarky in a witty way, and — like the Woodstock generation — wise for their age. But they seem a lot less self-destructive.
What's happening: I traveled this weekend with a group of Marjory Stoneman Douglas High School alumni, who finished a summer-long bus tour yesterday in Newtown, Conn., home of Sandy Hook Elementary School.
The Parkland activists are aware of the sheer spectacle of many baby boomers and millennial adults throwing up their hands over gun laws — and placing their hope for change in high school students.
The student-led uprising is one of the most dramatic dimensions of an escalating, two-year run of U.S. activism that includes a record number of women running for public office, and teacher strikes in a half-dozen states.
An anti-establishment strain runs through it. On right and left, those in the streets are feeding massive energy into the midterms, and could be decisive in both local and national races.
When 17 of their classmates and teachers were killed on Feb. 14, the Parkland students collectively shouted: "Never again." But 12 more schoolhouse killings followed around the country.
With the summer, the school violence stopped. On Wednesday, classes resume at Stoneman Douglas, and at countless other U.S. schools in the subsequent days and weeks.
"It's going to take a cultural shift" before U.S. gun laws change significantly, Jaclyn Corin, president of the incoming senior class at Stoneman Douglas, told Axios at a raucous gathering yesterday in Newtown. "And a cultural shift always takes a generation or two."
The shooting's aftermath made web and TV stars of seniors Emma Gonzalez and David Hogg (pictured above). But now there's a deep bench:
A group of Parkland classmates, following this spring's March for Our Lives, pulled off a 59-day summer bus campaign.
They hit some 80 cities and towns in two dozen states, working to register young new voters who might help defeat political leaders supported by the National Rifle Association, their main target. (The Parkland students say they're not anti-Second Amendment. Here are their stated demands).
In New York on Friday, the group had swelled into a band of powerful high school orators from around the nation — Chicago, St. Louis, L.A.
This fall, the students plan something even bigger: a get-out-the-vote drive that will leverage their vaunted influence on social media, especially Twitter.
But at event after event, apart from the traveling students themselves, there appeared to be far more adults than their 18-and-older intended audience.
Registration of voters 18-29 this year has barely budged from the pre-Parkland average, according to a Washington Post analysis.
Be smart: The young organizers are going all-in on a strategy of not changing votes, but turning non-voters into voters.
On Nov. 6, we'll know whether their audacious strategy worked.
Go deeper