Trump's dueling Russia policies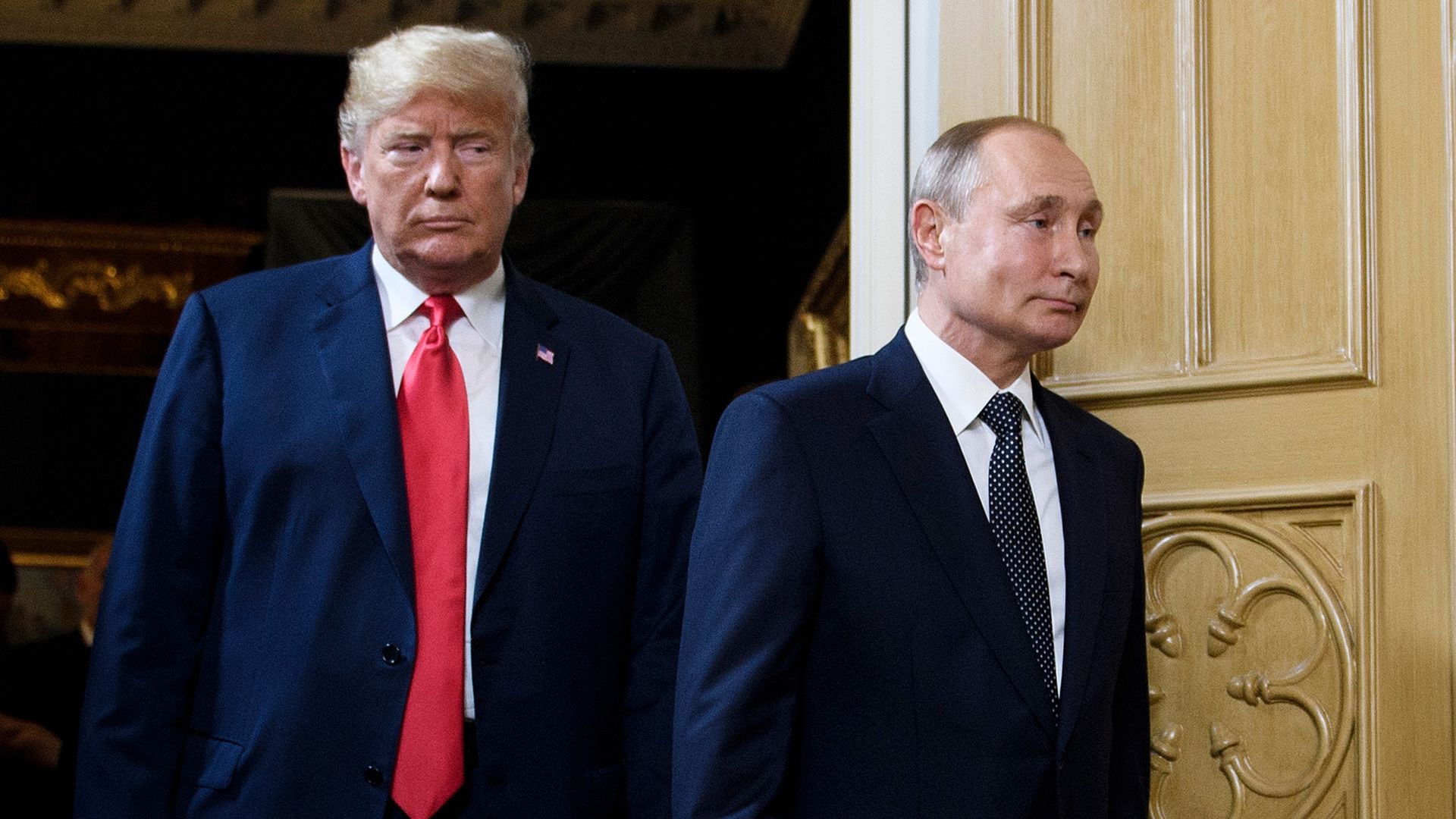 Moscow is fuming over the latest sanctions triggered yesterday by President Trump, which could carry significant diplomatic and economic consequences.
Between the lines: This is another punch landed by a man who seemed reluctant to throw it. Trump took this step after missing a deadline and absorbing pressure from Congress, particularly in the wake of his jarring performance alongside Vladimir Putin in Helsinki. He has tweeted about Russia today, but it was to condemn witch hunts rather than the use of chemical weapons.
How it happened...
In March, the Trump administration accused Russia of culpability in the nerve agent attack on Russian former double agent Sergei Skripal in Salisbury, England. That put the wheels in motion...
The House Foreign Affairs committee requested a formal determination within 60 days as to whether Russia had illegally used chemical weapons, under the terms of a 1991 law which lays out sanctions for countries that do so.
That deadline came and went, but Rep. Ed Royce, the committee's Republican chairman, prodded Trump on the matter in a July 26 letter, requesting a determination by August 9. Yesterday, August 8, Secretary of State Pompeo issued that determination.
That triggered an initial batch of sanctions, which will be of little practical effect. A second round of harder-hitting sanctions looms if Russia fails to make certain assurances on chemical weapons that, let's face it, it's not going to make.
What to watch: In phase two, Trump could cut off nearly all trade with Russia and block its state airline, Aeroflot, from landing in the U.S., per NBC's Josh Lederman. The administration will likely decide not to escalate matters that far.
Mark Simakovsky of the Atlantic Council says Russia remains confident "Trump will ultimately be a brake on the fundamental breakdown of relations," no matter how far members of Congress and some in his administration want to push things.
Between the lines: Trump's reluctance to confront the Kremlin threatens to defang his own administration's policies, while those same policies are undercutting his attempts to improve relations with Russia.
Trump has already expelled 60 diplomats and closed a Russian consulate in Seattle over the Skripal attack, but reportedly protested to aides when that response turned out to far exceed steps allies took.
In December, Trump agreed to provide lethal weaponry to Ukraine in Kiev's fight against Russian-backed separatists. Since then, Trump has blamed Barack Obama rather than Putin for Russia's incursions into Ukraine, and reportedly told fellow world leaders in June that Crimea is Russian because everyone there speaks Russian.
Last August, Trump signed into law sanctions designed to punish Russia for meddling in the 2016 election. But he privately fumed about Congress forcing his hand, and slow-walked the implementation process.
The bottom line: Trump came into office considering rolling back Obama's sanctions, rather than imposing new ones. Yet the punishments keep piling up on his watch.
"How is this administration taking tough actions on Russia while the president actively avoids them? That's the question everyone is trying to answer."
—
Mark Simakovsky
Go deeper