Rudy's Mueller demand: No questions on Flynn, Comey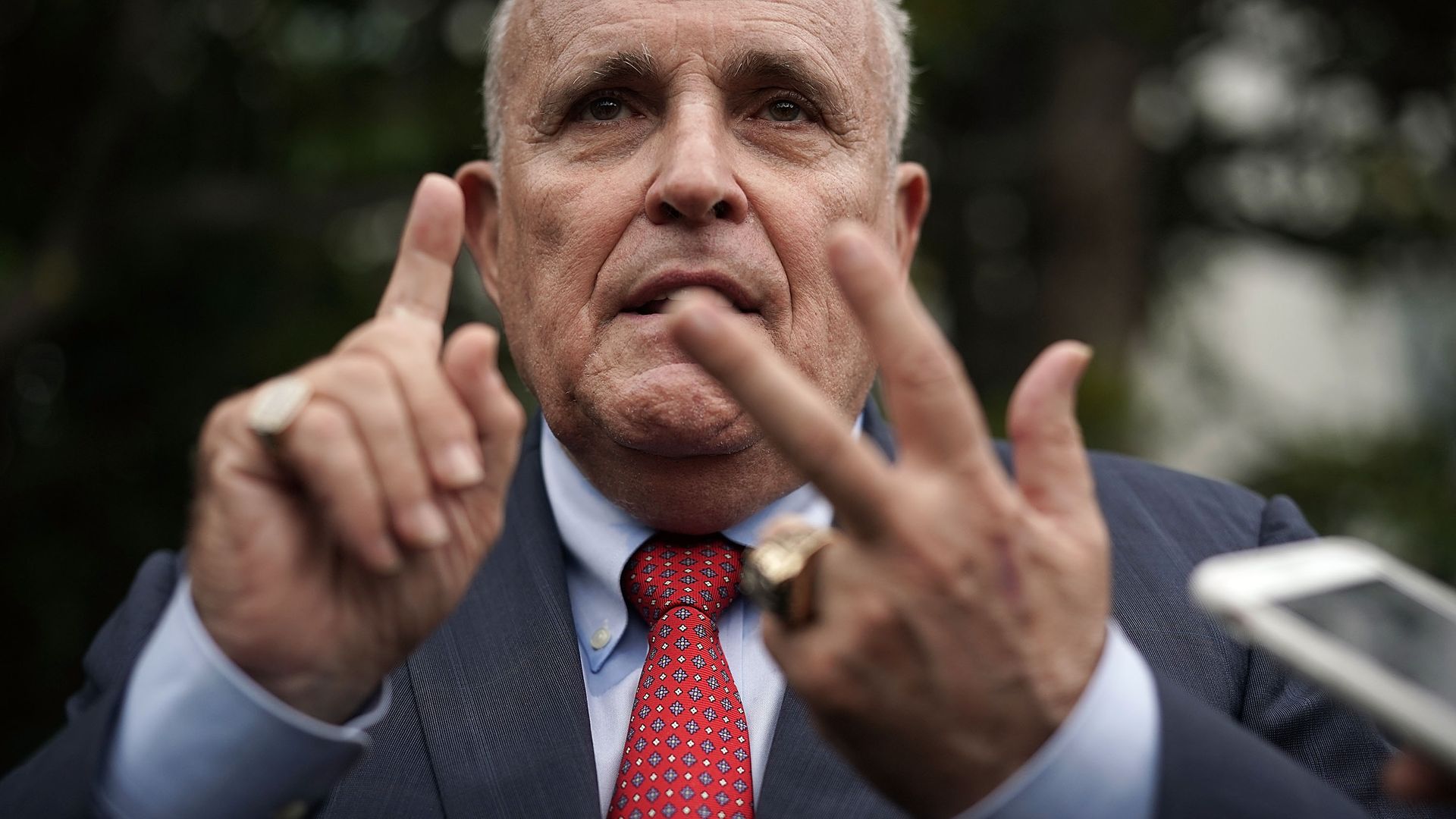 With his constant commentating and public negotiating, Trump lawyer Rudy Giuliani is setting up unmeetable expectations for special counsel Robert Mueller — a kind of insurance policy with the president's base.
What he's saying: The former New York mayor told Fox News' Sean Hannity in an interview last night that the investigation should be "over by September," and that Mueller's case "isn't going to fizzle. It's going to blow up on them." He added, "[T]here's a lot more to what they did that nobody knows about yet ... a lot more to the obstruction of justice, to the collusion, to the fake dossier."
Giuliani told Axios that there are two topics the president's lawyers want to rule out in order to agree to a Trump sit-down with Mueller:
Why Trump fired FBI Director James Comey.
What Trump said to Comey about the investigation of former national security adviser Michael Flynn.
Giuliani mentioned those as if they were minor details — totally reasonable areas for Mueller to agree to avoid.
In fact, they're central to the question of whether Trump obstructed justice.
So here's how to read between the lines of Giuliani's frequent media appearances:
Rudy is pushing and pulling Mueller, and every day throws more mud over the investigation.
The mayor is exploiting Mueller's silence. Because Mueller can't and won't discuss the investigation, Rudy gets to monopolize the airwaves and frame the debate on his terms.
Giuliani is publicly rushing Mueller to wrap up his investigation by September, and at the same time trying to rule out some of the key questions Mueller wants to explore with Trump before wrapping up the probe.
Giuliani is also personalizing it, framing everything as Mueller trying to entrap Trump.
The theater of going back and forth with Mueller is designed to create a public impression — or at least an impression in the eyes of Republican voters — that Mueller has personal animus towards Trump, and is trying to use legal trickery to steal the election from Trump voters. This is pure P.R.  
Why it matters: Giuliani is publicly setting up Mueller with expectations he must know Mueller can't meet.
There's no way Mueller is wrapping this thing up by Sept. 1.
And there's no way Mueller will agree to an interview with Trump on the condition that he won't ask him two of the critical questions about obstruction of justice.
By claiming them as totally reasonable asks, when Mueller ultimately doesn't deliver by Labor Day, Rudy helps fuel the base's rage all the way through to midterms.
Be smart: The strategy is working.
You see in polls that Trump has made the investigation a red-blue issue.
You see it in footage of Republican voters at town halls, echoing the anti-Mueller line.
Go deeper: Rudy late last month on Mueller: "They don't have a goddamn thing."
Go deeper