Snap's mixed bag: Users down, Saudi investment up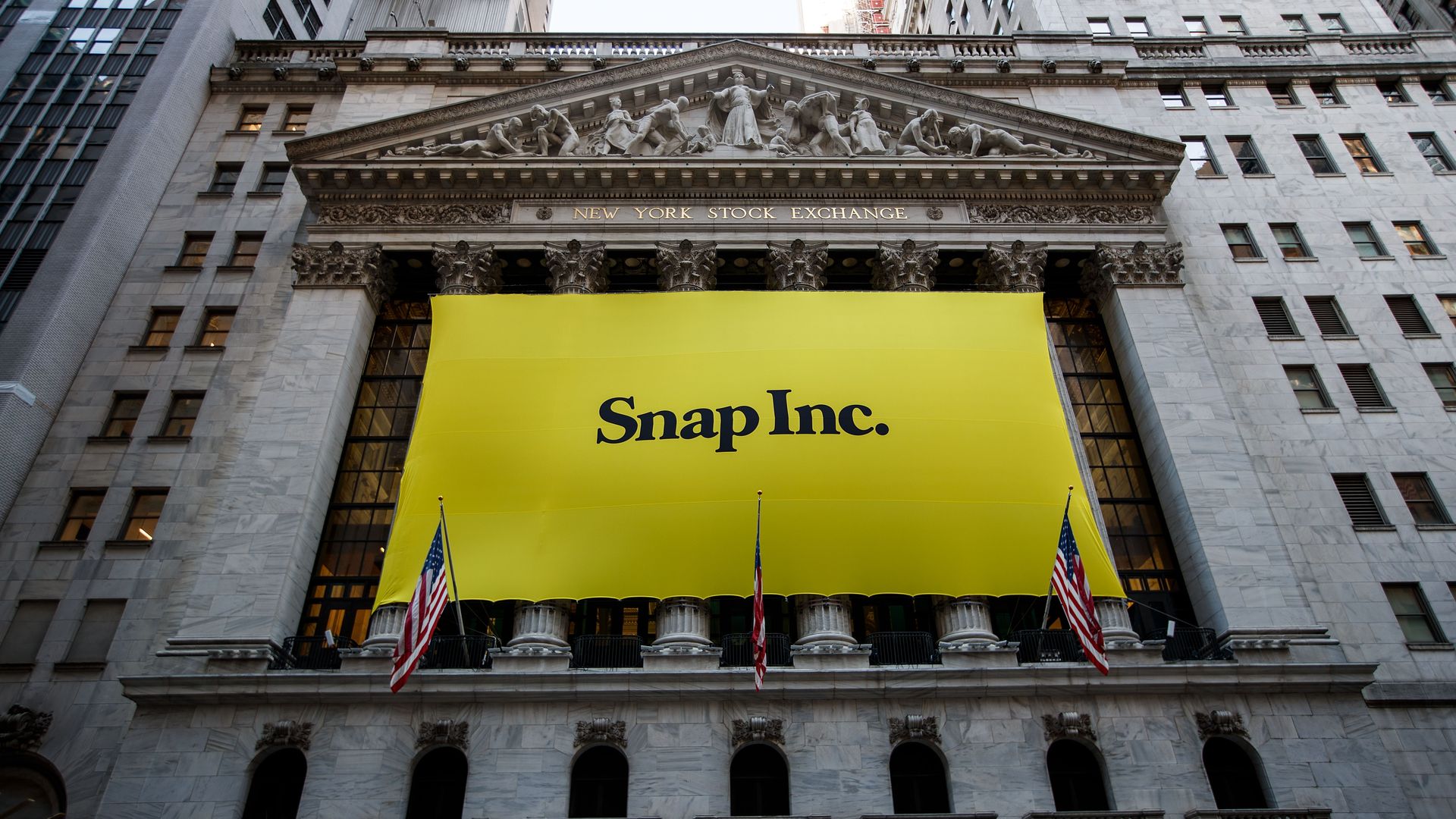 Tuesday was a roller coaster day for Snap, which posted quarterly earnings with mixed results and revealed that Saudi Prince Al-Waleed bin Talal has made a $250 million investment in the company.
Bottom line: The company is making efforts to show a more stable and growing business despite an app redesign that didn't go as well as planned, and user growth that declined for the first time.
Let's break it down:
The bad: For the first time, Snapchat's daily active users (DAUs) declined. They were down 2% (or about 3 million) since the previous quarter. Snap attributed the drop to the rollout of its controversial iOS app redesign, which wasn't received all that well by users.
Its DAUs also grew 8% year-over-year — a slower growth rate than in the past. The company also expect DAU growth to be lower next quarter, as it's historically been during Q3, so don't expect it to get better over the next three months.
The good: Snap's global average revenue per user (ARPU) continues to grow, hitting $1.40, a 35% year-over-year increase. And while the U.S. and Canada saw modest growth, Europe and especially the rest of the world saw 70% and 233% year-over-year increases, respectively.
As Bloomberg's Shira Ovide argues, this is likely due to Snap's push into programmatic ads and other options beyond the fancy custom ads the company initially focused on to differentiate itself from other social media companies like Facebook. Advertisers, it turns out, like to buy ads online with more targeted tools.
Snap's daily active users also maintained 30 minutes of usage per month, the company said, suggesting that while some users have stopped using the app every single day, those who have continues are still using it just as much. It also said users sent about 3 billion snaps per day last quarter, in line with previous quarters.
The new: For the first time, Snap revealed its monthly active users, saying it has more than 100 million across the U.S. and Canada. The move was notable since Snap has described daily, and even hourly, usage as more meaningful in the past (as CEO Evan Spiegel said in 2015).
Snap's disclosure looks like an effort to soften the blow of the declining daily active user figure — suggesting to investors and advertisers that, while the confusing redesign may have led some users to open the app less frequently, its monthly audience hasn't shrunk (and perhaps is actually growing).
One factor Snap did not mention is Instagram's continued competition with its own Stories format, so it's unclear whether that has had an impact on its daily active user count. Snap has historically argued that Snap and Instagram serve different purposes and users.
The surprising: Just as its earnings report came out, Saudi Prince Al-Waleed Bin Talal tweeted that he has invested $250 million for a 2.3% stake in Snap. According to the accompanying press release, the deal was done May 25.
The verdict: After an initial price rise in after-hours trading, Snap's stock price dove back down. It eventually stabilized at around $13.12, just about its price at market close.

Go deeper