By the numbers: Unprecedented devastation of California's wildfires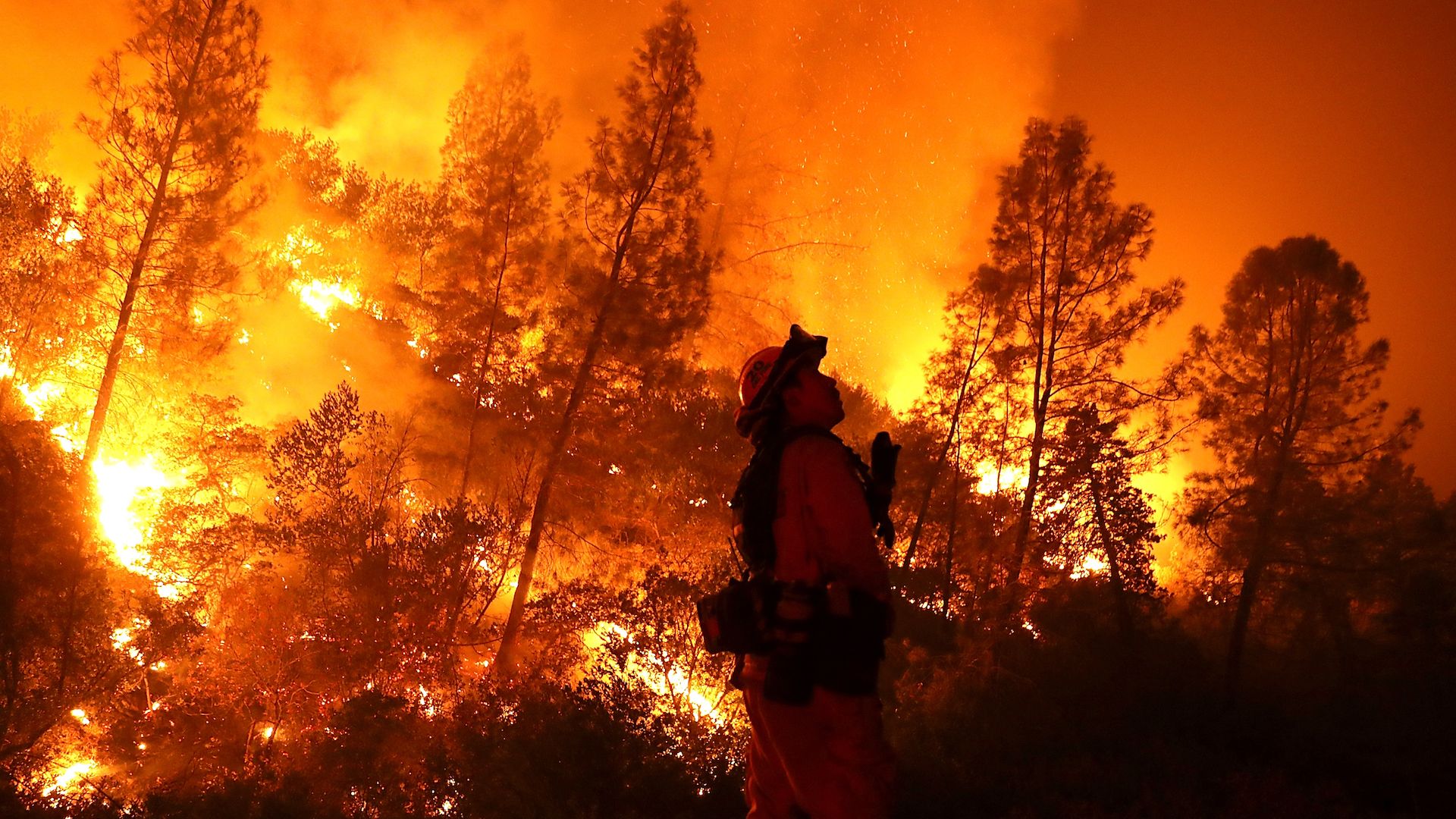 Wildfires have turned California into a smoke-filled, hazardous landscape as thousands of firefighters — some from as far away as Australia and New Zealand — struggle to contain more than a dozen massive blazes. Many of these fires began during July, which was a brutally hot month across the state.
Why it matters: The unprecedented wildfire siege has killed at least 9 people and burned thousands of homes and businesses across the state. There is no sign of any beneficial rains to come, and we're not yet at the peak of the fire season, which normally comes in the fall. In other words, the situation may get worse before it gets better.
By the numbers:
The Mendocino Complex Fire, which is comprised of two large wildfires burning within a few miles of one another, has become the first California wildfire on record to eclipse 300,000 acres in size. This is equivalent to the size of Los Angeles, which is the sixth-largest city in the U.S.
There is a trend, driven by climate change, decades of fire management policies and human development, toward larger fires in California. Heat is a big factor in these fires.
California had its hottest month on record in July, with average temperatures at 5°F above the 20th Century average. Death Valley, California, set a record for the hottest month of any location on Earth, NOAA found.
Out of the top 20 largest wildfires in California history, only one occurred before 1950.
All of the top 10 largest wildfires have taken place during the past decade, with four out of the top 5 occurring since 2010.
California has seen 4,723 wildfires since Jan. 1, with 749,770 acres burned so far this year, according to Cal Fire and the U.S. Forest Service. This is well above the 5-year average of 18,587 acres burned by this date.
The acres burned in California so far is equal to almost four times the city of New York, three-quarters of the state of Rhode Island and is more than four times the city of Chicago.
The bottom line: Given where we are in the fire season, it's likely that the area burned in California this year will eclipse 1 million acres. The Mendocino Complex, for example, is not expected to be controlled — let alone completely extinguished — until sometime in September.
And we've yet to see the fire danger spike in southern California, which typically comes in the fall, when strong Santa Ana winds blow hot, dry air down mountainsides and through canyons, threatening a highly populated region.
Go deeper:
Go deeper