Progressives to Democrats: Ignore Trump voters, focus on minorities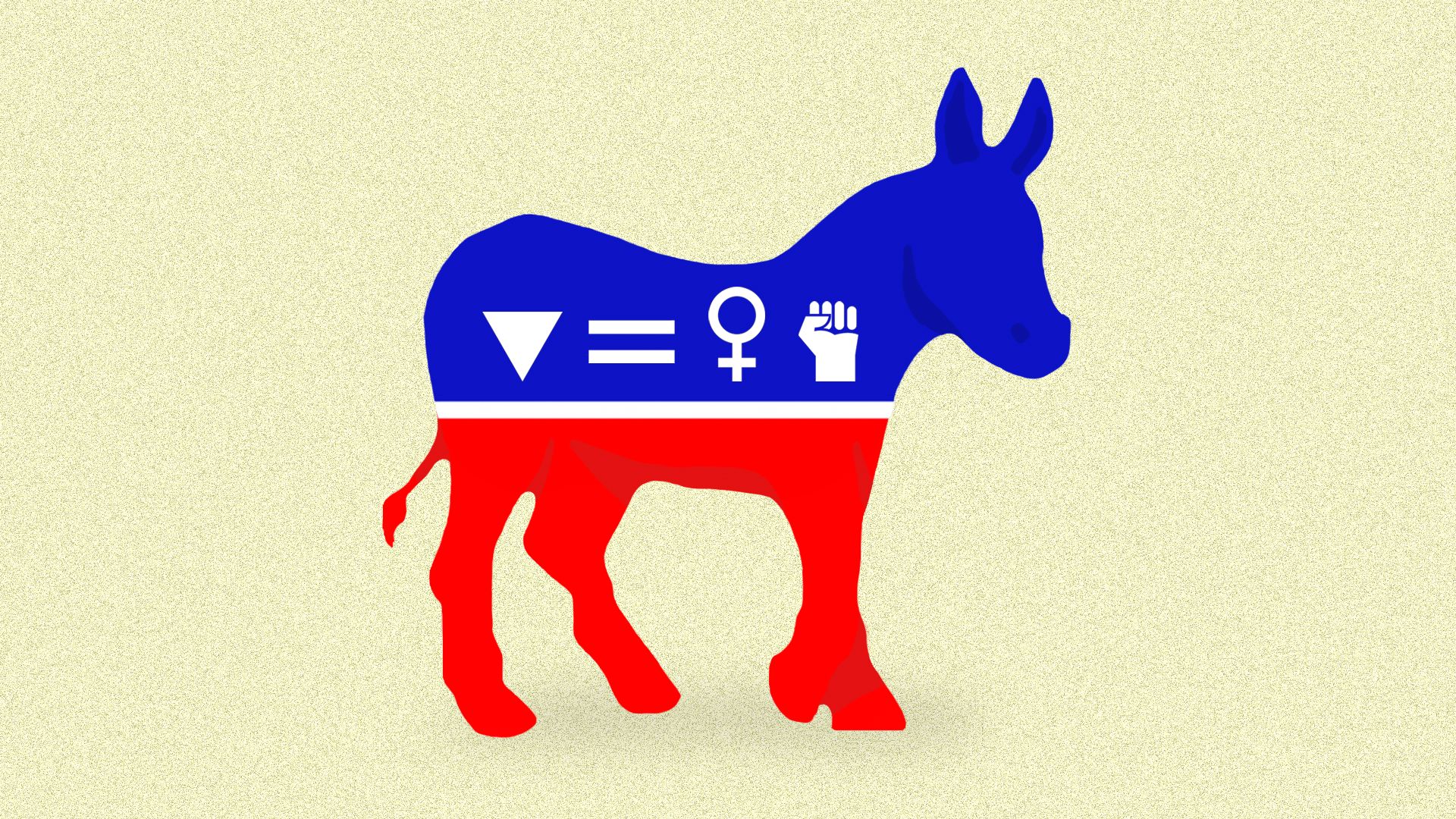 Democrats face a new internal fight just when they need it least: progressive activists are sick of the practically minded establishment trying to win back Obama voters who defected to Trump — and instead want the full focus on people of color and nonvoters who are ready for a hard-left turn.
Why it matters: The message isn't going over well with the party establishment — another example of how the party is divided over strategy ahead of an election that's their best shot in years to win the House.
At the Netroots Nation conference in New Orleans last week, an annual gathering of progressive political activists, Sen. Kamala Harris urged Democrats to embrace "identity politics" and promised "we won't be silent" on issues of race, sexuality and gender.
But a senior Democratic aide told me this "sounds like a great strategy for a primary when the only voters are Democrats, but which of the 23 House seats needed are they going to win without persuading swing voters?"
Another senior Democratic aide said Dems will reclaim the House "by energizing the base and moving swing voters in our direction — one doesn't need to come at the expense of the other."
"This country is not comfortable talking about race. But if we're going to change what leadership looks like we have to have courageous conversations about race."
— Glynda Carr, co-founder of Higher Heights of America
Between the lines: This isn't a new fight for the Democrats, but it's becoming increasingly urgent this year. It's impossible to ignore race in a year with a record number of black women and LGBTQ candidates running for office.
Non-voters are more racially diverse than any other group. More than 50% of the 4.4 million people who voted for Barack Obama in 2012 and didn't vote in the 2016 election are minorities. And whites have steadily abandoned the Democratic Party over the last few decades.
The progressives' perspective is that "there's a myth out there that if you talk about race you'll lose," Causten Rodriguez-Wollerman, who led a session on "Race-Class Narrative" at the conference, told The Atlantic.
Abdul El-Sayed talks about race while campaigning for Michigan governor, saying he's heard he's "too young, too brown, too Muslim" to run for office.
Glynda Carr, co-founder of Higher Heights of America, a group that works to elect African American women at all levels, said if the Democrativ Party tent is as big as they say, "there needs to be an early investment in voters of color, not just courting them when they're needed."
Stacey Abrams, who won her primary for Georgia governor, didn't cater to moderate, white working-class voters; instead, she ran a progressive campaign appealing to left-leaning voters. She also started a project to register the state's 1.5 million unregistered voters, the majority of which are minorities.
Alexandria Ocasio-Cortez told me the Democratic Party's swing voter isn't a "red to blue" voter. "It's voter and non-voter," she argued, a refrain she has echoed in rally speeches. "We need to really aggressively expand our electorate and give people a reason to vote."
The other side: After 2016, Democrats blamed themselves for not focusing enough attention on working-class voters — a crucial voting bloc that helped put Trump in the White House. So Democratic Party leaders crafted vague economic slogans ("A Better Deal" and "For The People") to appeal to all Americans.
And focusing on the economy has been a successful strategy for candidates like Conor Lamb in Pennsylvania who are fighting for seats in districts Trump carried by large margins.
The bottom line: When women and people of color (sometimes both) are stepping up in record numbers to represent the Democratic Party, they're not doing it quietly. That's a reality the party is starting to face — and the Democratic senators who have an eye toward 2020 are listening.
Go deeper: Axios followed el-Sayed last week as he campaigned with Ocasio-Cortez.
Go deeper