Severe Florida red tide puts chokehold on wildlife, economy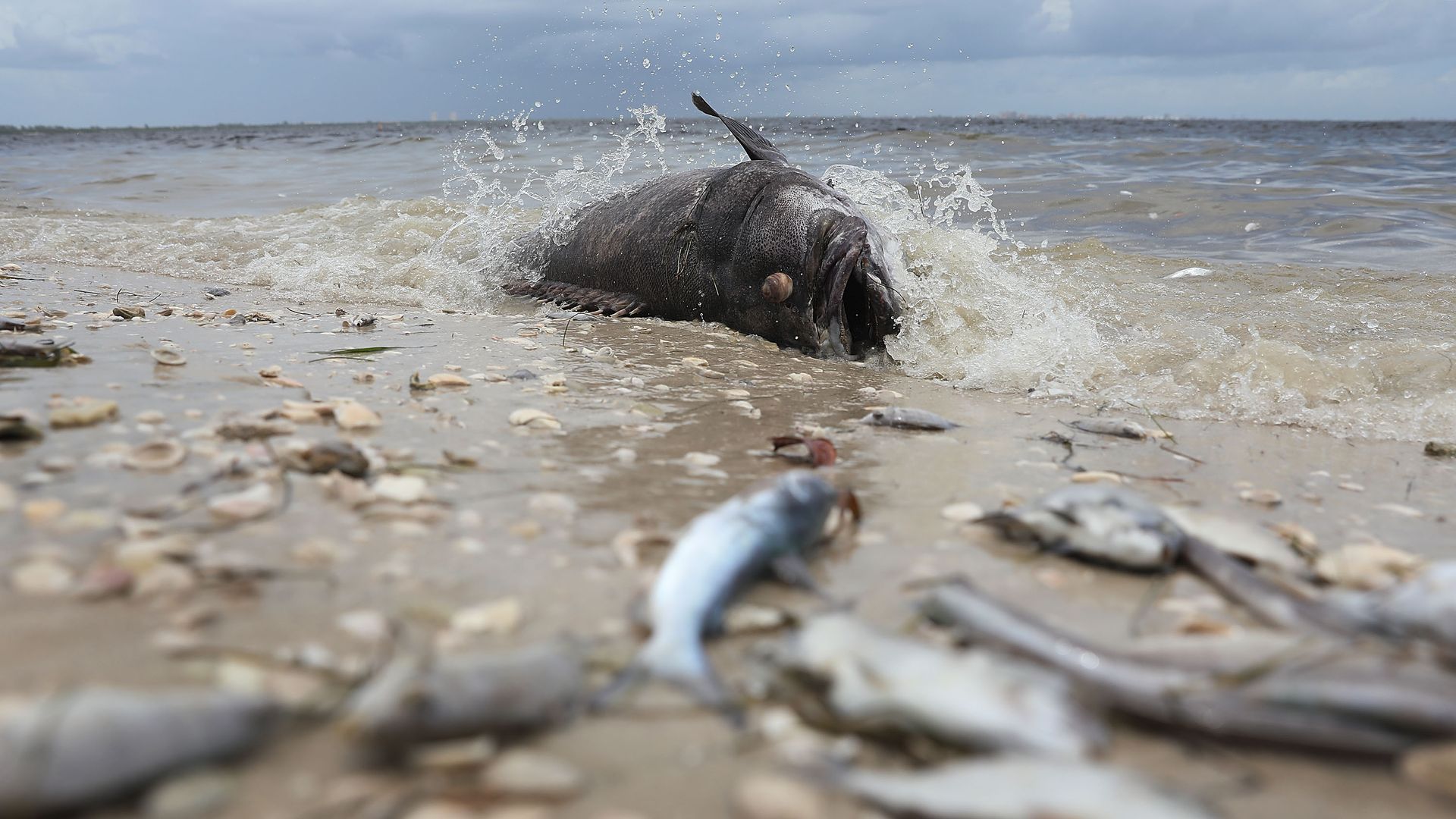 Red tide, a toxic algae bloom found in saltwater, now spans well over 100 miles of Florida's western coastline, killing and sickening marine life and damaging the economy. The ongoing red tide event is unusually severe and long-lasting this year, causing major fish kills, and making people cough and choke when they visit area beaches.
Why it matters: Now in its eleventh month, cities from Sarasota to Naples are suffering on many fronts, and there's little people can do but wait.
Details: There are still plenty of unknowns when it comes to red tide: it seems to start offshore, but nutrients washed off land from agriculture or inland algae can worsen an existing bloom.
Marine mammals, sea turtles and other marine life have paid a hefty price during the bloom.
"The neurotoxins make them very uncoordinated in the water and have trouble moving their flippers or lifting their heads. They then have seizure-like episodes and many die.
— Mote's Strandings Investigation program manager Gretchen Lovewell
The economy suffers too. Florida attracts visitors who come for the state's beaches and fishing opportunities.
How it works: Mary Kilfoyle, who's lived in Fort Myers since 1963, told Axios she's never seen a red tide like this in her lifetime. Beachfront businesses and restaurants are closing because people don't want to be near the water, she said.
"How long can you survive with a closed business?"
Scientist and director of the water advocacy group Calusa Waterkeeper, John Cassani said he's seen "real estate deals get lost [due to the] perception that this will be an ongoing problem in the future."
What's next: This red tide bloom is the worst in over a decade, and it's become a major issue in the hotly contested Senate race between Florida Republican Governor Rick Scott and incumbent Sen. Bill Nelson. Some people suspect the state's agricultural interests, such as the sugar industry, are causing some of these blooms through pollution.
Kilfoyle said these blooms are engaging "people who normally don't get involved in political issues. You can't go on a walk and not be affected by it."
Cassani said that may be the only silver lining to the harm. "It's a wakeup call, and people are demanding action from the officials we elect to keep our water healthier."
Go deeper:
Go deeper