Trump blames environmental laws as California burns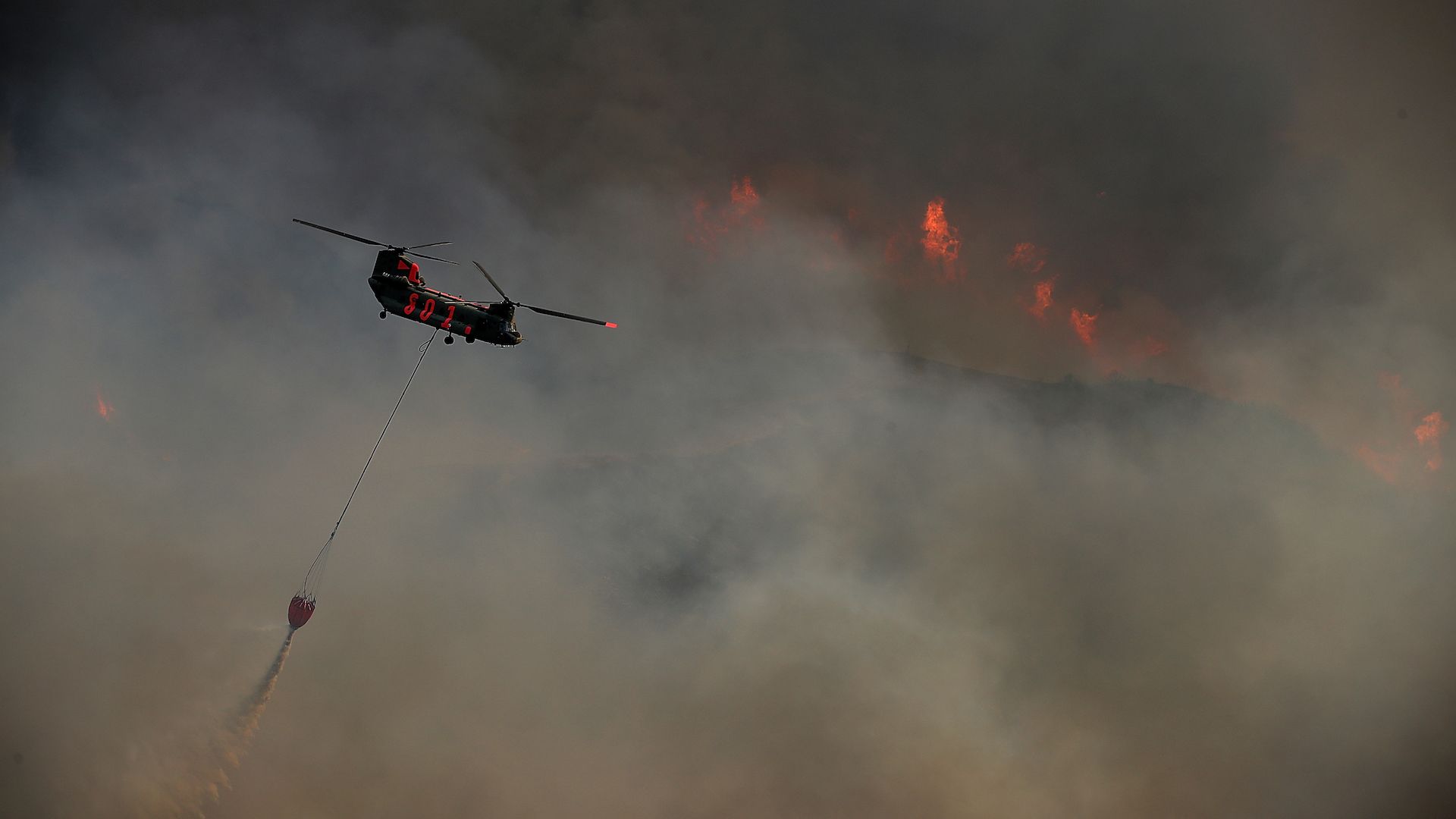 The Trump administration is responding to California's devastating wildfires by blaming environmental regulations, even as evidence shows this isn't a major factor behind the historic fires.
Why it matters: Without an accurate diagnosis of the problem, it's less likely the federal government will respond in a way that would help the state battle fires that have overrun communities, killed 9 people and and burned thousands of homes and businesses.
The big picture: In two tweets sent Sunday night and Monday, President Trump appeared to tie water allocations for the Central Valley agricultural region of California with resources for firefighters, both times saying that firefighters lack access to adequate water to fight the flames.
This comes despite firefighters' statements that they have all the water they need, what they're battling is tinder dry conditions creating extreme fires of the sort they've never seen before.
Several of the largest blazes are burning next to large lakes that are at or near average levels, and able to provide water to firefighting aircraft.
On Monday, Trump called on California's Democratic Governor Jerry Brown to "allow the free flow of the vast amounts of water coming from the North and foolishly being diverted to the Pacific Ocean."
"Think of California with plenty of water — Nice!"
— President Trump
Those diversions, as Trump calls them, are meant to save endangered species like the Delta smelt.
On Sunday night, Trump aimed more squarely at what he said are environmental regulations that are hampering firefighting efforts, but also referred to the same water issue. "California wildfires are being magnified & made so much worse by the bad environmental laws which aren't allowing massive amount of readily available water to be properly utilized," he tweeted.
These tweets likely refer to state water allocations to the Sacramento-San Joaquin River Delta. In determining these, the state needs to balance agricultural interests with requirements to provide enough water for salmon and other species.
California's State Water Resources Control Board voted in July to use more of the state's water allocations for preserving fish populations, meaning farmers would get less than they were receiving. Republican state and federal lawmakers have opposed this plan.
What they're saying: LeRoy Westerling, who studies wildfires at the University of California Merced, told the San Francisco Chronicle that he was puzzled over Trump's comments. Climate change is a bigger concern, he said, than the state's water allocations.
"We do manage all of our rivers in California, and all the water is allocated many times over. So I'm not sure what he was recommending," he said.
"Even if we eliminated all habitat for riparian species and fish, and allowed saltwater intrusion into the delta and set up a sprinkler system over the state, that wouldn't compensate for greater moisture loss from climate change."
— LeRoy Westerling, University of California at Merced
Between the lines: Also on Monday, Interior Secretary Ryan Zinke, who oversees the National Park Service and vast tracts of federal lands across the country, echoed Trump in blaming the severe fires on shortsighted policies, this time preventions to clearing dead trees from areas vulnerable to fire.
Behind these tweets lurk the Trump administration's goals to enact broad changes to the Endangered Species Act and to open up federal lands to logging and oil and gas drilling. Trump and Zinke's tweets appear to tie the fires to both policy goals.
Be smart: Scientists have told Axios and reported in numerous studies that there is a trend toward larger wildfires and longer fire seasons in many Western states, due in large part to the convergence of several factors, including climate change and decades of fire suppression policies.
Go deeper:
Go deeper