Behind the scenes: Trump's power politics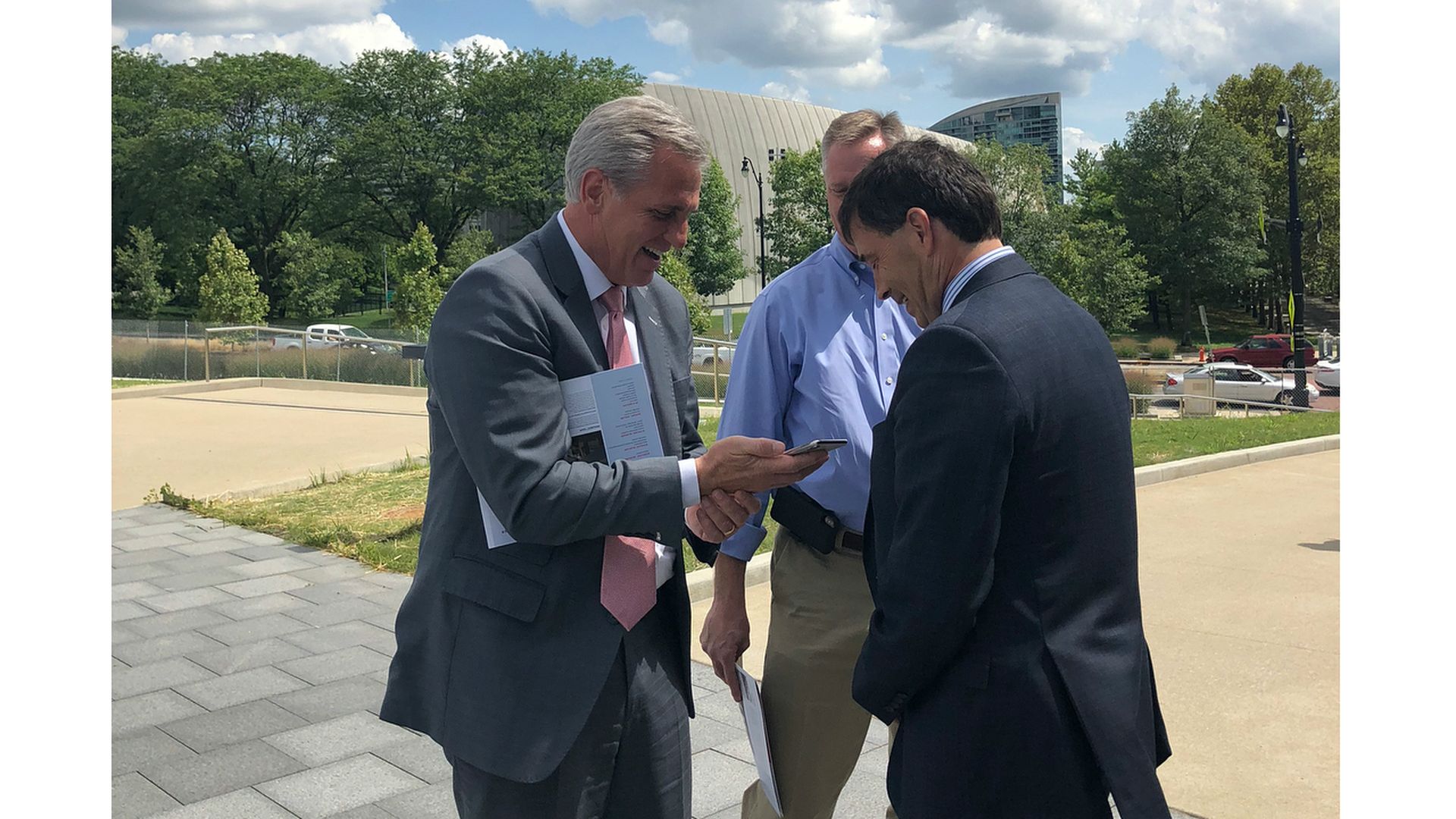 A little over a week ago, when Kevin McCarthy was in Ohio campaigning for Troy Balderson, his phone rang. It was President Trump. McCarthy quickly put Trump on speakerphone for a conversation with Balderson and the chair of the National Republican Congressional Committee, Rep. Steve Stivers.
Why this matters: What happened next highlights Trump's freewheeling approach to electoral politics this year. Most presidents don't get involved in primaries, but Trump — to the horror of some top Republican officials — relishes his role as party kingmaker. And while his political team gives him advice, they can't control him.
The details of the McCarthy call:
The three men discussed Balderson's upcoming race, and McCarthy asked Trump to tweet his support for incumbent Rep. David Kustoff, who a few days later won the Republican primary in Tennessee's 8th congressional district.
Trump was in a great mood. He told Stivers he'd been doing a good job. "Maybe I will do one [a tweet] for you, Steve," he said, per two sources familiar with the call. Stivers had won his primary months ago, but listeners could have guessed Trump would tweet praise for his work at the NRCC.
Six days later, Trump mistakenly encouraged Ohio voters to "get out and vote" for Stivers on August 7. The president quickly deleted the tweet.
Sources who've spoken to Trump say that one of his favorite recent interventions was in Florida, where a Trump tweet sent little-known Rep. Ron DeSantis soaring over his well-respected primary opponent Adam Putnam in the Florida gubernatorial race.
Trump thinks it's fun to have a stake in these elections, according to sources familiar with his thinking. And he sometimes seems awe-struck by the way his endorsements can move a stunning percentage of Republican voters.
What's next? Senior Republican officials have told me they're holding their breath, hoping Trump won't endorse hardliner Kris Kobach in Tuesday's Kansas gubernatorial primary. Kobach is as far right as a Republican gets on immigration and voting rights, and Democrats view his potential victory as an opportunity to steal centrist voters.
A source close to Trump told me they thought the president had been convinced to hold off on supporting Kobach. But he added he couldn't be confident, given that Trump is in Bedminster with a cell phone and plenty of Executive Time.
Go deeper