Sonos CEO talks IPO, services and a different mission than Apple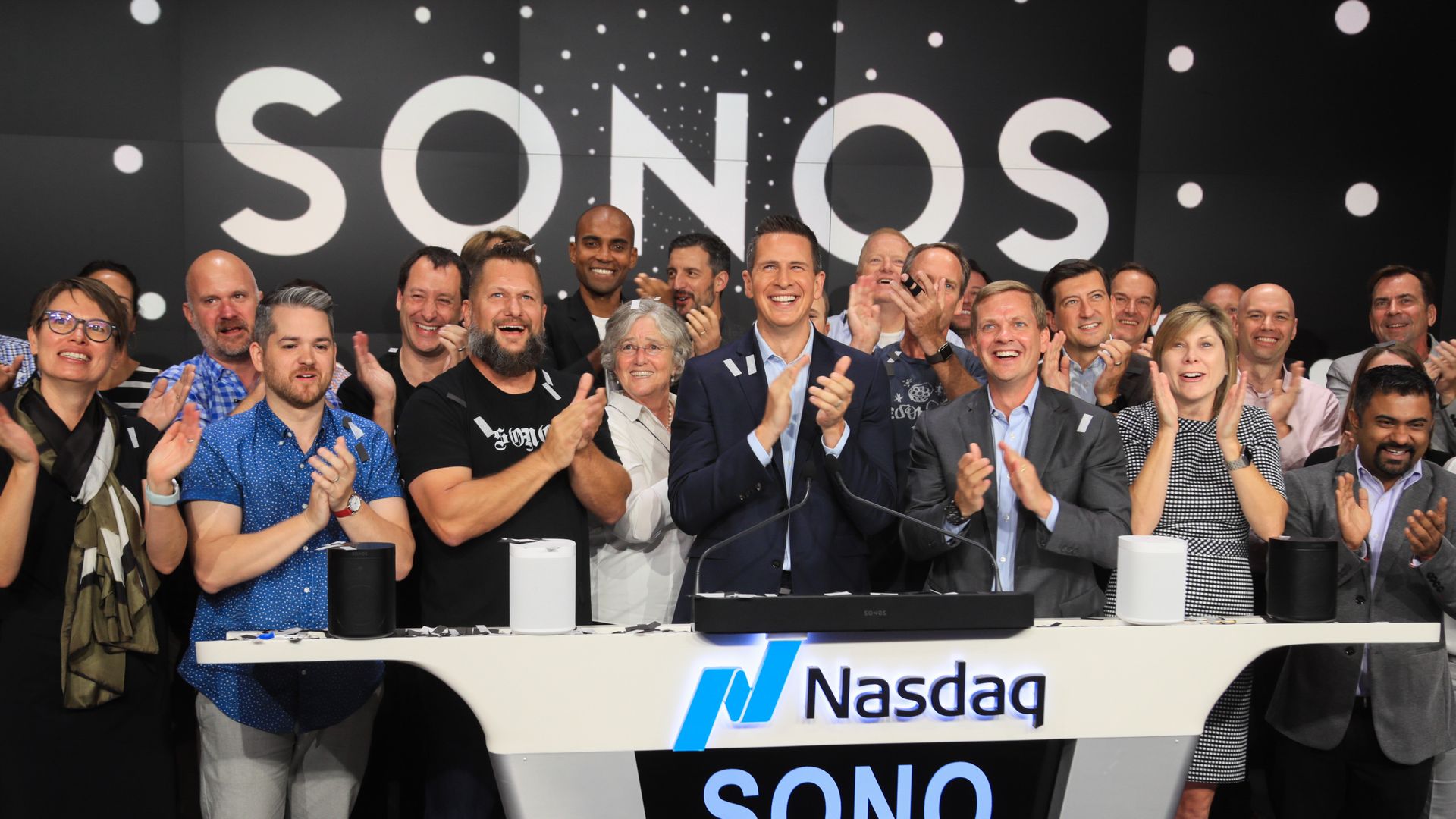 Sonos, a maker of smart speaker systems, went public today after raising $208 million in its IPO.
Axios spoke with CEO Patrick Spence about the IPO, competition from Apple and if it will begin offering digital services. The quick read:
He's open to someday offering digital services, in addition to devices.
He blames a low IPO price on "tech headwinds."
Many investors viewed Sonos as only a hardware business, not realizing the amount of software involved.
He acknowledged that Sonos can't maintain backward capability forever on older products, but says it will do so for newer ones.
You priced shares below the expected range, which is arguably on the bankers as much as the company. But give me your thoughts.
Obviously there were some headwinds and sell-off surrounding tech last week, and I think people were getting nervous about that. So I think our pricing reflected that.
Anything you'd do differently on the IPO road-show?
No. I think we had a tight message. It was probably more educating than I had expected. I had assumed people were a little more knowledgeable about what we built and that software is such a big part of what we do... When you build a physical product, people see it and just associate your name and brand with that particular item, and don't realize it's really a connected computer...
But, ultimately, we got people up to speed on our business model. For example, that we're more of a system than a product, which is something I don't see any other companies doing.
Not even Apple?
It's different because of strategic intent. I don't see them building a set of products that fulfills what everyone needs. Homepod is good, but you also need iPod and Apple Music. To me that's supporting a different strategic agenda, which is how to sell more iPhones.
Will Sonos ever develop its own services?
I'll remain open to it. But I've seen a lot of companies get caught up in the IPO process and promise to become things that they're not, so I think we have built a very loyal base of seven million homes and I think we have an opportunity to both grow the number of homes and, as we do that, see in the future if there are opportunities to add services. But, again, I don't want to get ahead of ourselves and attract investors on that basis.
On customer loyalty, your prospectus said you might stop maintaining "backward compatibility" for older products. Isn't that one big reason why Sonos customers have been so loyal?
There is no change in our philosophy in building long-lasting products. The history is clear. In the S-1 you need to outline any potential risk...
But you said more than just maybe. You said you "expect in the near to intermediate term, this... will no longer be practical or cost-effective."
Well, what we haven't gone through yet that we'll need to manage is some of the products that, as they reach the end of their useful life, how do we get customers to the next one. These are mini-computers and, as they reach their 10th or 13th year, it's just impossible to continue to support the software. So that's something we'll have to bite off as we mature, but there's no change to the philosophy of trying to continue to support devices for 5-10 years and support them over time.
How do you keep employees at Sonos after the post-IPO lockup on their shares expires?
I think it's my job to build a culture where people are connected to our mission and want to show up every day and fill more homes with music. If I haven't done that, people will leave, golden handcuffs or not. It's a good test of if we have the right people in the boat who believe in what we're doing and I've worked tirelessly as CEO to build the kind of place where people can really be connected and do the best work of their lives. And I'm confident that, as a public company, the best is yet to come.
Go deeper